World MasterCard Fashion Week celebrates the many talented designers we have here in Canada and if you haven't heard of KANIA, take note! KANIA is a luxury sweatshirt line created by designer Stacey Bafi-Yeboa launched  in 2003 after she discovered a personal need for luxurious, yet comfortable, clothing.
As a professional dancer on Broadway, she knows a lot about the body's movement and the need to have things fall into place just right. Her line has a steady following since she's debuted her line and sells through her flagship boutique in Ottawa as well as artisan shows like the One of  a Kind Show.  She showcased her Fall/Winter 2015 line on the runway in Toronto as part of "The Collections" for industry leaders, fashion lovers, and media. I had a chance to chat with Stacey about her line and the show.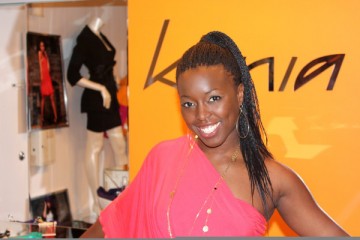 What's the philosophy behind your line?
KANIA was designed to blur the lines between fashion and fitness clothing.  Designed and manufactured in Canada, each piece is made of the highest quality custom spun dyed cotton spandex fabric so that women can feel beautiful and comfortable at the same time. This philosophy became even stronger after the birth of my son, who is 19 months now.  After having him, I have fallen even more in love with my own brand.   Busy moms need instant glamour and that is exactly what KANIA delivers.
You didn't start out in fashion but on stage? Why did you make the transition and are you still on stage?
I was a professional performing artist from the age of 17, having danced at theme parks, cruise ship, feature films, commercials and on Broadway. The transition was one that was not pre-planned.  I began making my own clothes so I had something comfortable to wear after dance performances and classes. I used the same fabric as workout wear but styled it more fashionably. It became popular amongst my friends and people started to ask me where they could purchase. I realized that I was filling a gap in the market place when I got my first wholesale order before I even had a business name!  It was meant to be I guess!  As for performing, I still do perform here and there, mainly acting though in movies.  I was just casted in the role of a dance teacher in the movie Definition Of Fear. It had been a couple years since I have been on set, so it felt great to be back.
Speaking of the stage, what was your favourite role/play?
My favourite role was playing Lorelle and understudying for Shirley in Saturday Night Fever on Broadway. Being on Broadway is every dancers dream so making it there at the age of 19 was incredible. The show itself was so much fun!  Though choreographed, the director gave us a lot creative freedom so the show was a little different every night – a brilliant idea on her part.
What inspired the name of your label?
I was looking for a word that meant beauty, sun, radiance, light and in my husband's native language Twi (from Ghana, West Africa ). KANIA pronounced Ka – Knee – Ah  means light.  To me, light symbolizes inner beauty, a glow. I want for every woman to wear KANIA and feel radiant.
How important is showing at WMCFW for you and what are you hoping will come out of it?
Presenting at World Mastercard Fashion Week (WMCFW) is a huge stepping stone. I see it as important to a fashion designer as performing on Broadway was for my dance career. Being seen as one of Canada's top designers is an absolute honour.  I hope to gain exposure, contacts, connections, new buyers and maybe even an investor.  Now I am realistic to know that this may not all happen overnight but I know that being one of the presenting designers at WMCFW, I've entered into a new playing field and I am excited to see where this journey will lead me!
What's the inspiration for the FW15 line you're showing on the runway?
Our inspiration for KANIA FW2015 collection is to keep it simple and to truly outline what our customers love about KANIA: the ability to move through life feeling comfortable and beautiful.  We will introduce Canada's Luxury Sweatshirt on the WMCFW runway on Thursday, March 26th – 16 gorgeous sweatshirts. None of them will worn to sweat in! To work, to yoga, to the daycare, to the mall, on a hot date…these luxury sweatshirt are made to move.
What does fashion mean to you?
Fashion to me is what you wear every day. I love classic fashion, huge gowns, and high-end couture designs but to me in my every life, I strive to wake up run out the door looking polished. To me, that is fashion.
How is the Canadian fashion scene different from the other parts of the world, for you?
Canadian fashion is a lot more relaxed. We love to be comfortable here and there is an ease in the outfits. I call it relaxed glamour.
When orchestrating a runway show, you have to work with others e.g. makeup/hair/accessories – what's that process like?
I love the entire show process. I go at it as I would with any great dance production … I make it a performance. I use my mood at the time to determine the inspiration, the feeling, and I want to share with my audience.  From there, my assistant designer Arfie Lalani and I build the show. We brainstorm a lot to get inspired.  Inspiration can come from anywhere, but you need to remain open to receive. Once we've designed the concept, the music and the lighting fall into place. The hair, makeup and accessories are the icing on the top.
What do you want people to know about you?
Wow, that's a tough one. I want people to know that I am very passionate about what I do. Almost everything I do has a meaning, a reason, a driving force. I don't just make clothes. I design them for you to feel great about yourself, to fall in love with yourself and to feel beautiful.
Here's a peek at her show!