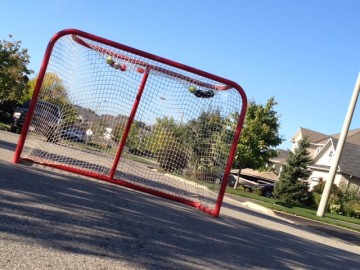 I experienced one of the great joys of being a parent yesterday – my two boys along with some other kids on the street played a game of road hockey. How amazing is that? There is nothing more Canadian than hearing the sound of those sticks slapping against the asphalt with the occasional "car" being yelled out every time a neighbour came home from work. It is such a beautiful thing to see; it's kids being kids, playing a sport that means so much to our country. Road hockey has been happening for generations and I bet not much has changed since the first ever face-off happened in the middle of a street somewhere in this beautiful country.
The reason why I get such a kick out of watching the kids play road hockey is because it hasn't evolved; the game is still the same. There are so many of my kids experiences that have changed since I was a kid, road hockey is one that hasn't. I'll give you an example…video games. When I was a kid, we had an Atari and when I got a little older Sega and Nintendo took over. My experience of playing video games and my kids' experience is night and day. My kids (almost 5 and almost 3) are whizzes on the iPad – it's incredible to see. They have no fear of a computer that has more technology in it than the Apollo 11. When my kids play a game on the iPad and it's not working, all they do is they delete it, then download the app again (with password and all). When I was their age and one of my games, say 'Frogger' didn't work, all I could do to try and fix it was blow into the cartridge and hope for the best. Remember doing that? Oh the good ol' days. So many differences between my childhood and theirs, but not road hockey.
It's funny watching the difference between a bunch of kids playing vs a bunch of teenagers. As our kids were playing on the top of the street a bunch of teens were playing at the bottom. For the lil' ones it's just fun; they aren't very competitive, the sticks are too big for them, and scoring a goal are few and far between. When teenagers play (myself included when I was that age), it's like every game is game 7 of the Stanley Cup. I can't tell you how many of my friends I'd see twist an ankle or lose a tooth on a Saturday afternoon. The games went on forever too, having to stop to come in for lunch or dinner was the worst thing ever, and when it was too dark to play… your world was over. Wow, just writing this is bringing back fantastic memories, I want to play hooky from work and go buy some Cooper street pads and freeze a tennis ball.
In this day and age where things feel like they change every minute, it's nice that there are still things like road hockey that rarely change. It's nice to know that a kid yelling out "CAAAAAR" has been happening for years and will continue to do so.