I secretly admit that I love when the weather starts to change and we can feel a little crisp air, especially at night. I love fall fashion and the coats. Not sure why I need 10 coats but I do! You've  gotta admit, if we spend almost half the year covered up to keep warm we deserve a bit of style, right?  I've been getting a sneak peek at what's heading into the stores and these are my top favourites! Here's why…
I was recently introduced to Marissa Freed of the iconic Canadian label FREED. Marissa is fourth generation in her family's business. The company's heritage brand has held strong for over 93 years in the Canadian market. Interesting tidbit: FREED is the official outerwear manufacturer for the RCMP (as well as other government uniforms) and have been for many years. They are also the coat manufacturers of the official Canadian Olympic Winter games. Remember the gorgeous red pea coats? I still want one! The company is based in Winnipeg and Marissa is hands-on with sourcing materials, designing and manufacturing process of the family business. But it's her background in fashion that really shows through in the 2014 Fall Winter line. The line thinks through the issue of design versus warmth and manages to not sacrifice style! By the way, each piece in this line is named after a Canadian city that holds fond memories for Marissa. Shown here: The Queen Charlotte. This English tweed coat is gorgeous and functional with the over sized hood that easily can transition any look. Fur trim is removable for versatility.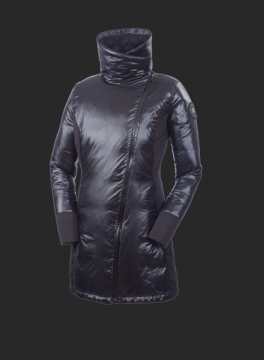 Canada Goose has become a well-loved brand in our country and internationally. Popular for its looks and warmth the line continues to expand and offer great styles each season. Canada Goose also includes the higher end Black Label line called BRANTA, which uses luxury wools including fabrics by the iconic Loro Piani from Italy . I can honestly tell you that my favourite fall transition jacket is the Hybridge Lite for zipping around the neighbourhood. I get many compliments on this particular light-weight, but warm, jacket for it's slimming style. Shown here: Cassidy Jacket that offers a more stylish neck detail and slightly diagonal zip. The silhouette is slimming and it's insulated with 800 Fill Power White Hutterite Goose Down.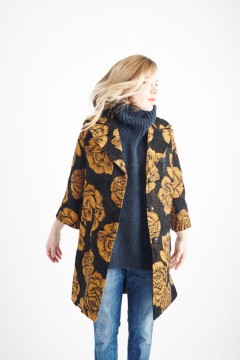 Canadian design team behind the line Smythe is celebrating their 10th anniversary this year. At a recent event at Holt Renfrew, Smythe brought out several favourite looks from the past collections and updated the best sellers to the delight of loyal customers. The Toronto based designers started off as friends in high school and began designing pieces for themselves and their friends. Interesting tidbit: Kate Middleton included one of their iconic jackets in her wardrobe when she and Prince William toured North America. I'm pretty sure she's kept it in rotation in her regular wardrobe afterwards! Needless to say, the jacket flew off the shelves ever since! Shown here: Opera Coat in Mustard Floral for a great pop of colour! Perfect for transition season!
The Swedish brand Fjall Raven is known for it's timeless, rugged and functional designs in outerwear. Originally the company created back packs and tents but soon they realized that the materials used would make great clothing for the harsh elements of nature. The line was created in 1966 for outdoors, but more and more people today are looking at the duality of style and warmth in urban areas. Shown Here: The Luhkka Cape  in red has a more feminine edge and I fell in love with it the instant I saw it. The knee length cape can be worn on it's own in the transition months or as a layer over winter clothes in the colder months. The kangaroo pouch offers added style and warmth to keep hands (and cellphones) toasty warm.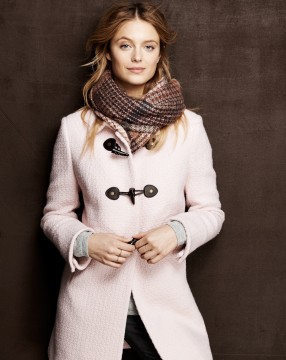 It's easy to fall into the safety of wearing black, it goes with everything but somehow things just seem to change when you pop in a bit of colour. This modern coat by Lands' End adds a fresh look that can take you from school drop off to the office to a night on the town. This polished look  is simple yet refined. Pastel pink is a softer approach and a nice change also from the winter whites. Shown here: Women's Basketweave Wool Toggle Coat.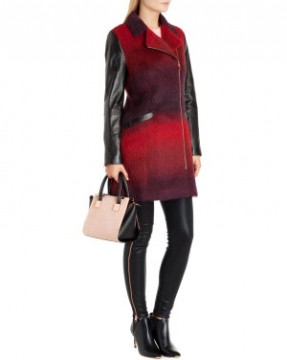 Ted Baker London offers stylish sophisticated lines for women. If you like a little bit of edginess this is perfect.  The ombre lengthier Moto style with leather sleeves screams individualist. Shown here: Annamae wool coat