While it's fun to be invited to the fashion shows at World MasterCard Fashion Week in Toronto, it's equally as much fun to get behind-the-scenes and enter into the calm chaos backstage. From hair to makeup to nails, we had a chance to see out how designers work in tandem with the top makeup and beauty artists in the country.
I was particularly interested in the nails this year as Rita Remark, essie Canada Lead Nail Artist, was on hand to chat about her team's looks for seven runway shows for the Fall/Winter 2015 season. Watching her in action was great as she zipped and zoomed to final checks on models before the shows to interviews with the beauty press.
The process starts with meeting each designer about three weeks in advance of the show. "All of the shows have a different vision and different colour scheme," says Rita. "I design the look with the designer and then we translate their vision."
For Pink Tartan, Rita and created a soft look with an edge with a tattoo'd tips. Designer Hayley Elsaesser was at the opposite of the spectrum with bright, bold colours and patterns that popped for attention.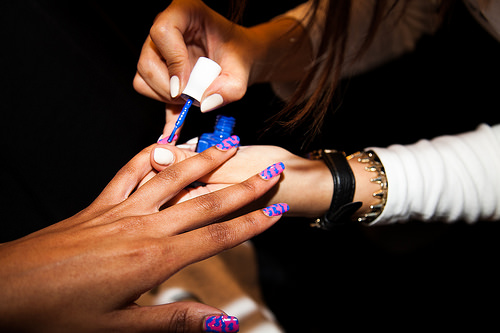 For Soia & Kyo, Essie created a smoked ombre look that's very simple yet sophisticated. Rita explained that the team used a stamping and transfer technique mixing two colours with simple make-up sponges. For the show essie Canada used the colours Chinchilli and Smokin' Hot.
When it comes to creating the final looks, Rita says, "We always have you, the person who loves doing their nails in mind as we want these looks to be easily taken from the runway and recreated at home. The ombre design is one that is easily done."
Here's a look at the Soia & Kyo Show!