Three very poignant observations from Sunday's picking up of my eldest son Hudson at Camp Kilcoo after two weeks away.
So glad he is back though.  It was like I was walking around, missing a limb.
He showered once in two weeks and amazingly smelled of pine and Gull Lake.  Of course, I was not there when he peeled off his clothes and jumped in the shower.  That furious redolence was his and his alone.
His legs were so scratched and mosquito bite-scabbed, it looked like walked through 100 meteres of rose bushes.
He said this to me, which made it worth it but also a bit sad.  "Everyone is so positive here, if anyone gets hurt or needs something, everyone tries to help, campers or counselors, no one is mean or laughs like at school.
Poignant indeed.
Nasty legs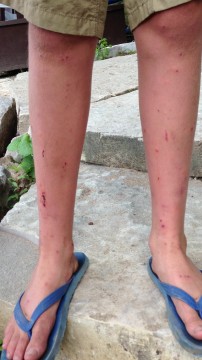 Former soccer teammate, turned bunkmate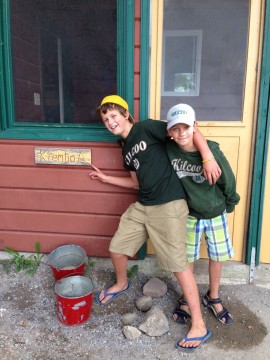 Spending the day at Kilcoo was like living in a dream.  It was so beautiful and magical and ingrained with such history that it made me want to quit my day job and volunteer there for the rest of my life.
Think his brother missed him too.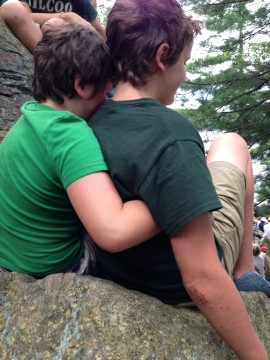 Every building had a name, every leader had a nickname and its going to be so worth it when I have to donate my kidney so both my kids can go there next year.
Only this time for month.
And I thought I was a puddle at drop off this year.