This just in from CBC: "Winter outlook: Another deep freeze ahead for most of Canada."
Winter is here to stay. Most of us across Canada were treated to an early blast of the season, and the combination of cold temperatures, blustery winds and dry indoor heat have started wreaking havoc on our skin. The change in air and temperature requires us all to fine tune our skincare routines. I've written before about my love of Aveeno, and I've introduced a few new products that will see me through until the end of winter (someone please promise me that there will be an end to winter!)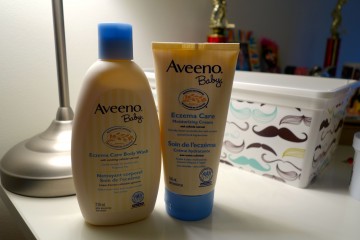 When my daughter was diagnosed with eczema a few years ago, the dermatologist was quick to assure me that it was likely she'd outgrow it. Those years have passed, and her eczema flare ups are much less frequent, but this time of year frequently brings back a patch or two. It's not bad enough to warrant a trip to the dermatologist or pharmacist, and I've found we're able to control it by turning to Aveeno Baby Eczema Care Body Wash and Aveeno Baby Moisturizing Cream. I'd used these products when she actually was a baby, but now that she's a big girl, there's no reason to stop. The wash is a little more sensitive than what she'd been using, and applying the cream at nighttime ensures that her skin is getting that moisture barrier it so desperately needs.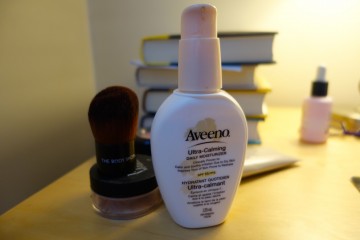 My go-to daily facial moisturizer is the Aveeno POSITIVELY RADIANT Daily Moisturizer Broad Spectrum SPF 30. I love that the SPF coverage is combined with a rich moisturizer (having it there affords me one less thing I need to think about each morning). Sadly, I don't require the same level of sun protection in my long, cold winter months, so I've turned instead to Aveeno ULTRA-CALMING Daily Moisturizer Broad Spectrum SPF 15. It's oil free, hypoallergenic, noncomedogenic, dermatologist tested, and perfect for my sensitive skin.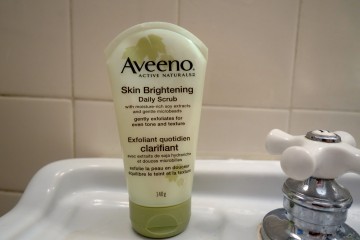 Do you find that your skin gets a little dull and subdued in the winter months?  This Aveeno Skin Brightening Daily Scrub is gentle enough that I use it every other day in my shower. It makes my skin feel softer and smoother, and gives me a little glow.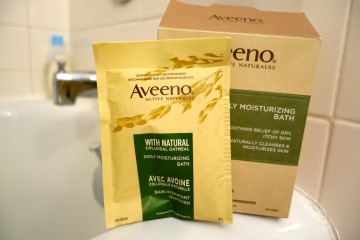 Finally, I recommend the Aveeno Daily Moisturizing Bath. When the days are particularly blustery and blowy, find an hour to draw yourself a nice warm (not hot!) bath and relax. This soothing bath treatment for itchy, irritated winter skin is made of finely milled 100% pure colloidal oatmeal—an ingredient long recognized for its ability to relieve itching. When dispersed in water, the powder in this product forms a soothing milky bath that works as a natural cleanser, provides temporary skin protection, and relieves irritation and itching.
One other trick is to leave a hand cream on everyone's bedside table. My kids all play hockey, and I find that their hands get quite irritated in their (absolutely disgusting and stinky) sweat hockey gloves. They'd never stop to think about moisturizing their hands during the day, but when it becomes an end-of-day habit, it protects and soothes.