New Year's Eve with kids is tough. I'm not sure if I can stay up until midnight, and I definitely do not want my kids to be awake that long. So this year, I'm having a Bubbly New Year's party, and we are counting down to noon. Because that's how I roll.
Here are my ideas for some easy decorations and games!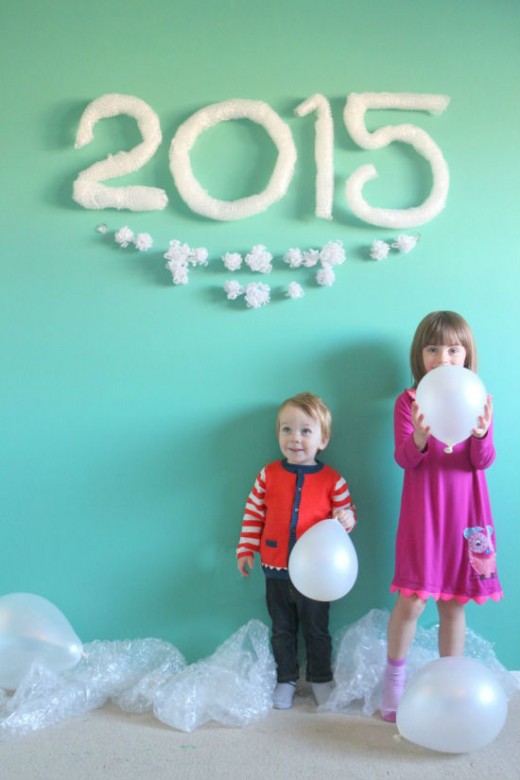 DECORATIONS
My philosophy is that for a kids' party, you shouldn't spend more time prepping than partying. So if your party is an hour, you should only spend an hour making decorations. Here are some quick and easy ways to decorate for your bubbly New Year's party.
1) Balloons
Balloons are great because they are cheap, readily available, and they make a big impact. I think they look the best when you group them, but I hate trying to gather those tiny little ends together. Luckily, I discovered these new Command Party Balloon Bunchers—available only on Amazon.ca.  These things are GENIUS.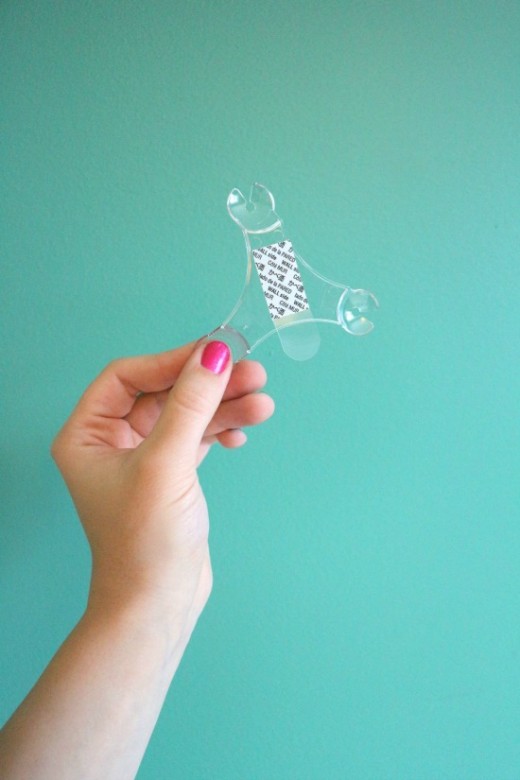 You know those Command strips that let you stick things to your wall without damaging it? The Balloon Bunchers use those things. The strips are way better than they used to be – they came off of my wall with zero problems. So you stick your balloons in the little circles and then stick the whole thing to the wall. BAM, done.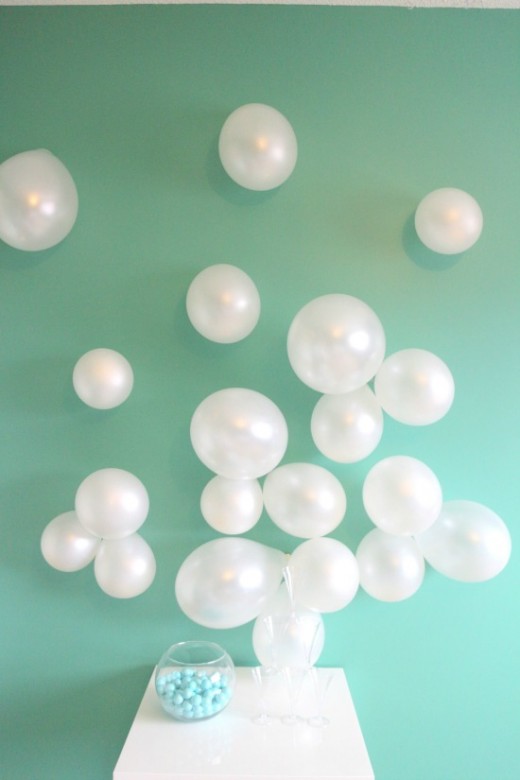 As you can see, I have some mad dessert-table skills.
For this bubble wall, I used 5 Balloon Bunchers and 5 Command Party Mini Spring Clips, to hold the single balloons to the wall. You can see how they work in the photo below – they just pinch anything and make it stick.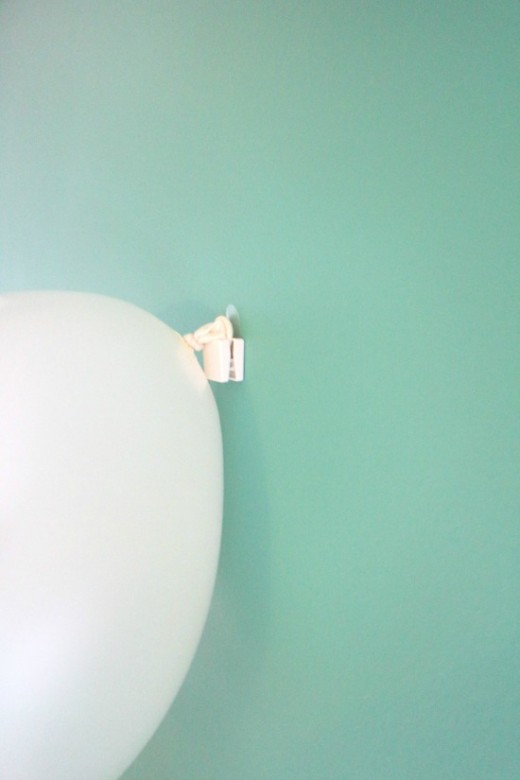 The bubble wall also makes a good backdrop for a photobooth!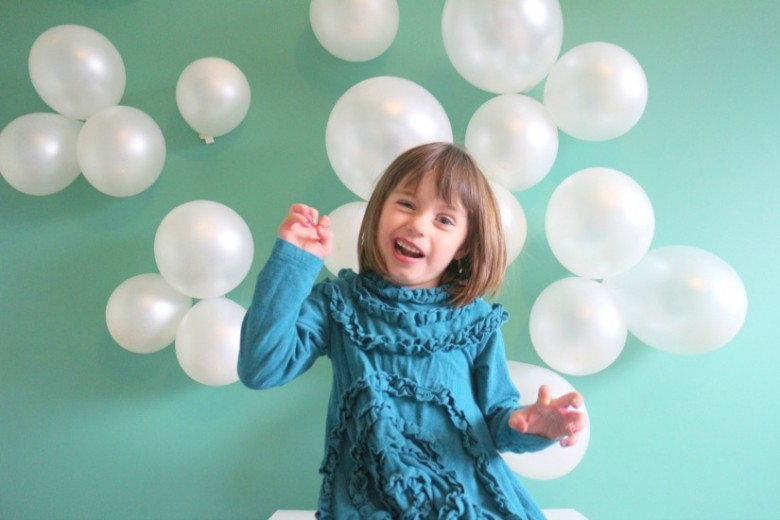 That's her pirate face!
2) Christmas Ornaments
This decoration is even easier to make. You just get a bowl and toss some round Christmas ornaments in it. I got these ornaments for 50% off because Christmas is almost here. Bonus: you can save them and use them on your tree next year!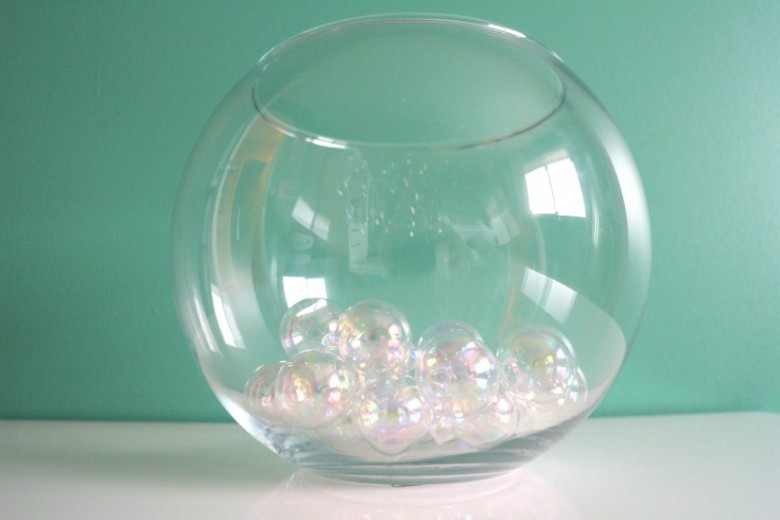 3) Paper Lanterns
I bought some cheap paper lanterns at the party store and gave them a quick coat of glitter spray paint. Now I want to glitter-spray-paint ALL THE THINGS. If you can't find glitter, some clear glossy spray paint would also make the lanterns look bubbly.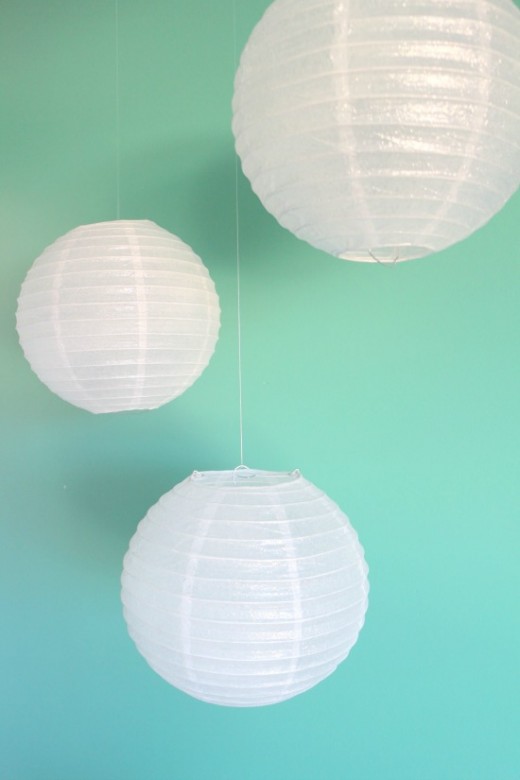 I hung these with Command Party Ceiling Hooks. I was worried about these because I have popcorn ceilings, but they stuck to my ceiling with no problems.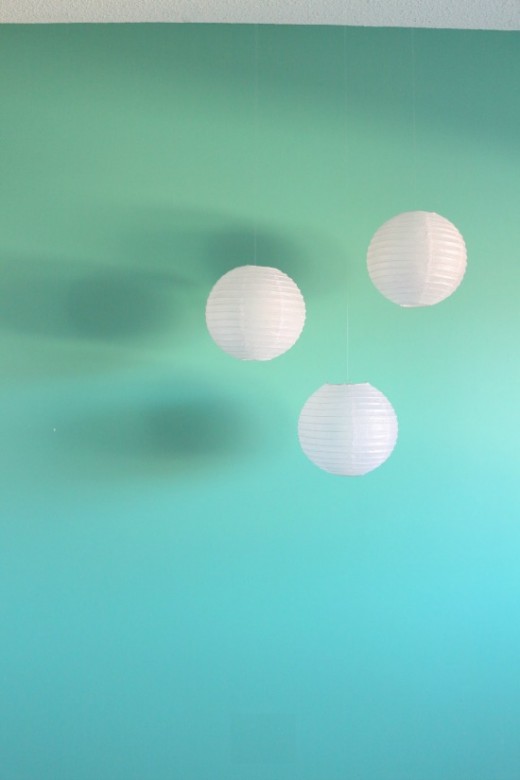 This makes me happy because I write about birthday parties, and I currently have 4 cup hooks randomly mounted in my ceiling for hanging projects to photograph. It looks weird, and they are totally coming down now that I have the sticky Command hooks.
4) Bubble Garland
This garland is super easy to make. All you need is pipecleaner and fishing line.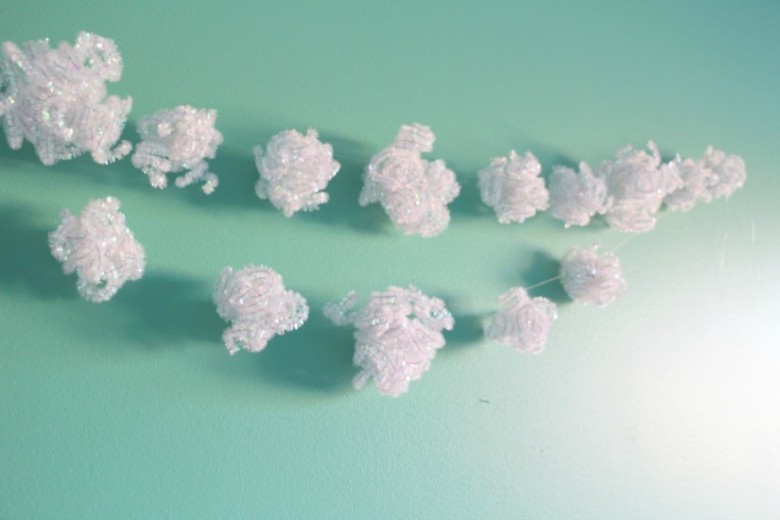 To make the smaller "bubbles," take 5 pipecleaners, bend them in half, and twist the bottom to keep them together.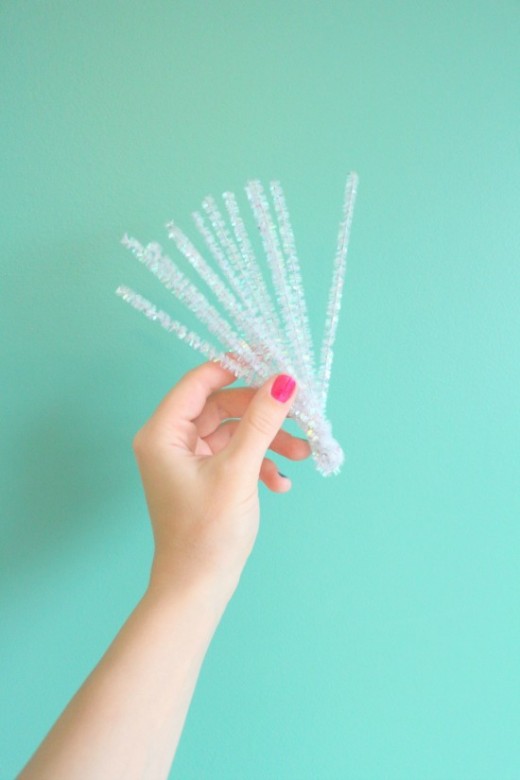 Next, wind each pipecleaner around your finger to make little spirals.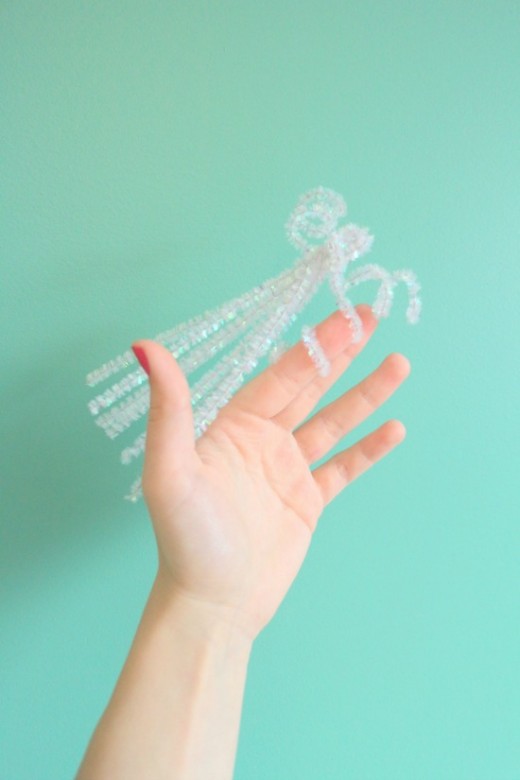 Once they are all spiraled, crunch them up into a ball.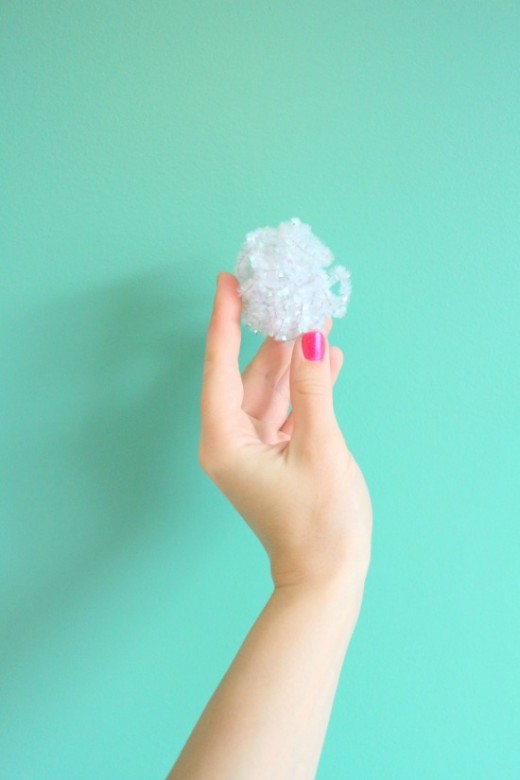 To make the larger "bubbles," use 10 pipecleaners and don't bend them in half. Just twist up the bottoms a bit until it looks like a creepy albino spider. Then follow the same method as above.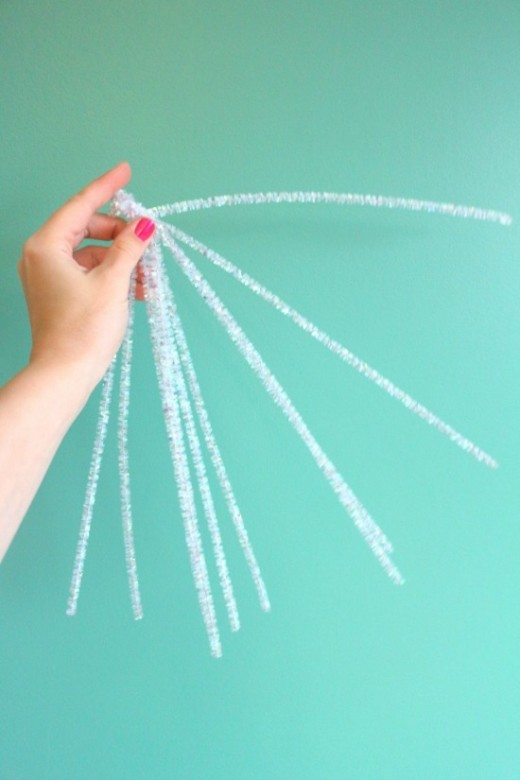 To hang the bubble garland, I used the Command Party Banner Anchors. They have a nice big sticky strip, which makes them stronger. And they are shaped like flat knobs, so you can wrap the strings of your garland around them easily. I love that all the pieces and the strips are clear now! You can barely see them in person.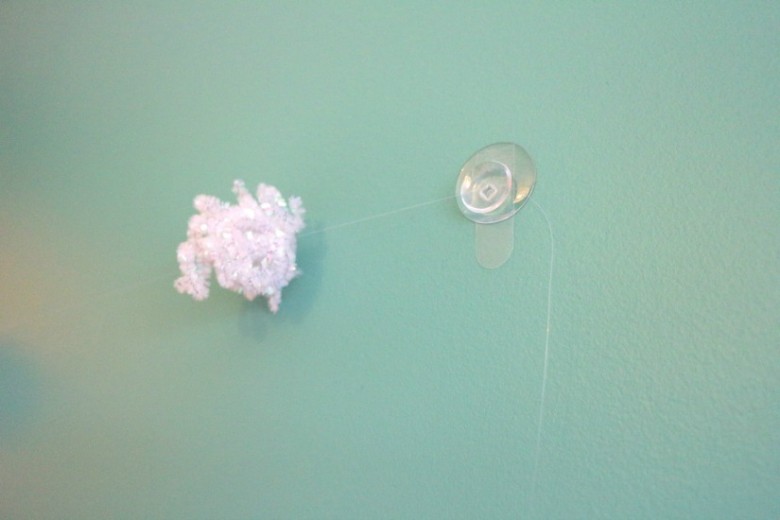 5) Bubble Wall
Look at this bubble wall! Isn't it cool? It was so easy, my 4-year-old helped me do it. All you need is those plastic Christmas ornaments from the craft store that break in half (normally you fill them with something and hang them on the tree). I got these for 50% off, too.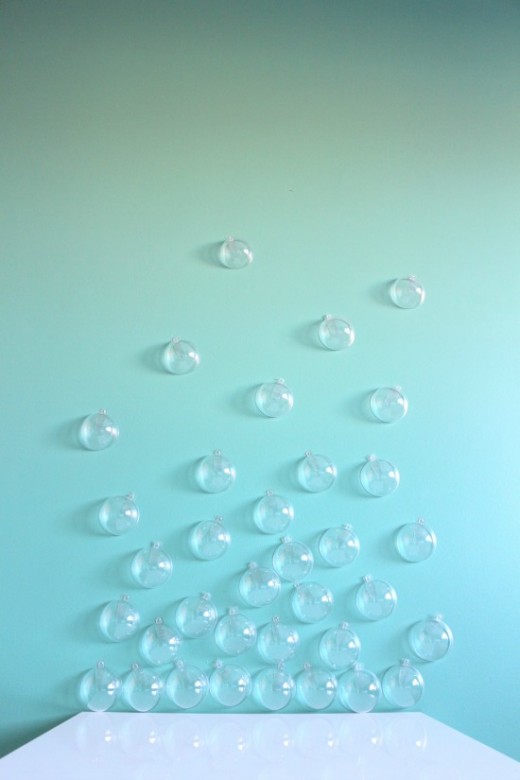 I took a bunch of Command Party Clear Mounting Strips and used them to stick the ornament-halves to the wall. I bunched them up at the bottom and spaced them out at the top so that they look like bubbles floating away. This would also make a great backdrop for photos or a dessert table!
6) Bubble Wrap Year
You can't have a New Year's party without displaying the date, right? To make this New Year's sign, you just need bubble wrap and some wire. Here is a picture of the gross dirty wire I found in our garage.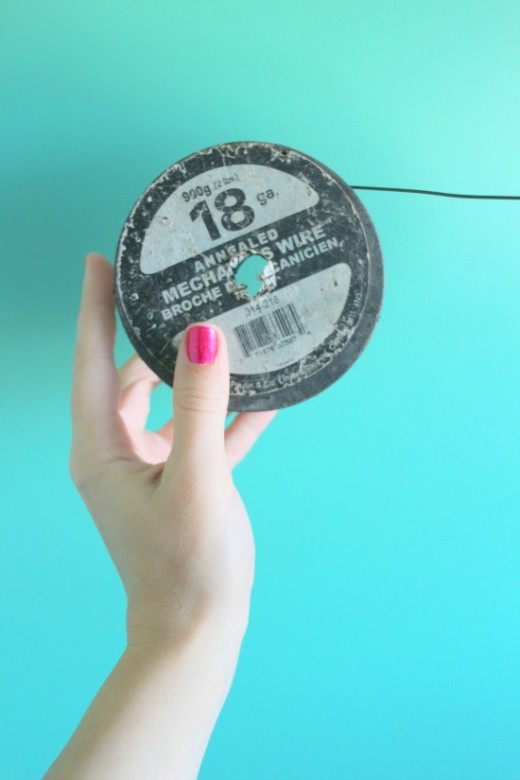 If you don't own this stuff, you can buy it at the hardware store. Silver wire would be better because the black showed through the bubble wrap a bit.
To make the sign, shape your wire into the numbers, then wrap them in bubble wrap. I found it was easiest to straighten the numbers out, wrap them in big pieces of bubble wrap, and then re-shape them. I used the purple Scotch tape meant for gifts because it didn't show up on the bubble wrap, and then I used a box of Command Party Refill Strips to attach the numbers to the wall.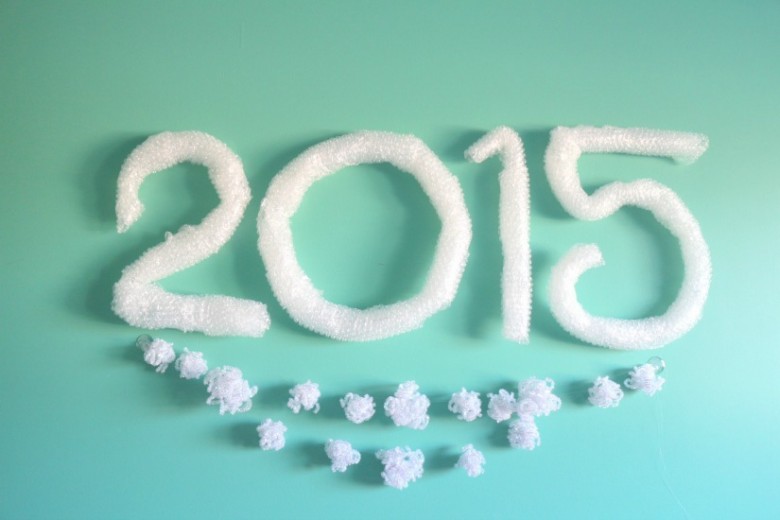 I think it ended up looking like soap bubbles! If your decorations are not perfect, don't worry – kids will not notice or care. Still feeling stressed? Pop some of that bubble wrap. You'll feel better, I promise.
FOOD
I got these insanely cute plastic champagne flutes at the party supply store. We are going to give the kids pop or sparkling juice as their "bubbly" drink.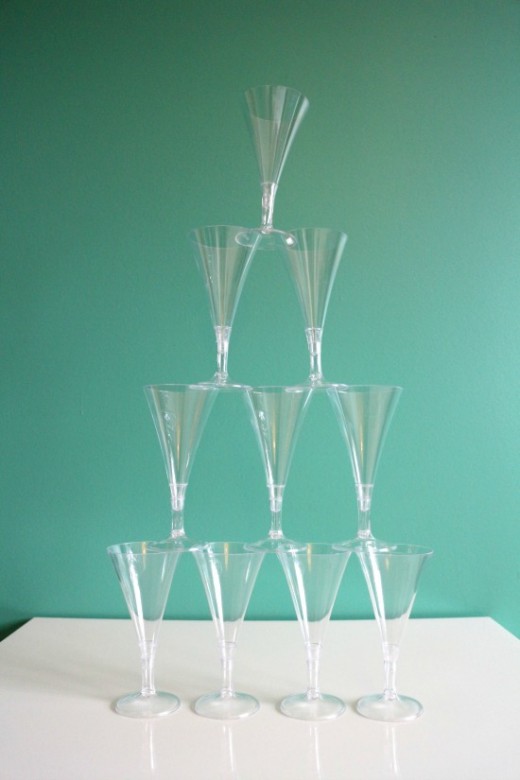 Every good party needs sugar, so I got a nice bubble-shaped bowl and filled it with bubble gum. I used blue gum because I thought it looked bubbly, but I'm sure the kids will not care if yours is a different colour. They will just be excited about gum.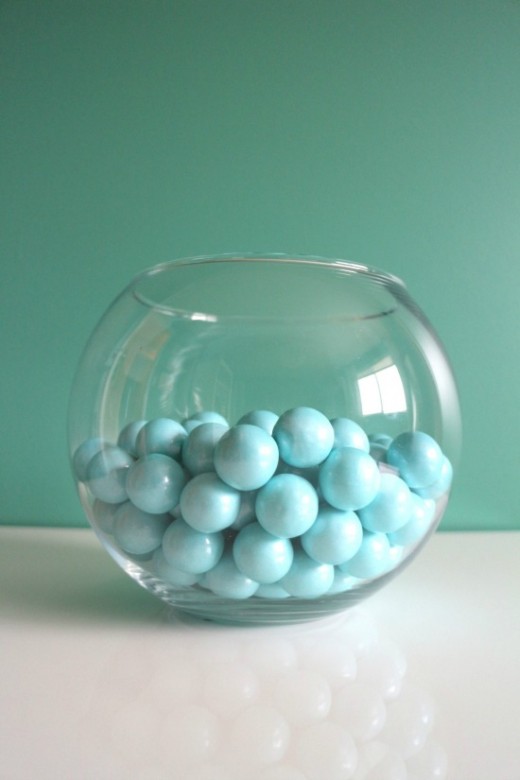 LOOT BAGS
For loot bags, I found spherical containers at the party store and filled them with bubble gum, bubbles (of course), fizzy candy, star-shaped sunglasses, and a bubble-ish bouncy ball.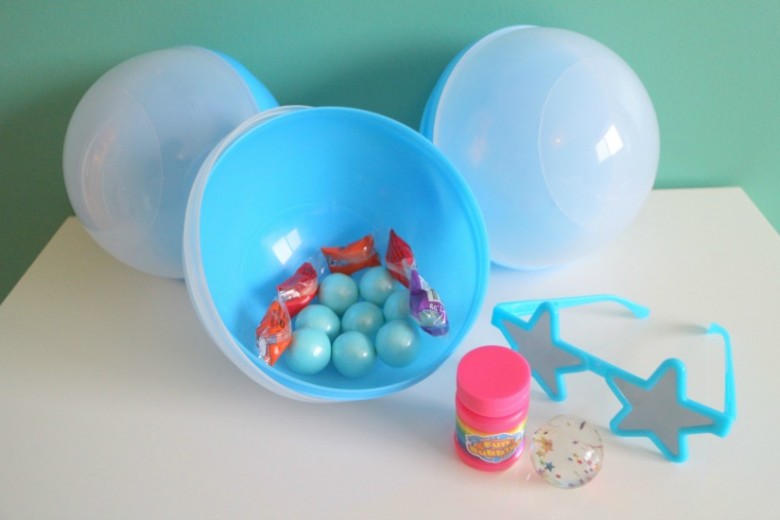 ACTIVITIES
I got clear plastic beads at the craft store and had the kids string "bubble" necklaces. The kids also had fun writing down New Year's resolutions and they danced to pop music (ha ha).
And of course, I also gave them bubbles and bubble wrap to play with. The bubble wrap alone was good for over half an hour of screaming fun. EASIEST PARTY EVER.
Happy New Year!
Disclaimer: This post was generously sponsored by 3M. Because I blog about parties, I use these things ALL THE TIME. That blue wall would be full of nail holes without them because I hang ALL of my projects on it for photos. I was so excited to try out their new party line! For more info, check out: https://www.facebook.com/CommandBrand. You can also buy any of these products on Amazon
Want to see more of Katie's great party ideas? Check out her blog Best Birthdays!