In the coming weeks, social media will be abuzz with celebrity Halloween incarnations—and don't think your daughter hasn't noticed too. While Hollywood's finest are running around L.A in sexy, skimpy outfits (unless you're Katy Perry and prefer a Cheetos costume), your tweens and teens will be experiencing the witching hour in much chillier climes. So to help them strike a balance between playful and Playboy this October, we've provided you with some fun costume ideas, with DIY and store bought options for each. You can thank us later…
Flapper Girl
The Great Gatsby movie may have hit cinemas two years ago, but everyone is still going bonkers for all things 1920's. It's a very distinctive look but shouldn't be too hard to achieve with just a few choice pieces. Pair a simple shift dress (preferably with tassels) with a headband, which you can easily make by customizing one of her regular headbands with a feather. Jazz up the outfit with some accessories like a feather boa and cigarette holder to finish. Instant Carey Mulligan chic. Alternatively get this pink flapper dress for $39.59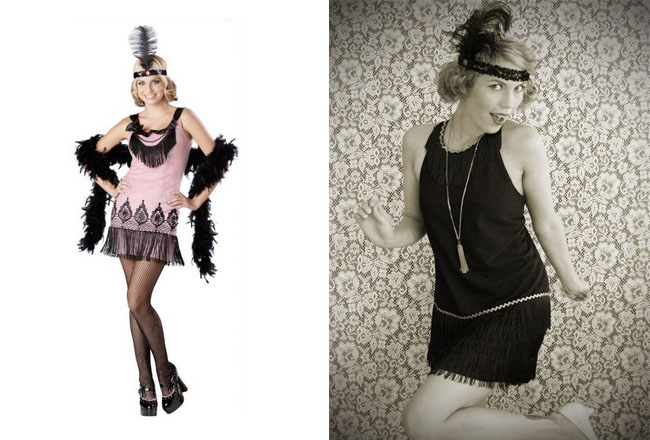 (Images via costumesupercentre.ca & iwearthecanvas)
Day of the Dead
Dia de los Muertes, or Day of the Dead, has blown up in the last few years—maybe because of some TV show references or perhaps the freaking awesome face painting efforts that have been shared around Instagram and Pinterest recently. Either way, the Mexican holiday is here to stay, so grab some face paint, your make up bag, and pick a favourite picture from social media to emulate. A floral headband will neatly tie this look together. Just make sure you have make up wipes to hand at the end of the eve! Purchase the costume for $64.99.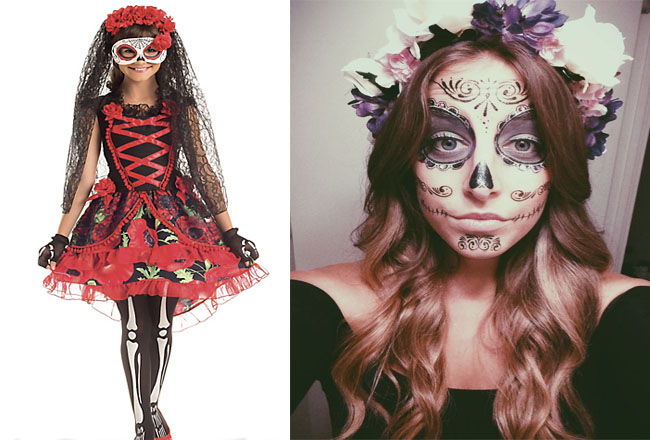 (Images via partycity.ca & Pinterest)
Rock, Paper, Scissors
Did somebody say group costume? This year get your daughter and friends to go team Halloween, by transforming everyone's favourite long-car-journey game (well, we couldn't really go as eye-spy now, could we?) into a hilarious costume. Rock wears all grey, paper can stick sheets to front and back (add lines and hole punches for authenticity) and scissors, perhaps the most complicated of the three, can get crafty by cutting out some shapes to attach. Plus, if the party is a washout, you'll be able to entertain the guests all night long! Purchase the 3-piece set for $45.99.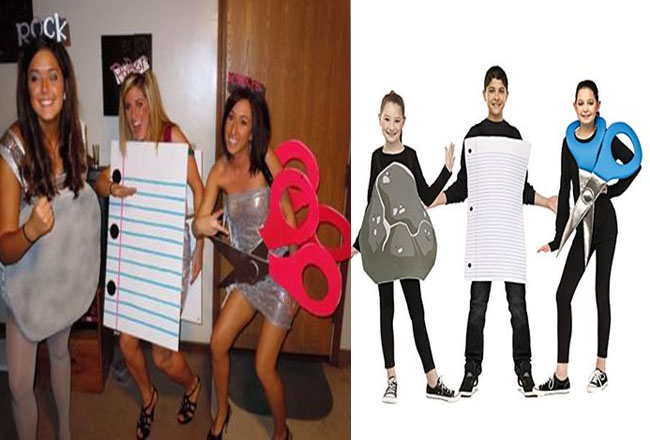 (Images via Buzzfeed & Amazon)
Wednesday Addams
Crazy, kooky but most definitely not ooky, this Wednesday Addams costume couldn't be any cuter. This character is perfect for kids with dark hair that's long enough to wear in long braids. A black dress with a Peter Pan collar and short sleeves works best but any plain dress could be customized with material to create the white piping at the edges. Add black stockings, white face make up and dark eyes and if you can find a skull (plastic, please!) it'll add a chilling touch to the costume. Buy it now for $24.38.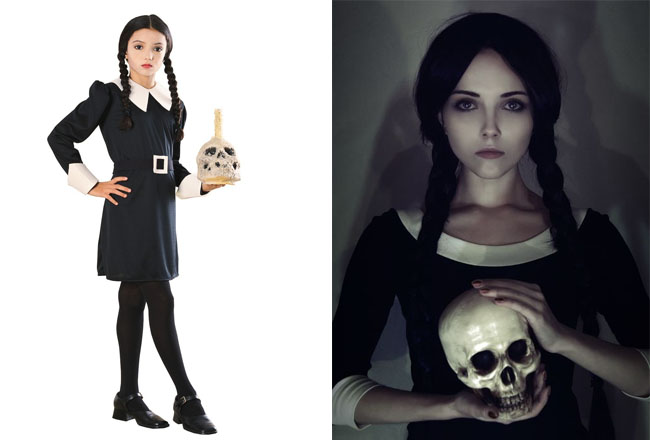 (Images via Amazon & Pinterest)
Piñata
What party doesn't need a piñata to store all the hard earned candy from trick and treating? This colourful outfit will impress partygoers and get tons of compliments. Purchase a tight-fitting dress in a neutral colour and cut strips of crepe paper in a variety of bright colours. Snip half way up all the way along to create a fringed look and then stick or glue down to the dress. Decorate some cones similarly, add tassels of crepe and attach to a headband for the ears. Just be sure to keep anyone wielding a stick at a safe distance! Or try this full body outfit for $54.99.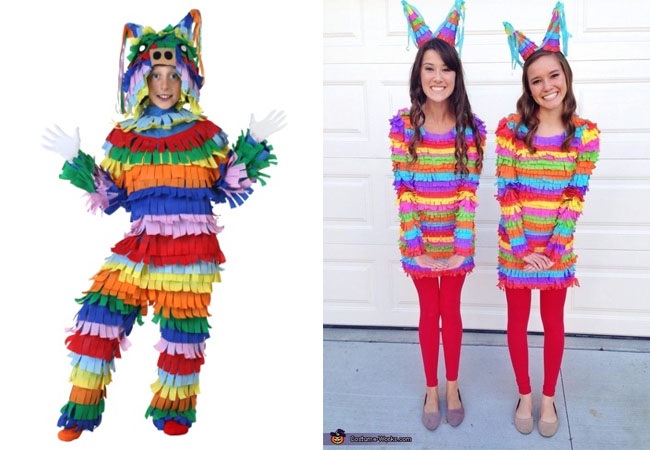 (Images via halloweencostumes.ca & costume-works.com)
Katniss Everdeen (Hunger Games)
Ladies love JLaw and our younger counterparts are huge fans of The Hunger Games, so its nice to have a costume we can all agree on. Strong, sassy and independent (and not to mention warmly dressed) Katniss Everdeen is a great character for your daughter to dress up as. Part hair on the side and plait into a braid, find a toy bow and arrow kit and lace up a pair of combat boots. Somewhere President Snow is weeping. Buy for $40.99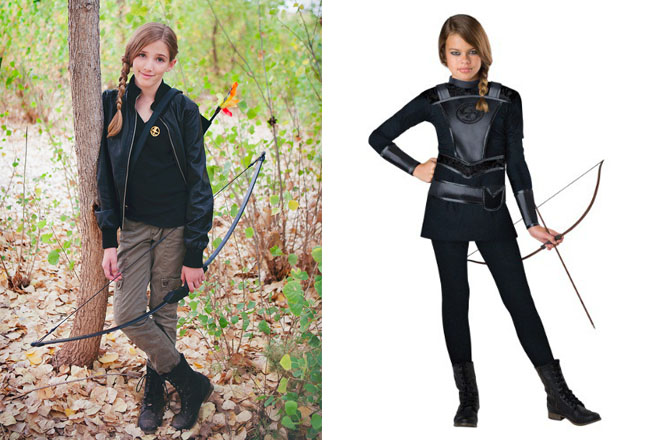 (Images via simpleasthatblog.com & halloweencostumes.ca)
Super Mario Sisters
The Italian plumbing brothers may have been dudes in the video games, but girls have been just as obsessed with Super Mario for years. So grab a girlfriend and get your game on! The beauty of this costume is that as long as one goes in red and the other in green, you wear white gloves, and you attach the letter M and L on your outfit, you don't even need a hat. Wearing tutus instead of overalls gives it a feminine edge—that is, until you add the moustaches! Purchase the outfit for $39.99.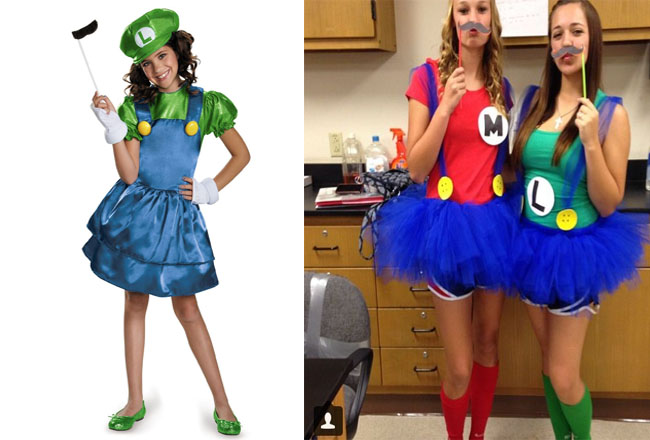 (Images via partycity.ca & Pinterest)
Mime artist
If your teenage daughter is going through a monosyllabic phase, here's a tongue in cheek suggestion for this year's costume. Take a black and white striped tee shirt with a black skirt or pants and braces. Pop on some white gloves and a beret, paint faces white, and add some black tears and red lips. Everyone will dig that Parisian style– C'est tres chic. Alternatively, get the outfit for $40.99.
(Images via halloweencostumes.ca & thejoyoffashionblog.com)
Queen of Hearts
If your teen queen is searching for an ace in the hole this Halloween, look no further than this classic Alice in Wonderland inspired costume. A red dress decorated with hearts, white tights and clever make up with bright red lips can pull this idea together quickly and effectively. We love the idea of incorporating an actual deck of cards into your outfit—make a crown, or glue straight onto your dress. Or get this cool outfit for $45.99.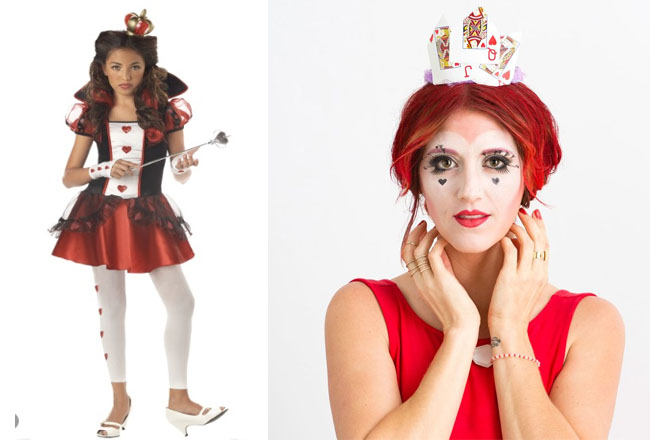 (Images via halloweencostumes.ca & Pinterest)
Princess Leia
Your daughter will be the (Death) Star of the show in this Princess Leia costume. It's never too late to get your kids interested in the intergalactic series, especially with the new Star Wars film hitting cinema screens at the end of this year. Since her outfit mainly comprises of white material, it's pretty simple to make—find a sheet and a sewing machine, or even an oversized tee with a belt. Make sure you style hair into those iconic buns and grab a gun (sorting blaster to you Star Warriors out there). Buy now for $62.09.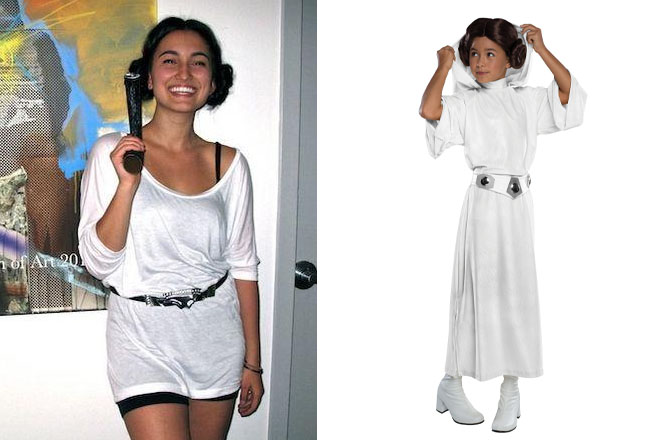 (Images via Pinterest & costumesupercentre.ca)