A few years ago I volunteered at Sick Kids Hospital in Toronto.
Once a week, I would make my way to the post-operative unit for kids recovering from surgery. I was there to play, read and comfort young kids while their parents took time to grab dinner or coffee. There were some kids who were staying longer than the families had anticipated and, as a result, the parents often couldn't take an extended leave from work or from the rest of the family. Sometimes, they simply couldn't afford a long term stay in Toronto hotels or rentals. I did my best to keep the kids happy and busy while they were there. But it was heartbreaking.
I remember thinking how hard it was for the parents to have to leave. They were always thankful and grateful but I knew it was tearing them to pieces.
I was recently reminded of this as I entered the Ronald McDonald House—a welcoming space for families with children who are facing challenging times. Imagine if your child has been diagnosed with an illness or involved in an accident that can only be treated at a hospital that's away from home. Of course, we are worried about our children first. But we are never quite prepared to hear that you need to stay for a while.
Often people wonder, why can't they just stay in a hotel or motel? Have you seen the prices in Toronto? Here at the Ronald McDonald house families pay just $10-$15 per night on average and no family is ever turned away if they cannot pay but it costs an average of $155 per night per room to keep the House in operation.
I met a family recently who's young son, Calvin has ongoing treatment at Sick Kids Hospital. The first time they stayed at the House was for 37 days and they didn't expect that. They've had to rely on the House several times since. The parents told me that Calvin's immunity is suppressed as a result of the medication needed from his bone-marrow transplant and  they can't risk exposing him to a hotel. His mom, Janet, told me that he pretty much lives in a bubble. "The playground here is the only place where he can safely play outdoors just like any other child his age," said Janet emotionally. "At his age he should be learning all this stuff like climbing and having fun but it's been really hard. We just can't take him to a local park. He can't play in the dirt."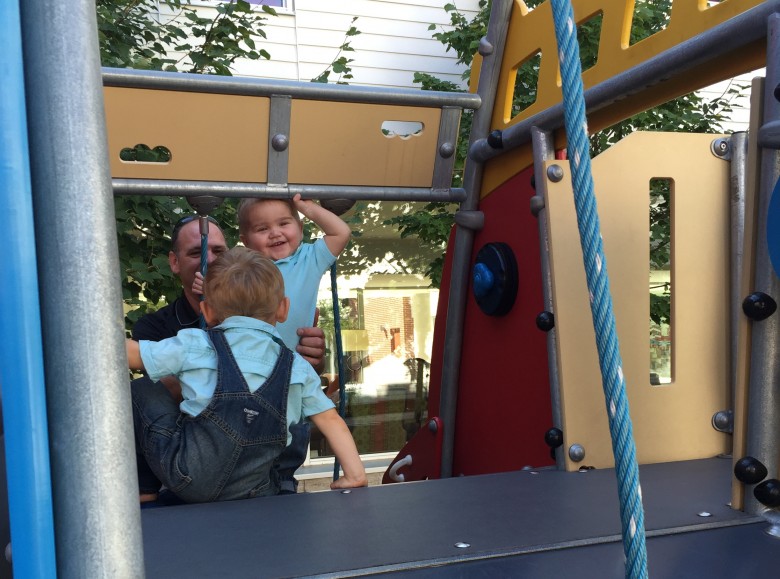 It's the family's home away from home.
"I don't know what we would have done if we didn't have Ronald McDonald House," said Terry, dad. "Being so close to the hospital and being able have a home-base as well for his brother made us realize how lucky we were. We had to take 24 hour shifts between the two kids so being close helped us tremendously."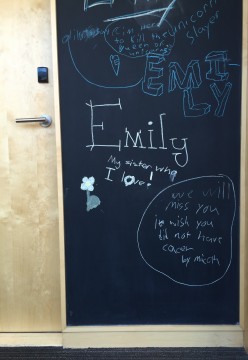 In addition, his sibling, Dalton, who's only a couple years older can still be part of the family and stay with mom and dad too. Much research over the years have proven that sick children heal faster when their families are with them, and the Houses enable families to stay by their child's side during a medical crisis. Walking through the corridors I noticed encouraging messages left by the families and friends at their doors—very overwhelming.
The House also includes educators that can keep schooling going for the kids and their siblings if needed. An art room is there to help patients and their siblings express their feelings and be creative.
Kitchen facilities offer space to cook, prep and store groceries. Each evening there are meals prepared for those who can't cook – volunteers come in and help cook and clean. "Coming home for dinners was a huge blessing at the end of the day. We would come home exhausted and the last thing we wanted to think about was making a meal. We really didn't have time to think about groceries. I was really emotional the first few times we were offered a home cooked meal and realizing that people took their time to volunteer for people they don't even know. That was pretty amazing." said Janet.
"They've truly helped us and many other families. You know, it's truly amazing because they give us a sense of normalcy back into our lives when everything else is not. They've taken care of us so we can take care of our child and we are very grateful," said Janet.
If you had visited a McDonald's Restaurant on September 17th, you may have discovered a "Thank You" note tucked inside your order like I did. The notes were written by the kids and families who have recently had to rely on RMHC during their child's hospital stay. So, if you're ever wondering where that 10 cents donation from every Happy Meal goes? It's in the hearts of these families.