Sometimes it's hard to get away, you know? Whether it's time or money or arranging relatives to take care of the kids, it can be a challenge. When the kids were really young, believe it or not, it was much easier to escape even for a staycation in the city. Now, they've got homework and after school programs and crazy schedules that make us think twice before booking that vacation. But we all need a break to recharge as parents and as a couple!
The benefits of playing tourist in your own city are numerous. It's much easier to unwind if we're just a cab ride away from home if we're really needed. It's more affordable if you factor out airfare, plus you're leaving less of a carbon footprint in this world. In a big city like Toronto, there is so much to see and do any time of year. The restaurant scene is really amazing from street food and casual diners right up to higher end hotspots. The arts and culture scene is thriving with festivals, galleries, and even street art. From local pub bands to massive concert halls, you'll never be bored in this city.
But what if you want to just chill?
Here are some great escapes in the city for your next recharge…
THE DRAKE HOTEL, 1150 Queen Street West
Are you the opposite of a minimalist with a touch of wanderlust? If so,  you'll want to check into this boutique hotel with rooms that are eclectic and special. Each room has it's own look and it feels like you're walking onto a film set with rooms that are familiar and cozy—and if you're feeling fancy, in-room spa services are available. Weekends will often have DJs and live bands at the Sky Yard patio (year round) as well as in their Underground and lounge. The restaurant on the premises is worth visiting but it's also conveniently located near Ossington—where all the cool kids go to eat and shop.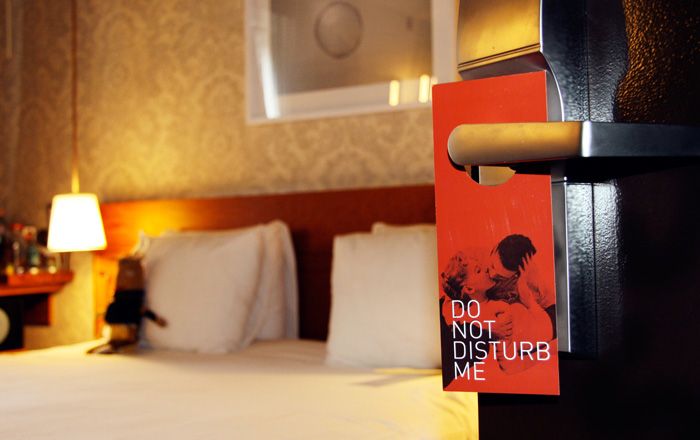 EXECUTIVE HOTEL COSMOPOLITAN, 8 Colbourne Lane
This boutique hotel is conveniently (and discreetly) located within steps of the massive shopping mecca of Saks Fifth Avenue, The Bay, and the Toronto Eaton Centre. It also has plenty of restaurant and theatre options within walking distance. It often goes unnoticed but is ideal for those seeking a modern boutique hotel experience. Spa Zen has an oriental feel and is a great escape with a jacuzzi tub to soak away the stresses in life. Rooms are minimal in design and designer penthouse suites are two level beauties.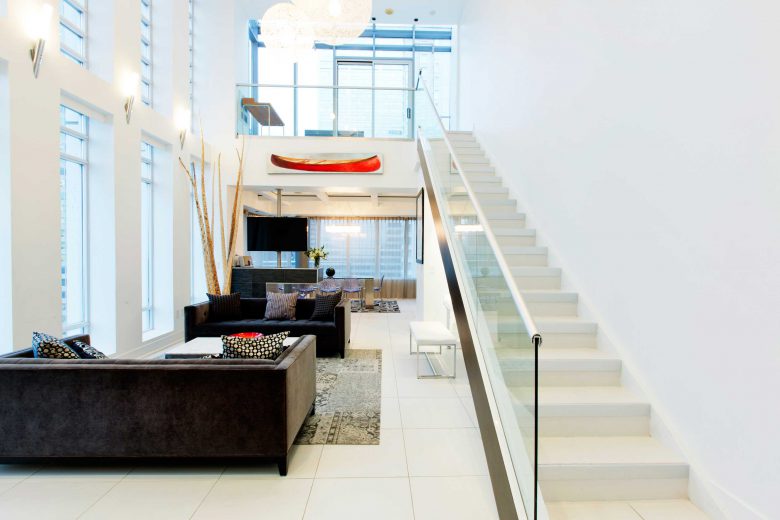 FOUR SEASONS HOTEL, 60 Yorkville Avenue
Escaping to this luxurious Five-Diamond and Five-Star rated hotel is dreamy. With a tranquil spa and pool overlooking the Toronto skyline as well as Daniel Boulud's restaurant right on the premises, you really won't want to leave. Nights are always hopping in the dbar with DJs on hand, but when you retreat to your room, you won't have a care in the world. It's on the doorstep of galleries, museums and yes, shopping. But seriously, we would be totally happy staying put and ordering room service.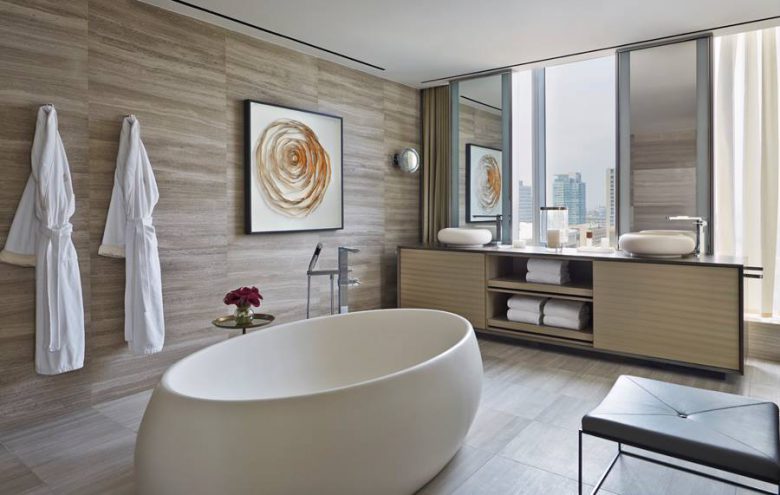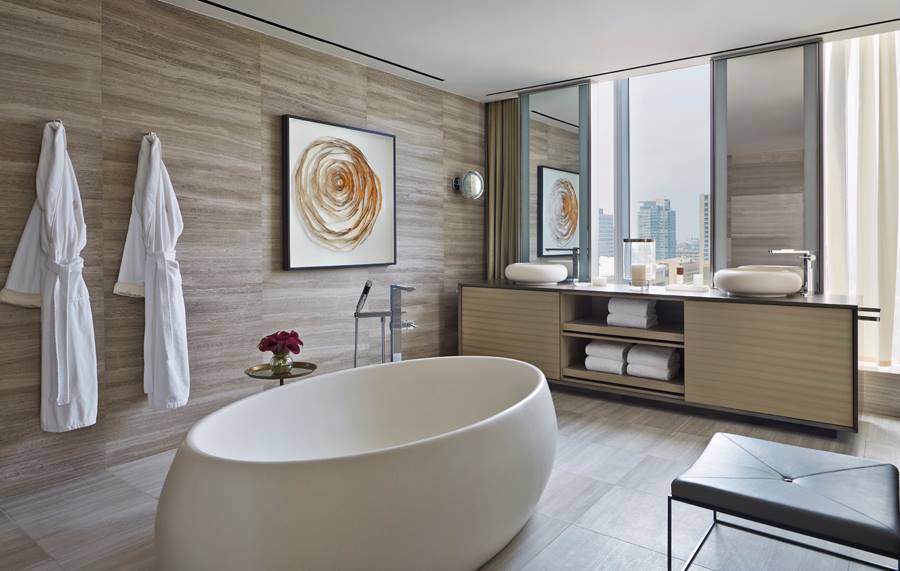 GLADSTONE HOTEL, 1213 Queen Street West
This boutique "art hotel" has 37 individually artist designed rooms and offer more than a hotel stay. Each room has a different feel and theme. Room 403 "Surreal Gourmet" is designed by Bob Blumer, artist and Food Network Canada host. But if you're looking for something a little more mysterious, check out the Parlour of Twilight (room 405) that got indirect neon lighting at the window and tin ceiling tile. If you're interested in a more diverse, arts and culture scene, this hotel has lots going on. Local talents from artists, musicians, poets, and chefs are very much part of the fabric of this historical site. Originally built in 1889, the Gladstone was given a new life in 2005 with a cultural approach. There are three gallery spaces in the building and over 70 art exhibitions are hosted here throughout the year.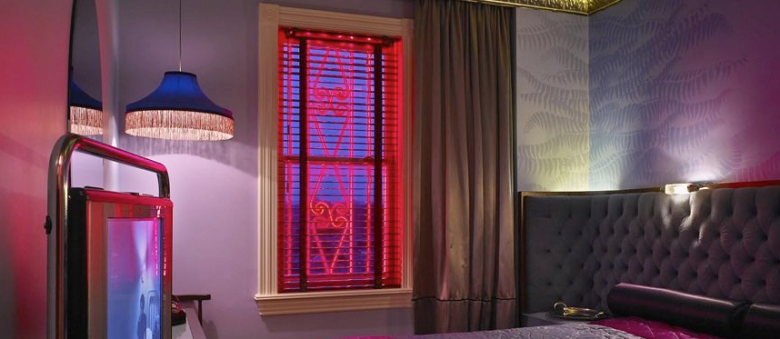 SHANGRI-LA HOTEL, 88 University Avenue
When you step into the lobby of this Five-Star hotel, you immediately have a sense of calm wash over you. It's the soothing scent that, for me, whispers time to relax and unwind. The feel is luxurious contemporary Asian. Corridors are filled with museum pieces. Suites are elegant. The Miraj Caudalie Spa is worth spending time in for Hammam and other treatments. Escape to the quiet pool area and pull over the sheers in your own cabana. It's truly blissful. Several restaurants on the site including Momofuku Noodle Bar and BOSK. Late afternoon and nightly entertainment in the main Lobby Lounge—some of the best local musicians and singers come here to perform. Grab a cocktail or check out the Champagne wall for celebrations.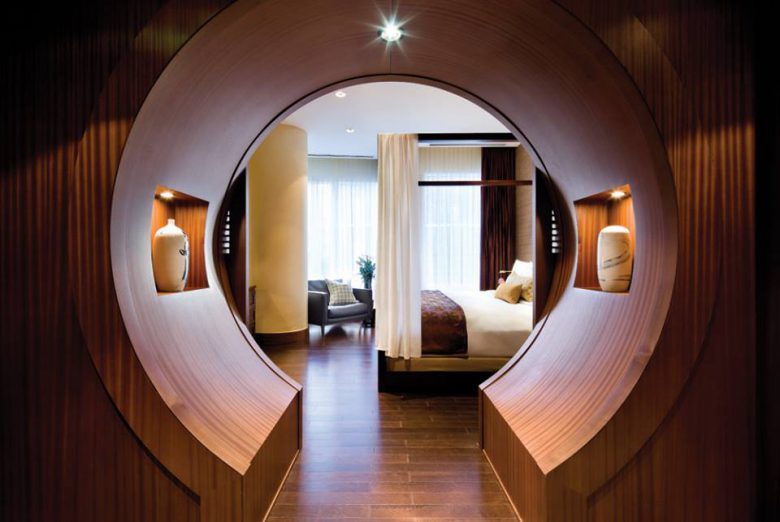 SOHO METROPOLITAN HOTEL, 318 Wellington Street West
This hotel is perfectly situated within walking distance to the major sports arenas (ACC, Rogers Centre), and theatre and entertainment district. But don't let the buzz of the streets be a deterrent. This hotel knows how to create a special romantic getaway! Rose petal baths and champagne for Valentine's, anyone?  It also houses three great restaurants including Susur Lee's Luckee, Senses, and Wahlburgers (yes, if you're lucky you may spot one of the brothers there).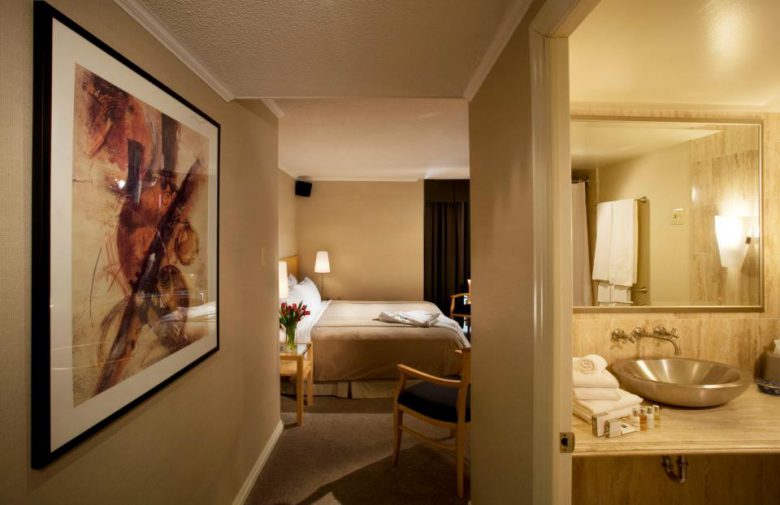 TEMPLAR HOTEL, 348 Adelaide Street West
This hidden gem is one that we had discovered during the Toronto International Film Festival a couple of years ago. It's look and feel is minimal in design with attention to finer details. Japanese-inspired platform beds and over-sized soaker tubs beckon you to stay a while. Because of its ideal location to the theatres during TIFF season, it's a popular spot for celebrities that prefer to stay under the radar. It's also home to Parcae Restaurant that offers a unique take on European dishes with Canadian touches.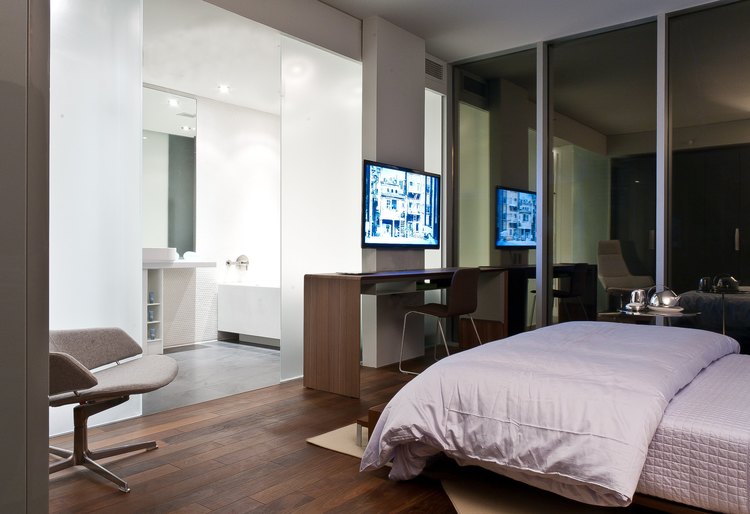 THOMPSON HOTEL, 550 Wellington Street West
Located in the King West area, just steps from great clubs and restaurants, is this luxurious boutique hotel. With incredible views of the city, you can feel like you're in another city altogether. Spacious rooms and gorgeous bathrooms. During the summer, the hotel has a rooftop pool and lounge to enjoy. Colette Grand, a French restaurant is located on the main floor that is very inviting—you can also pick up fresh baked goodies and lunches at the bakery attached.