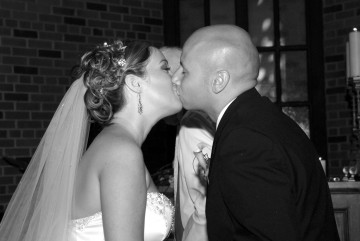 This past Sunday was my 6 year wedding anniversary. When you hit these mini milestones, like a wedding anniversary, it really makes you reflect back on your wedding day. I won't go into detail about the wedding but it was a fun day: perfect weather, perfect guests, and most of all perfect bride (yep I'm sucking up a bit, but it's true). I am in a completely different place now vs. where I was back then. In 2007 it was just me, Charlene, and our first house. Fast forward to 6 years later and we've moved twice and had 2 kids.
So this is how it went down…six years ago Sunday we got married. Six years ago today we started trying for kids. We dated for a while, so we knew that once the ring was on that finger it was go time.
Fortunately, we were blessed the following year with Travis, and again in 2011 with Rory.
Like many people heading towards parenthood, I was filled with questions and doubt. I figure since I'm in a reflective mood right now, let's look back at some of the questions I had as a non-dad, and answer them as a father with 5 years' experience. Maybe it's an exercise that'll help someone who's heading into parenthood.
Here are the questions floating around my head back then.
How hard is it to make a baby? It sounded silly I know, I was fortunate to learn everything I know about 'relations' two ways. One was in the school yard and second was an awkward sex-ed class with our gym teacher. What I learned? It's not until you try having a baby that you realize the stars practically have to be aligned. It's nothing like the movies…or the school yard.
Will we be able to conceive? Practicing making kids is a lot of fun but there is no guarantee. I've had friends that struggled and I know how difficult it can be. Fortunately, as I said off the top, we were blessed after just a few tries. What I learned? You don't have to be sober to make babies.
Can we afford kids? This is an ongoing concern and probably always will be. One day it's diapers, the next it's university. What I learned? You just have to go for it, you can always make excuses but it works out. By the way, if you're reading this and you're not sure if you can afford kids, just know that all you need in the beginning is a crib, diapers, and a ton of onesies. Things like baby shoes and a baby wipe warmer can be put on hold.
What about "me" time: There is no such thing as "me" time. What I learned? It doesn't matter, what you lose in sleep, sports, and personal time, you gain in hugs, laughs, and quality time.
Will I be a good dad? To quote a little band called the Beatles, all you need is love. What I learned? When you love someone more than anything on the planet, you can't fail.
I just want one more time to say happy anniversary to my wife Charlene. Thank you for making me your hubby, and thanks for making me a dad to our two rugrats.