We're becoming more and more of a cashless society. The convenience of credit and debit cards even has me often walking around with no more than $20 in my wallet. There are pros and cons and we are all well-aware of the fraud that can happen on our cards. Myself, I've experienced credit card fraud several times and it's alarming. But as technology  moves forward, none of us are surprised that the criminals are not too far behind.
As it's Fraud Prevention Month, we were invited to meet with fraud specialists at INTERAC. We couldn't pass this opportunity to find out what we can do to protect ourselves against card fraud. We had learned that there are several layers to the internet and it's a deep and scary place. We don't want to go there. But what's interesting is that most card fraud is not done by a kid behind a computer who hacks your information to buy a skateboard but the majority of  identity theft and card fraud is controlled by large organized crime. That's more serious. INTERAC believes that any fraud is unacceptable and continue to work on keeping us safe. So, here are five important findings that we all should  know now …
1. THE CHIP IS THE SAFEST TECHNOLOGY: Does your credit or debit card have a chip embedded? Good. If not, go to your bank now and ask for it. The chip cannot be copied by criminals and by the year's end, there's a mandate that every payment terminal in Canada will include this option. Criminals are looking for the magnetic strip to copy. Chip cards do not rely on your magnetic strip for purchases.
2. MOBILE PHONE PAYMENT METHODS ARE ADDING LAYERS OF SECURITY: And it's the way of the future. Your mobile phone, like Apple Pay, and the just announced Samsung Pay (launching this summer) adds additional layers of protection like fingerprint recognition at the time of each transaction. Apple says their technology does not track or store purchase data nor does it supply retailers with that data. Definitely something we should keep a close eye on moving forward.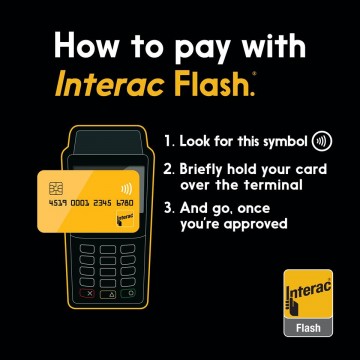 3.  INTERAC FLASH TAP PAYMENT OFFERS CONVENIENCE AND PIECE OF MIND: Pay for small purchases quickly without having to worry about eyeballs checking for your PIN number. The tap method is not only easy for purchases (coffee, lunch, groceries) but it's only allows you to pay up to $100 per transaction. So you're safeguarded from anyone trying to go over that amount. Any attempts over the limit (and the cumulative limit of $200) will prompt you to insert your card and enter the PIN as an additional security measure.
4. INTERAC IS NOT SUSCEPTIBLE TO RETAIL DATA BREACH FRAUD: Forty-five percent of Canadians are concerned about retail data breaches. Unlike credit cards and other debit card products, INTERAC rules do not allow the number on the front of the payment card to be used as an account number; it is only an identifier for INTERAC transactions. This means that any data captured or stolen through skimming or a breach is entirely useless to a criminal because it cannot be used to conduct transactions, online or in person. No personal financial information is shared or stored with retailers.
5.  ZERO LIABILITY POLICY: When you choose to use INTERAC payment methods you are protected from any fraud losses.
INTERAC Debit and Flash are the safest payment methods in the world. As a leader in security, safety and fraud management, the company has proven that since the chip and PIN system has been in place the fraud cases have gone down 88% since 2009 in Canada.
So, how can your protect yourself from card fraud?
1. Keep your PIN number safe and never share it, never write it down. Try and remember it.
2. If you lose your debit card notify your financial institution as soon as possible.
3. Cover your hand and number pad when you're entering your PIN number.
4. Check your bank accounts regularly and contact your bank if you notice unusual activity.