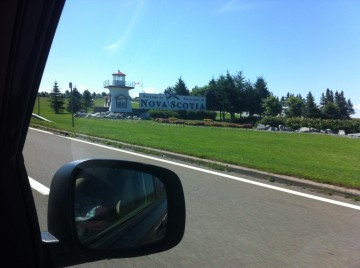 I tried to update a few more blogs whilst away in Cape Breton but I had terrible internet connection. I guess that's the whole point of a vacation right? Unfortunately, I'm not wired that way. If you were in Cape Breton last week, I was that guy trying to find a wi-fi connection on a raft in the middle of the Atlantic Ocean. Looking back, maybe not being able to get on-line was someone's way of telling me to enjoy the moment of being away from it all.
So, with that said, we had a great time out east with my wife's family; everything there is just a little but slower. I don't want to be that guy and bore you with our vacation slides but I did want to share with you the story of our commute to the isle of Cape Breton.
When it came to getting to our destination we had 2 obvious choices: We could travel by plane, or drive. Flying would cost a little more but I'd be enjoying a beer on Inverness beach about 9 hours after leaving Ontario.  Driving takes 21 hours but you save a little money. Well, I'm always one for saving a buck or 600 (I am wired that way), so we drove. It was long, challenging, and stressful, but it was also fun, adventurous, and rewarding. Almost everyone I talked to thought I was crazy for driving that distance with a young family, but we found it was the right thing to do for us.
The more and more I thought about driving rather than flying, it finally hit me, when you're driving a car, you can't check email or go to a meeting. Heck there isn't much you can do but talk, laugh, sing, eat, and watch "Despicable Me" 6 times. How many of us dream of spending days with our family with no distractions? I find that road trips allow you to spend quality time with your family. Put it this way, there's no way your kids can leave you to go play with their friends, and there's no way you can do chores behind the wheel. Maybe the secret to a happy family is to be trapped on the TransCanada for 20 odd hours?
I don't want to exaggerate the experience but I think it's fair to say it brought us a little closer. You get to experience everything together and I mean everything…wrong turns, games of eye spy, a ridiculous amounts of snacks, sing-a-longs, tears, pictures, too much coffee, too much juice, new towns, six showings of 'Despicable Me" and lastly…potty time.
Yep, we were a driving team of efficiency; I did the driving and my wife catered to the children. We had it all down pat – from snacks to stops and hotels to motels, we were all in sync. We were like a NASCAR pit crew; everyone knew their role and no one got hurt. We seriously should have been wearing uniforms, but then we'd be that family.
I've never been the kind of guy to tell anybody what to do, but if you're looking for a little bonding time with the family, you can't beat a good old fashioned road trip.
Safe travels!