When a kid as young as my son has a business idea this big, how can you not notice? In fact, Abi Smithson is out to get everyone's attention with her new line of sandals. Inspired by her mom's "ugly tan lines," Abi has created the Love Sandal – a sandal that will leave you with heart shaped tan lines, of course!
"The Love Sandal was an idea I had this summer when I was enrolled in the Girls Learning Code Inventors Camp in downtown Toronto," said Abi. " I noticed my Mom had ugly tan lines on the top of her foot and thought what if the tan line was a heart, and the Love Sandal was born. The Love Sandal is not just about a beautiful sandal, it is proof that ANYONE, no matter their age, race or gender can do ANYTHING! Love Sandal is about chasing your dreams and following your heart!"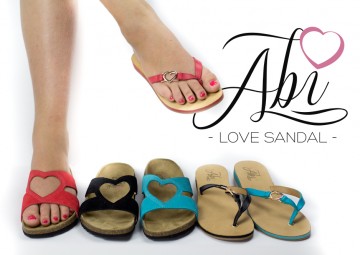 Abi has taken her concept to the Shark Tank and has aggressively been seeking backers for her vision. It's not small feat when you see the impressive roster of endorsers for a 10-year-old and her dream. While the end product is fashion, Abi is also learning the invaluable tools of becoming a young entrepreneur. People like Robert Ott, Chair of the School of Fashion at Ryerson University, David Bensadoun, President ofAldo Groupe, and many others are offering their business knowledge and guidance. With this knowledge, Abi hopes to also offer a one-hour video that brings together her learnings from her mentors so that others budding entrepreneurs can follow their dreams.
She's also been gaining a lot of media attention recently with interviews on CTV's Canada AM, Toronto Star, Trendhunter, Yahoo Finance and others.
So, can this kid fulfill her dreams? You can find out more at her indigogo page here: Love Sandal