Remember when you were a kid and you had your favourite shows? I remember watching sitcoms like Facts of Life and Fresh Prince of Bel Air over and over again. My sister and I would sometimes have to play rock, paper, scissors to determine who would get to pick which show to watch since we grew up with only one TV. Gasp!
I've told my own kids that story before and how lucky they are to not have to fight for who gets to watch their show and when since  we've also got tablets. There's a five year gap between my kids and while there are some shows they can watch together we're starting to notice that some shows our older son is interested in watching are not always appropriate for the younger one.
We recently downloaded the new Shaw Go apps that feature several of their favourite shows. I must admit that even I caught a few episodes of Austin & Ally (a great one is Soups & Stars where Ally goes on Tweeter and learns to "Twit" and discovers how posting a message could result in not so favourable reactions. A great lesson for everyone!) And hey, you should know what your kids are watching, right?
The apps are neatly packaged for age appropriateness. So, your kids won't need to sift through shows that may not be of interest to them. Here's a quick breakdown… are you familiar with these shows?
SHAW GO FAMILY includes shows like Jessie, A.N.T.Farm, Dog with a Blog, Good Luck Charlie, Austin & Ally, The Next Step, Liv and Maddie, Shake it Up and more.
SHAW GO DISNEY XD includes Phineas and Ferb, Kick Buttowski, Kickin' It, Lab Rats, Pair of Kings, Crash and Bernstein, Pac-Man and the Ghostly Adventures, Gravity Falls, Fish Hooks and more.
SHAW GO DISNEY JUNIOR includes Little Mermaid, Little Einsteins, Mickey Mouse Club House, Jake and the Never Land Pirates, Special Agent Oso, Imagination Movers, Handy Manny and more.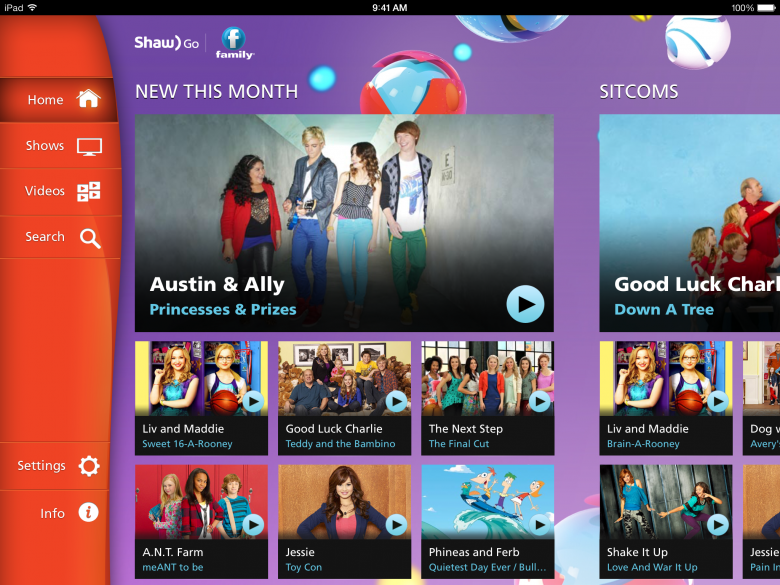 WHAT YOU NEED TO KNOW ABOUT THE SHAW GO APPS:
All three apps are free for download but you must subscribe, or be an existing customer of Shaw Cable or Shaw Direct to access the shows.
Content is streamed and accessible through Wi-Fi or with a data plan through your carrier of choice. But with more public accessibility to free Wi-Fi, it's getting easier and easier in places like restaurants and hotels.  What's impressive about the apps is the quality of the video images. While it's dependent on the signal power of your internet connection, the app is designed to give you the best quality of viewing available regardless of strength of your signal. So, if you have a weaker connection you'll still be able to enjoy the show.
There's lots to see! Also, content is active within the apps for an average of 30 days but fresh episodes are added and noted so you and your kids don't have to wonder what's new. Content is available for viewing in Canada only due to licensing agreements. Note that you cannot download and store the episodes for later viewing.
WHAT WE LOVED:
Like my older son said, "oh cool, so now I can watch my show on my iPad in bed?" Uh… yep! All three apps are available on iOS and Android.
Shaw Go Family Channel AND Shaw Go Disney XD are easy to navigate. Shows are categorized or can be quickly searched. When you type in even just a first few letters of the show the app will intuitively bring up the titles that will match your search. Each episode also offers a brief synopsis.  By the way, you can also include PIN protected parent controls in the settings. Disney has rated the shows but I like having the option to decide what's really appropriate especially for the younger one.
On both apps you can pause and resume watching a particular show even after exiting the app and going back later. On the Shaw Go Family app you can go also skip 60 seconds ahead or move back 30 seconds at any moment during a show.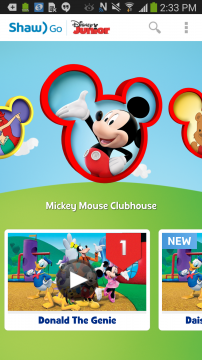 Shaw Go Disney Junior app is ideal for younger children (ages 2 to 7) with very easy  to use navigation. A wide variety of shows that are character driven, bright and colourful.  I don't have kids in this age range anymore but I do have a 3 year old nephew that I'll definitely have try it out. This particular app includes a "history tab". Pretty handy for this age group who often likes things on repeat. Who can relate?
To find out more about the FREE apps, visit Shaw Cable at: www.shaw.ca/television OR Shaw Direct at www.shawdirect.ca
CONTEST:
Click here and leave us a comment, telling us which Disney show is a favourite with your family to enter to win a Disney Junior prize pack!
This post was generously sponsored by Shaw Go, but the opinions and images are my own. For more information visit Shaw Cable at www.shaw.ca