The most prestigious Nature Photography exhibition in the world is now open at the Royal Ontario Museum for the third consecutive year. The Wildlife Photographer of the Year (WPY) exhibition features 100 award-winning images from the most recent competition organized by the Natural History Museum in London and BBC Wildlife. The incredible exhibition is now on at the Royal Ontario Museum until March 20, 2016.
There are many talented young photographers in the competition this year. We were captivated by the work of 10-year-old Josiah Launstein. In October 2015, the prestigious Wildlife Photographer of the Year competition announced that two of Josiah's images had been awarded and selected as being in the top-100 images from the 42,000+ submitted from 96 countries. "Snowy Snowy" and "Goose Attack" are featured in their highly-regarded Portfolio and will be exhibited in top museums, including the ROM, as well as in more than 70 countries. His passion for photography has lead him to enter other major competitions and in fact, he was a finalist in every contest he has entered this year as well as the youngest in WPY. We were curious about how his interest in photography all started and hoped he would share some of his photography tips with us.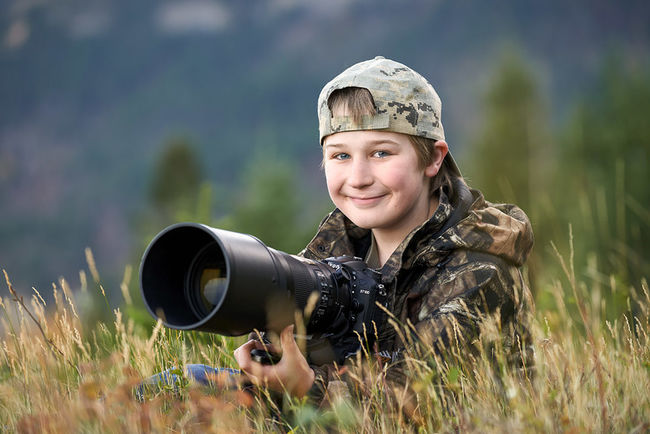 How did you learn about this photo competition?
JOSIAH: My dad has known about the competition since he became a professional photographer before I was born, and I always watched what pictures he would enter. My dad and sister have made it to the final round of Wildlife Photographer of the Year every year, and last year I decided to enter some of my photography, too! I had several images make it to the final round but wasn't awarded last year. It was really exciting to be shortlisted though, so I wanted to try again with even better pictures this year!
What photo equipment are you using (or what do you love to use)?
JOSIAH: I usually use one of my dad's backup cameras or whichever camera body he isn't using. Sometimes we trade back and forth when we are photographing an animal together. Usually I use a Nikon D7100 camera and a Nikkor 300mm f/4 lens. This fall during the elk rut I used a Nikkor 300mm f/2.8 lens most of the time and now I want to use it all the time because I love the way the pictures look with that lens. Sometimes I use a Nikkor 70-200mm lens to show the animal with some of its habitat around it. I don't own any of my own equipment yet but hope to soon! I really want a Nikon D750 or D4s when I can get one!
When you heard about the photo competition did you already have an idea of what you wanted to photograph?
JOSIAH: I had some of my favourite pictures from the past year already picked out to enter, but my dad decided to take me and my sister to BC for owls and waterfowl just before the competition closed in case we could get some awesome pictures. I got some of my best owl pictures ever, but my favourite from the trip ended up being a picture of an aggressive Canada Goose charging out at another goose that had come into its territory. My dad and I uploaded it to my submission while we were still in BC and it ended up being one of the ones that was awarded! I wouldn't have guessed that I would enter a picture of a Canada Goose but I'm sure glad I did!
What's your favourite subject to photograph and why?
JOSIAH: My favourite animal to photograph is probably bighorn sheep, but really I like photographing all kinds of animals! Elk, foxes and owls are also some of my very favourites. The reason I love photographing bighorn sheep so much is I love hiking up to the places they live in and being on the mountains with them. I really like the character they have when you photograph them. Sometimes I tell my dad I could photograph bighorns every day! I also like that if you're lucky, you can get them banging their heads together! One of my pictures of two bighorn rams doing battle in Waterton Lakes National Park won the Young Outdoor Photographer of the Year competition last year. That probably makes them even more special for me.
Being awarded this recognition is pretty cool, so how do you feel about that especially because it's such a big world-wide competition?
JOSIAH: I was so excited when I learned I was awarded! I've been awarded in a few competitions but this is the one my dad and other photographers call "the Big One," so I couldn't believe it! Some of the photographers I look up to were awarded this year, too, like Morkel Erasmus from Africa. I'm really excited that my pictures are with theirs and going on tour to museums all over the world.
What's the trickiest and most fun parts about taking nature/wildlife photos?
JOSIAH: I like being outside and spending time with the animals, and I love the challenge of getting a great shot. One of the trickiest parts about wildlife photography is you can't ask the animal to go stand in the perfect spot or look over at you or pose just right. First, you have to find the animal, then you have to find the best angle for it to look really good in a picture, then you have to pick your lens and settings so that the pictures turn out the way you want them to! Of course, a lot of the animals don't cooperate! When you come home with a great shot it's really rewarding.
What would you want to tell people about your photography?
JOSIAH: I hope people like my pictures and can tell how much I love animals and taking pictures of them. My dad and sister and I don't ever want to do anything that would be bad for the animals we photograph. My dad always says the first rule in wildlife photography is to do no harm and that means the animal is more important than getting a picture of it. I'm learning how photography can help people care more about animals and the places they live in. I'm excited that people are buying my prints so that the animal I had so much fun photographing can make them happy whenever they look at my picture on their wall.
Congratulations Josiah! We look forward to seeing many of your images in the future!