Alright ladies, let's talk about sex.
Or, more specifically, the Everything To Do With Sex Show. It is coming to Toronto this weekend (October 24th to 26th) at the Direct Energy Centre. Packed with seminars, stage shows, celebrities and shopping, the show is geared towards singles and couples looking to spice up their lives!
So as busy moms, with busy lives, why should we take time out of our weekends to visit this year's event? Whether you are in a committed, long term relationship or single and looking for a fun weekend, there is always a reason to get in touch with your erotic side!
It's the ultimate date night or girls' weekend
The Intimate Package is a great way to see the show and spend some quality time with your main squeeze. The package gets you weekend passes to the show, a stay at the Intercontinental Hotel in downtown Toronto, chocolate-covered strawberries in your room, sparkling wine, and valet parking. Perfect for a couple, but possibly even better to be shared with a group of your closest girlfriends. Like the slumber parties of yesteryear but way more fun!
Have you seen Magic Mike
Forget just stripteases, the main stage has a red-hot male revue and burlesque shows with performers like Roxi D'Lite. While we can't promise Channing Tatum, we can promise you'll be entertained.
Are you curious to find out what food can up your sex game?
The Café Blvd stage is devoted to all things food and sex: find out how to cook a romantic dinner, test out some oysters, and learn about superfoods that will kick your libido into overdrive.
Get tips and tricks from a bonafide sexologist
Yup, that's a thing. Dr. Jessica O'Reilly hosts a show on PlayboyTV and is the go-to sex expert for publications like Cosmopolitan. She's holding seminars all weekend on how to drive your partner wild (live demonstrations and edible props included).
Learn sexy new ways to get fit (no treadmill required)
Sex is a great workout, and there are plenty of sexy activities that will help you burn those calories. Head over to the Wellness Zone to try LED hula hooping and see fitness demos by Harmony Fitness.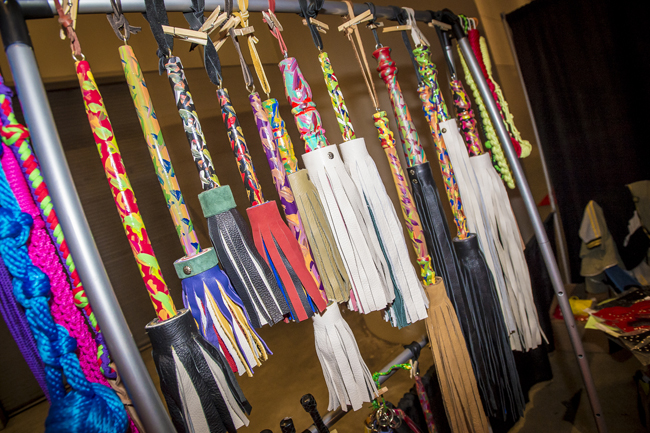 Did Fifty Shades of Grey pique your interest?
A bit curious about Christian Grey's red room of pain? Explore the Kink Corner, which dives into the world of kink, fetish, and BDSM. Sadly, the billionaire and his trusty helicopter are not included.
Or if Fifty Shades was 48 shades too many…
Don't worry, you can keep it PG in the Cuddle Zone. Take five and relax in the cuddle zone – because everybody loves to spoon!
Tickets are available online or at the door and range from $20-$35.
So now that we've convinced you to head over to the Everything To Do With Sex Show how this weekend, why not try to win tickets to the event?!