When I had heard that Mirvish Productions made a call out for hundreds of guitarists to gather in the city to connect and play the song 'Falling Slowly' from the musical Once, I knew it was going to be epic. I had called my friends Joel and Freddie to come out as I knew they were guitarists. Mirvish expected 600 people to join in. But when 900+ arrive of all ages with guitars in hand, you knew it was going to be something special and music lovers in the city wanted to be a part of this moment.
I knew it was going to be emotional and the opportunity for people to play along with the cast at Ed Mirvish Theatre was more than I had bargained for. Just when the city seems so cold (literally, hey isn't it April?) this moment had given us one big warm and fuzzy hug. There were amazing personal stories that made me cry on the spot. One woman hadn't picked up a guitar in 30 years. When she heard that Mirvish put out the invite she went out and bought a guitar to join in the experience. The sea of guitarists just couldn't get enough, and honestly I could have stayed all day with them all playing. I had wandered through them as they played and that itself was a magical moment. Not only did they play in the theatre but then many continued in the lobby and then trickled out to Yonge Dundas Square. I'm still shaking it was that good!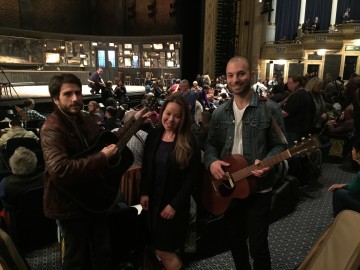 Once is the Tony Award-winning 'Best Musical' with this production featuring an all-Canadian cast. Lead actor/musician Ian Lake as Guy will MELT YOUR HEART. Set in modern day Dublin, ONCE tells the story of Guy, an Irish musician who has given up on his music—and his love—and Girl (Trish Lindstrom), a Czech immigrant who inspires him to dream again. Over the course of one fateful week, their unexpected friendship and collaboration evolves into a powerful but complicated romance, heightened by the raw emotion of the songs they create together.
I've just received news that this production has made it's final extension and will now play until June 28 at The Ed Mirvish Theatre — the show must end in Toronto as Disney's prdouction of NEWSIES moves into the venue the following week.
I've seen Once several times and this is my favourite production so far. If you want a beautiful outing grab your tickets before it's gone. Tickets range from $29 to $130 at www.mirvish.com
Here are the 900+ guitars playing Falling Slowly from the musical Once….