Grab your kids and your popcorn for the 17th annual TIFF KIDS INTERNATIONAL FILM FESTIVAL this coming April 8 to 21 in Toronto! If your kids love to watch movies then this is for you. A total of 112 films from 31 countries, including Australia, Germany, Israel, China, Poland, Russian and many more will screen at the TIFF Bell Lightbox during this time. Families will take over the building that brings the city films that are often not otherwise screen in this city or Canada! In addition to the  selection of international films, there are several world wide, North American and Canadian Premieres that are slated to show. Yes, you can see them first here!
In true TIFF form, the Festival will include special guests at some screenings who will introduce the films. At select screenings audience members are invited to participate in Q&A's with directors, producers and actors. It's totally adorable when the kids get the microphone and ask whatever is on their mind about the film they had just viewed. The film experience doesn't stop there! Activities and workshops give budding filmmakers the opportunity to further their love for movies.
What I also love about this particular film festival is that the films touch on themes that children can relate to. The films selected to screen reflect diversity and often everyday topics that kids around the world understand. From Here are a few highlights from this amazing festival…but check out the schedule as there are so many great ones to choose from!
FEATURE FILMS
Opening night hosts the highly anticipated release of Rio 2 (Canadian Premiere), the sequel to the box office smash animated adventure of Blu and Jewel, This all-star cast of voices include Jesse Eisenberg and Anne Hathaway joined by Andy Garcia, Bruno Mars, Kristin Chenoweth and Rita Moreno. The adventure follows Blu, Jewel and their three kids who finds themselves in the wild Amazon. Director Carlos Saldanha will be present at the screening. The opening night  includes a party (of course!) with food, activities and  fun!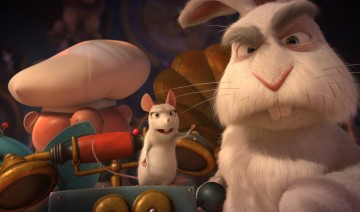 Equally as exciting is the Closing Night Film The House of Magic (Canadian Premiere)  an animated 3D feature from Belgium about an abandoned cat named Thunder who seeks shelter from a storm but finds a new home in a mysterious mansion owned by a retired magician. In this "world" filled with automatons and gizmos there is adventure waiting. Other animals live in this magical house and a few plot to kick Thunder out. In a sudden turn of events, they have to figure out how to live together and save their home. Director Ben Stassen will be present at this screening. Recommended ages 8 and up.
Felix (Toronto Premiere) is a film from South Africa about a thirteen year old boy who has dreams of becoming a saxophonist like his late father who was a member of the famous Bozza Boys band. He faces challenges of not only the disapproval from his mother but also the fact that he couldn't read music. But with determination his desire to learn was aided by two aging ex-Bozza Boys who give him a crash course and teaching him about his musical roots and father's past. Recommended ages 10 and up.
Bears (Canadian Premiere) is a breathtaking film by Disneynature that is set against a majestic Alaskan backdrop. The adventure follows a bear family as impressionable young cubs are taught life's most important lessons. Recommended ages 8 and up.
Regret! (Toronto Premiere) is based on the book by popular Dutch author Carry Slee. This all to realistic story about a teenager relentlessly tormented by his peers speaks powerfully to the devastating consequences that can result if young people don't stand up and speak against bullying. Recommended for ages 12 and up.
The Contest (North American Premiere) from Denmark follows the journey of a young budding singer Sawsan and  desire to perform on the country's most popular TV singing contest. Her parents aren't supportive of this but her best friend Karl plans to get her to the show's big finale. Recommended for ages 11 and up.
The TIFF KIDS INTERNATIONAL FILM FESTIVAL will also include 83 shorts from around the world and categorized for age groups. It's a great way to introduce younger children to the world's best short films for kids ages 3 to 13. Each short program runs 50 to 90 minutes. Here are a few examples of the programming…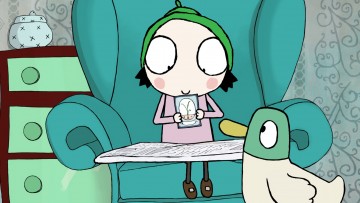 REEL RASCALS ANIMAL ANIMANIA (ages 3 to 6) includes…
LAMI
Twins in Bakery
The Smortlybacks
Goose Trouble
The Night of the Elephant
Sarah & Duck: Lots of Shallots
BETTER TOGETHER (ages 6 to 8) includes…
A Purrfect Pair
Twins in Bakery
Lemonade in Winter
The Numberlys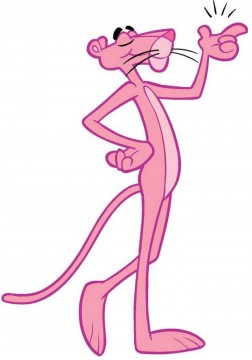 The TIFF KIDS INTERNATIONAL FILM FESTIVAL will also celebrate the PINK PANTHER 50TH ANNIVERSARY! Celebrate during this festival with special screenings of newly restored shorts with this original cool cat!
As mentioned, it's more than just a movies! Special events, free activities, Sesame Workshop, flash mobs (by StoryMobs), and meet-and-greets are all planned. I'm excited to hear that BIG BIRD will be there live and in feather! hahaha!
digiPlaySpace is worth visiting – a wonderful tech and art based playground that the kids enjoy. This year brings new international developers and some all favourites with a fresh new twist. I would suggest putting aside an hour prior to any screenings to enjoy this area located on the main floor of the TIFF Bell Lightbox. Admission tickets are available with screening combo packages or separate.
ETSY Creative Puppet Lab 
ETSY Canada is offering the first-ever complimentary ETSY Creative Puppet Lab designed just for kids!  Taking place over two weekends (April 12 to 13 and 19 to 20) from 10 a.m. to 4 p.m. parents and their children are invited to drop-in to TIFF Bell Lightbox and get their craft on at the free Etsy make-your-own puppet studio.
Stay tuned as I'll be bringing you a few reviews and updates on this film festival in the next few weeks! But book your tickets now as to avoid disappointment!!
TIFF KIDS INTERNATIONAL FILM FESTIVAL runs April 8 to 21 at the TIFF Bell Lightbox in Toronto. For complete listing of screenings, special events, workshops and the digiPlaySpace, visit www.tiff.net