The countdown is on and this coming week will be full of back to school shopping. If you've got kids that are heading off to high school, college or university, you're probably in the market for some tech gear as well as new shoes, clothes, pens and pencils.
Our older son is heading off to high school in September and we know that he will be using a computer more often than not."Whatever happened to writing?" a mom asked me just yesterday at the grocery store. It does seem like the older the kids get, the more they need computers to do their school work. So, where do you start?
Here what to keep in mind when shopping for a new laptop…
When it comes to computers, hands down the older kids want something that is portable. In fact, according to a recent research poll conducted by The Source, 74% of students polled ranked laptops as a must-have for this school year. "Fashion has traditionally been considered a back-to-school essential but the students we surveyed said they were more excited about technology," said Melanie Raposo, tech expert from The Source. "They told us that they want technology for traditional tasks like researching and completing assignments but they're also looking to stay connected and entertained."
Keep in mind that your teen will be using this for a few years. Plan long-term and invest in a computer that will take care of their needs for a few years. If your teen likes to be more creative with graphs and videos most computers will offer that. Our older kid pays a lot of attention to details and a computer that offers extra creative applications suits his personality.
Portability is important so there are many options and sleek designs out there.  I've had a 13″ MacBook Air for 5 years now and really appreciate how intuitive it is and the speed (thanks to the Intel Core) it performs at. I also love that  it's lightweight and I can easily stick it into my work tote. But think of your kid's backpack too and the stuff they need to carry to and from school.  The latest models have serious battery life, some all the way up to 12 hours. You can compare all the options and learn all about Retina Display, OS X Mavericks, and GarageBand at the Apple site… your kid may already be throwing down those words. You've probably done your research and have a budget in mind but be sure to seek out any incentives that may be available. For example, Apple's Back-To-School Educational Offer gives university students purchasing a new Mac with a $110 Apple Store Gift Card, or  $55 gift card with a purchase of a new iPad or iPhone.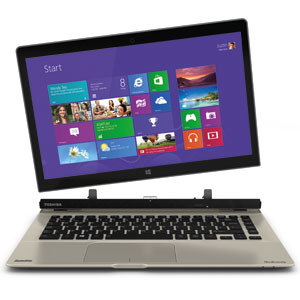 If you're interested in a laptop with a tablet option, Toshiba has a few interesting choices and for back to school there are bundles available. The latest "detachable notebook" has the ability to be used as a touch screen tablet but also gives the option to lock into the keyboard. The Toshiba Satellite L30W with full Windows 8.1 experience is great for teens. The L series also includes SkullCandy audio built-in.
The Microsoft Surface Pro 3 also gives that tablet/laptop flexibility (keyboard type or touch covers sold separately) and comes with the new Surface Pen which  gives that option of writing on the screen for those who prefer. It runs more like a PC rather than a tablet with the ability to do tons! It also has a kickstand for hands-free viewing support.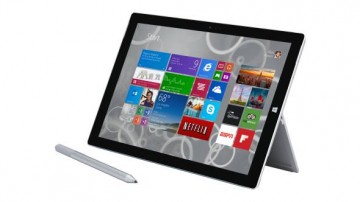 We've also been seeing more and more computers, tablets and smart boards enter into the classroom environment, and with that also comes the apps and sites that the teachers may be using. In the past few years, we've had teachers asking us to download certain sites for homework or to further enhance what they've learned at school. So, keep that in mind!
So, I'm curious! Are you tech shopping for back-to-school and what are your kids eyeing?