Aaaaahhhh fall! So much to love about the season: boots and tights; apple crisp and pumpkin pie; cooler days and turning leaves. And just as we leave our beach and pool days behind, so too do we turn away from light, summer reads. I love the meatier, heavier tomes that come out in fall, and this month I have some fantastic books to recommend to you.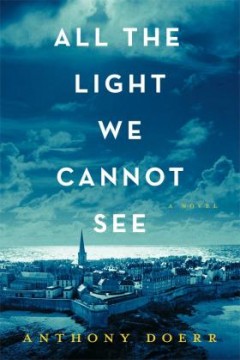 First up, All The Light We Cannot See by Anthony Doerr.
Marie Laure lives with her father in Paris within walking distance of the Museum of Natural History where he works as the master of the locks (there are thousands of locks in the museum). When she is six, she goes blind, and her father builds her a model of their neighborhood, every house, every manhole, so she can memorize it with her fingers and navigate the real streets with her feet and cane. When the Germans occupy Paris, father and daughter flee to Saint-Malo on the Brittany coast, where Marie-Laure's agoraphobic great uncle lives in a tall, narrow house by the sea wall.
In another world in Germany, an orphan boy, Werner, grows up with his younger sister, Jutta, both enchanted by a crude radio Werner finds. He becomes a master at building and fixing radios, a talent that wins him a place at an elite and brutal military academy and, ultimately, makes him a highly specialized tracker of the Resistance. Werner travels through the heart of Hitler Youth to the far-flung outskirts of Russia, and finally into Saint-Malo, where his path converges with Marie-Laure. (From Goodreads)
Not a Fall release, this novel was published in May, but it was a little thick and heavy for lazy summer reads, so it languished on my book shelf in the warmer months. I finally picked it up on Labour Day weekend as the weather turned, and it was one of the most powerful and moving novels I've read in a good long time. A sweeping and yet intimate look at the horrors and brutalities of war, and the hopefulness and goodness that can be found in humanity. Novels set in World War II tend to make very clear identifications of the heroes and the villains. This work shows how complicated and messy war is; and how blurred the lines can get between good and evil.
I'm still absorbing this book, and I know that the characters and the stories in this novel will stay with me.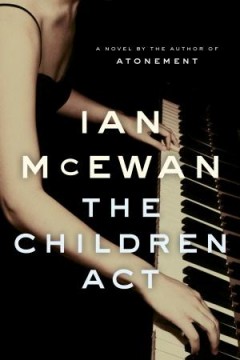 Next, The Children Act by Ian McEwan.
Fiona Maye is a High Court judge in London presiding over cases in family court. She is fiercely intelligent, well respected, and deeply immersed in the nuances of her particular field of law. Often the outcome of a case seems simple from the outside, the course of action to ensure a child's welfare obvious. But the law requires more rigor than mere pragmatism, and Fiona is expert in considering the sensitivities of culture and religion when handing down her verdicts.
But Fiona's professional success belies domestic strife. Her husband, Jack, asks her to consider an open marriage and, after an argument, moves out of their house. His departure leaves her adrift, wondering whether it was not love she had lost so much as a modern form of respectability; whether it was not contempt and ostracism she really fears. She decides to throw herself into her work, especially a complex case involving a seventeen-year-old boy whose parents will not permit a lifesaving blood transfusion because it conflicts with their beliefs as Jehovah's Witnesses. But Jack doesn't leave her thoughts, and the pressure to resolve the case—as well as her crumbling marriage—tests Fiona in ways that will keep readers thoroughly enthralled until the last stunning page. (From Goodreads)
Ian McEwan's works remind me of short stories on steroids. They're small, intimate looks at a handful of characters, but lushly developed with every word on each page being so perfectly chosen and full of importance. McEwan is a writer's writer, and his love of words is obvious. I found myself reading and re-reading certain sentences because I was so impressed by his turns of phrase.
This novel examines some pretty large social themes deftly and skillfully; about parents' rights in their children's lives, the rights of individuals in a marriage, the role of state versus religion. I was able to really empathize with all sides of the story, and never felt manipulated by the author into feeling one way or another.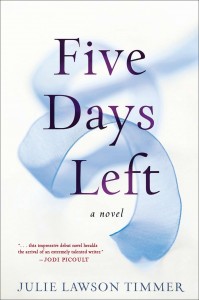 Five Days Left by Julie Lawson Timmer 
Mara Nichols, a successful lawyer, and devoted wife and adoptive mother, has recently been diagnosed with a terminal disease. Scott Coffman, a middle school teacher, has been fostering an eight-year-old boy while the boy's mother serves a jail sentence. Scott and Mara both have five days left until they must say good-bye to the ones they love the most. Through their stories, Julie Lawson Timmer explores the individual limits of human endurance, the power of relationships, and that sometimes loving someone means holding on, and sometimes it means letting go. (From Goodreads)
This one would make an excellent Book Club choice, but remember your Kleenex. Can you handle the story of a young mother preparing to say goodbye to the people in her life who mean the most to her? In contrast to McEwan's work, be prepared to be manipulated, but knowing it up front will allow you to weather the challenge.
Perhaps I empathized a little too much with the narrator in this one, because I personally felt angry with the writer for toying with my emotions so easily. I literally sobbed reading the last chapters, but it was a very cathartic cry; much like watching The Notebook for the umpteenth time.
My one complaint about this novel was that it followed two very separate stories without establishing a really clear reason to link them. I thought the story of Mara's last days was much stronger than Scott's tale, and rushed through those chapters to get back to Mara and her family.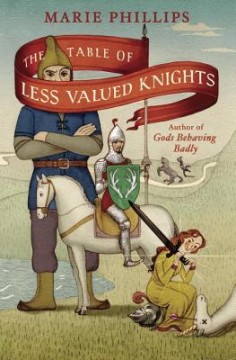 Need a break from all that sadness? Pick up The Table of Less Valued Knights by Marie Phillips.
Sir Humphrey du Val of the Table of Less Valued Knights – Camelot's least prestigious table, boringly rectangular in shape and with one leg shorter than the other so that it always has to be propped up with a folded napkin to stop it from rocking – has been banned by King Arthur from going on quests, and hasn't left the castle in fifteen years. He's tempted out of his imposed retirement by Elaine, who is looking for her kidnapped fiancé. She appears to be the classic Damsel in Distress, but turns out to have a big secret to hide.
Across the border in Puddock, the new young queen, Martha, is appalled to be married off against her will to the odious Prince Edwin of Tuft. She disguises herself as a boy and runs away, but doesn't get very far before the Locum of the Lake – standing in for the full-time Lady – intercepts her with some startling news: Martha's brother, the true heir to the throne of Puddock, is not dead as she has always thought, and Martha must go on her own quest to find him.
The two quests collide, entangling Humphrey, Elaine and Martha's lives, and introducing a host of Arthurian misfits, including a twelve-year-old crone, a magic sword with a mind of her own, a freakishly short giant, and not one but three men in iron masks. (From Goodreads)
This is a meaty novel, in that you've got to pay attention to the characters, their dialogue and the plot, but it's a fun and enjoyable read. The author has done a fantastic job of raising modern day issues in a historic setting. As a reader I was left shaking my head at how little has changed in the hundreds of years since knights ruled the world.
More importantly, as a reader, I was along for a really joyful ride with characters I was really rooting for.
So what are you reading these days?