At some point in our life, we reflect back and wonder about the "what ifs." What if we chose a different career path? What if we went to a different school? Every action we take opens to new roads of possibilities. It's never a wrong path. Just different. This is the premise of IF/THEN The Musical now playing in Toronto until May 8th.
The musical is about a woman named Elizabeth aka "Beth" (Jackie Burns) who has returned to New York from living in Phoenix after separating from her husband. She's ready to restart her life but there's more than one story line here. As the title suggests, we are taken on a fascinating journey of two possibilities. There are no wrong or right paths taken here and the outcomes are equally complex and compelling.
Set in modern day New York, Beth now in her late 30s reconnects with old friends including Lucas (Anthony Rapp) who she kinda sorta had a "thing". She finds work as a city planner and unexpectedly becomes pregnant. The show runs a parallel story with Beth as she meets Josh, an army major that has returned from his tour as a doctor. They get married and start a family.
I had the opportunity to sit down with Anthony Rapp who plays Lucas in IF/THEN. You may recognize Rapp from his role as Mark Cohen in the hit musical RENT on Broadway as well as the movie, but his acting career actual began when he was a tot and he hasn't looked back. Now in his sweet and loveable role as Lucas we had to catch up on what's going on.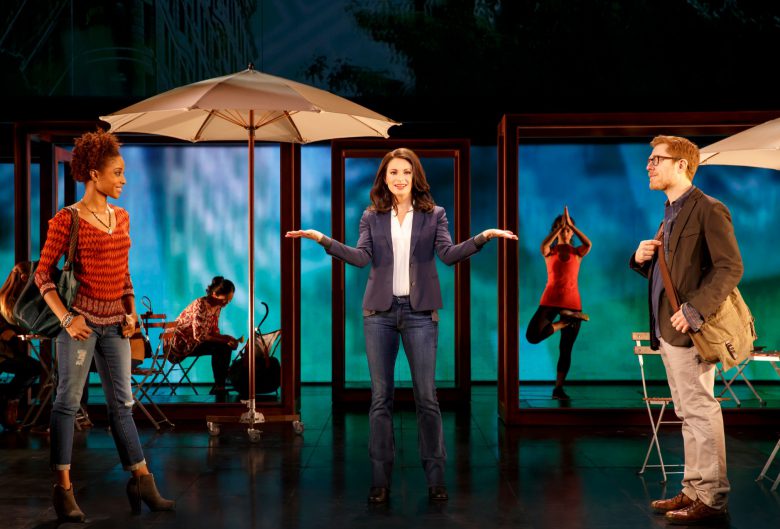 The show take two different roads jumping back and forth, how is that for you as an actor?
AR: It's interesting because the story is not about two different characters but about the same soul in very different circumstances. So that affects the characters and how they grow and change as well as their outlooks and experience. It's very fulfilling to explore how life turns all these different corners and how it affects myself off stage. It certainly makes me reflect on my own and all the different things that come my way.
Do you find you're more aware of life's choices or are you more a "go-with-the-flow" type of person?
AR: I tend to go more with the flow but it certainly has made me reflect on the decades of my life. Some things that seemed important at that time wound up not being that important when I look back or vice versa. Even the ways in which they were important to me, you can't always recognize it at that time.
The musical is very relatable for our generation and it may be labelled as something appealing to "millennials" but there were a few older people in the crowd the night I was there, what's been their reaction?
AR: In New York, I remember seeing older people attending the shows. There was one person I remember who may have been in her 60s and she was very moved by the it. She was very stirred up by it. I'm not always sure about how people react to the show, it's an unusual thing because it's not always easy for people to articulate what's really gotten them about it. But I think this show touches some people very deeply. Again, I really think it's about reflecting on things that have happened in their lives.
You've had a chance to be in the audience to witness the reactions?
AR: Yes, I was off for 12 weeks after I had knee surgery so I got to see the show. I've been a part of the developmental reading so I knew it inside and out but to be able to watch it was amazing. What really hit me was that it's so much about ripple effects – the ways in which we affect one another and how there's a cumulative power that I think is surprising. It feels very truthful and alive. When the show really "gets" the audience it gets them deeply.
Yeah! I honestly didn't expect that to happen but during the show I started reflecting on my own life's journey and how I got here. All the "what ifs" started entering my mind.
AR: And it's funny when we talk about different ages coming to the show. The younger audience members I really thought was just coming to see Idina (Menzel) when she was in the show on Broadway, but they seemed to be moved by it just as much as our generation. But the younger crowd gets excited and the difference is they share their opinions through tweets. They seem really into it and they were moved as well.
It's been a highly successful musical on Broadway for a while and now that IF/THEN is on tour, have you noticed anything different?
AR: To me, it feels like there is a certain amount of gratitude in a sense because I know a lot of shows that go on tour are more well-known and more established so with this musical, there's a nice surprise factor. A lot of people react with "that's not what I had expected" in a positive way. They thank us for bringing this "thing" here (laughs).
Yes, you want to try and label it but you can't really, it's very different and not the kind of show where you just sit back but you feel a little more engaged or involved.
AR: It's what we were hoping for. We were crossing our fingers when we decided to bring this on tour. It's a little "stealth" and we wanted to take people by surprise.
So, tell me, IF you weren't acting, THEN what would you be doing (see what I did there?)
AR: (laughs) it's hard to say but I feel like I'd still be in the arts. I've taught and directed a bit. I really liked that. But I would only like to direct what I really, really love because it's so hard to get a project on it's feet, not that I'm afraid of that, but I would really want to work on something that I love. I've been acting professional for 35 years so I think I be more picky about what I want to work on.
Yes! You've earned it.
AR: Thank you. It's been a long time since I've started acting and I love the work but I don't want to hustle for work I don't care about.
That seems to resonate with Lucas, the character you play here in this show! He's also passionate about where and how he spends his energy. I think that's an important stage we are at now. We all want to do something that matters to us and even to the world.
AR: Yeah, I think so. I think in the last ten years there's a lot more awareness or at least talking about things on a public level that I don't recall being discussed when I was growing up. I'd like to think that people are thinking more about how and what they want to do in life and what their priorities are.
IF/THEN is now on stage in Toronto at the Princess of Wales Theatre. For more information visit www.ifthenthemusical.com and  www.mirvish.com