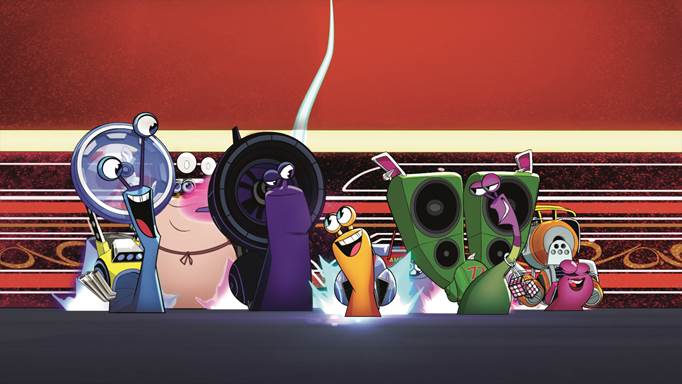 From House of Cards to Orange is the New Black, Netflix is riding a great wave of creating original and highly-acclaimed shows for adults. And now they've turned their attention to kids! On December 24th, they will premiere the first-ever Netflix original series for kids called: Turbo FAST.
The show is described as "…a high-octane ensemble comedy that amps everything up to the extreme as Turbo and his adrenaline-fueled crew go on daring new adventures, race on the coolest tracks, and take on the craziest challengers. No matter how wild things get, these snails always have each other's backs."
In case you're wondering, "FAST" stands for "Fast Action Stunt Team"!
The all new television show digs deeper into the crazy personalities of the snail crew and features 2D design to create a stylized look reflective of the Stunt Team's fast-paced, souped-up world. Reid Scott from Veep is the voice of the title character, and comedian Ken Jeong reprises his role from the feature film as the fan-favorite manicurist turned home shopping icon Kim Ly.
In total, there will be fifty-six 11-minute episodes available for viewing.
This is just the beginning. This series is the result of a deal with DreamWorks Animation (announced this past summer) so Turbo FAST is only a first series out of the gate. We'll be seeing over 300 hours of new and original content  – based on characters from hit films such as How to Train Your Dragon, Shrek and Madagascar.
Sweet!