Reading is such a joy for many of us and as parents, we know how important it is for our kids. It expands the world in so many ways and can open our eyes to endless possibilities. People read for many different reasons, but for me I love to read as my own form of escapism. I am all about getting kids involved in reading no matter what it takes. Enter  Together Tales and their interactive book series aimed at kids ages 8 to 12. Together Tales literally brings adventure stories to life. Yes, reading just got cooler as this series blends print, online and real life.
I can remember as a kid losing myself in books like The Lion, The Witch and The Wardrobe imagining myself right along side the characters. In my mind, I was right there falling through the wardrobe and eating Turkish Delight; to this day I still think my wardrobe is an adventure. But what if we really could bring a story to life and take a reading adventure?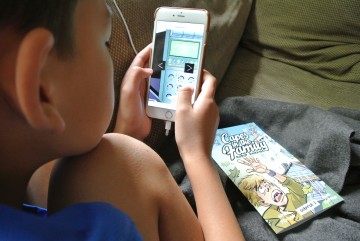 Each story takes your child on a great adventure. The first series "Capes in the Family" reading adventure box arrived at our home complete with chapter books and activity kit that includes secret notes, puzzles and fun stuff—even recipes! My 10 year old was excited and, on digging into the box, discovered a secret mission that needed his help.
The fun beings when parents log on to the website to activate the story. As you and your child follow along the printed story there will be interactive online and real life activities to help solve riddles. I say parents can get involved, and we should, as it's designed to be played out as a team but even having a friend or two to help out can be a lot of fun too! Activities must be completed to proceed. There's even GPS based activities. It's a fun participatory reading experience as your child becomes a key part of the action.
Each series takes kids on an exciting adventure and gives reading a fun new twist. The company is working on the next few books now after positive feedback from the first one. Recently Together Tales was nominated and shortlisted for a Booktech award for Book-Tech Company of the Year.