The Toronto International Film Festival (TIFF) is making its way to the city and we're getting ready! From September 4 to 14, 2014, be ready to embrace the experience as we take you along with us during this 39th year of TIFF and everything that goes with it. Each year the Festival brings the best film directors and actors, as well as industry movers and shakers to one of the most highly anticipated entertainment events in the world. What's beautiful about this event is that movie lovers, like you and me, have the opportunity to sit along side industry heavy-weights and stars to view films at their premiere screenings. There are also opportunities to listen and participate in Q&A sessions, and to find out what inspires great films from countries around the world. This year, there are 37 world premieres from directors around the world and there are more than 300 films from over 60 countries slated for this year's festival.
Festival goers will be among the first to see new films by directors Johnnie To, Michel Hazanavicius, Olivier Assayas, Benoît Jacquot, Lynn Shelton, Jean-Pierre and Luc Dardenne, and the latest onscreen appearances from Arnold Schwarzenegger, Catherine Deneuve, John Travolta, Jean Dujardin, Juliette Binoche, Morgan Freeman, Marion Cotillard, Neil Young and Kristen Wiig.
The Festival include galas, world premieres, international premieres and North American premieres. There are special features that are worth noting and a special City to City programme which this year shines a spotlight on films created by contemporary Korean directors. The Festival also includes emerging and rising stars and there are many, many great films worth checking out.
Here are a few selections that are on my radar at first glance: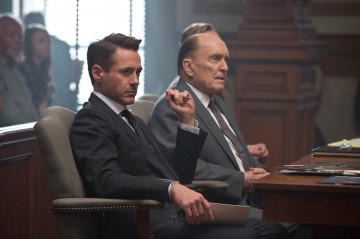 The Judge David Dobkin, USA. World Premiere (Opening Night Film)
Big city lawyer Hank Palmer returns to his childhood home where his estranged father, the town's judge, is suspected of murder. Hank sets out to discover the truth, and along the way reconnects with the family he walked away from years before. Starring Robert Downey Jr., Robert Duvall, Vera Farmiga, Vincent D'Onofrio, Jeremy Strong, Dax Shepard and Billy Bob Thornton.
Laggies Lynn Shelton, USA. International Premiere.
Overeducated and underemployed, 28-year-old Megan is in the throes of a quarter-life crisis. Squarely into adulthood with no career prospects or motivation to think about her future, Megan is comfortable lagging a few steps behind while her friends check off milestones and celebrate their new grown-up status. When her high-school sweetheart proposes, Megan panics and — given an unexpected opportunity to escape for a week — hides out in the home of her new friend, 16-year-old Annika, and her world-weary single dad Craig. A romantic coming-of-age comedy about three people who find their lives intertwined in the most unconventional of ways. Starring Keira Knightley, Sam Rockwell and Chloë Grace Moretz.
Madame Bovary Sophie Barthes, United Kingdom/Belgium. World Premiere.
In 19th-century France, Emma Bovary, the wife of a dull country doctor, embarks on a series of love affairs and spends well beyond her means. Although the affairs provide moments of perceived bliss, Emma's idealized notions of love evade her and leave her in ruinous debt. Starring Mia Wasikowska, Laura Carmichael, Ezra Miller, Paul Giamatti, Rhys Ifans, Logan Marshall-Green and Henry Lloyd- Hughes.
Welcome to Me Shira Piven, USA. World Premiere.
A woman with Borderline Personality Disorder wins the Megamillions lottery, quits her meds and buys herself a talk show on an infomercial channel where she talks and creates segments exclusively about herself. This movie is a dark comedic look at our obsession with celebrity and narcissism. Starring Kristen Wiig, James Marsden, Jennifer Jason Leigh, Wes Bentley, Tim Robbins, Joan Cusack and Linda Cardellini.
Mommy Xavier Dolan, Canada. Toronto Premiere.
A feisty widowed single mom finds herself burdened with the full-time custody of her explosive 15 year-old ADHD son. As they try to make ends meet and struggle with their unpredictable menage, the peculiar, new girl across the street, Kyla, benevolently offers her help. Together, they find a new sense of balance, and hope is regained. Starring Anne Dorval, Suzanne Clement, and Antoine Oliverier Pilon.
Cake Daniel Barnz, USA. World Premiere.
Cake tells the story of the acerbic Claire Bennett who has managed to alienate everyone from her life, with the exception of her loyal housekeeper. When Claire becomes fascinated with the suicide of a woman in her chronic pain support group, she develops a poignant relationship with the woman's grieving husband and comes to terms with her own personal tragedy, catapulting her forward into life. Starring Jennifer Aniston, Anna Kendrick, William H. Macy, Felicity Huffman and Sam Worthington.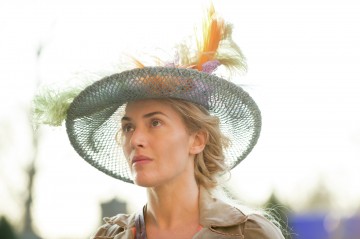 A Little Chaos Alan Rickman, United Kingdom. World Premiere (Closing Night Film).
A landscape gardener with a taste for the unconventional is invited to design one of the fountains at the Palace of Versailles. As she battles with the weather, the perilous rivalries at the court of Louis XIV and her own private demons, she finds herself drawn closer to the formality and enigma of the architect who hired her. Starring Kate Winslet, Stanley Tucci, Alan Rickman and Matthias Schoenaerts
Men, Women and Children Jason Reitman, USA. World Premiere.
Men, Women and Children follows the story of a group of high school teenagers and their parents as they attempt to navigate the many ways the internet has changed their relationships, their communication, their self-image, and their love lives. Starring Jennifer Garner, Adam Sandler and Judy Greer.
Three Hearts (3 Coeurs) Benoît Jacquot, France. North American Premiere.
One night in a French provincial city, Marc meets Sylvie. They wander the streets until morning and set a date to meet in Paris a few days later. When Marc doesn't show up on time a twist of fate leaves him romantically torn between two sisters. Starring Benoît Poelvoorde, Charlotte Gainsbourg, Chiara Mastroianni and Catherine Deneuve.
Boychoir François Girard, USA. World Premiere.
An orphaned 12-year-old boy is sent to prestigious music school where he struggles to join an elite group of world-class singers. No one expects this rebellious loner to succeed, least of all the school's relentlessly-tough conductor who wages a battle of wills to bring out the boy's extraordinary musical gift. Starring Dustin Hoffman, Kathy Bates, Josh Lucas, Kevin McHale, Eddie Izzard, Debra Winger and Garrett Wareing.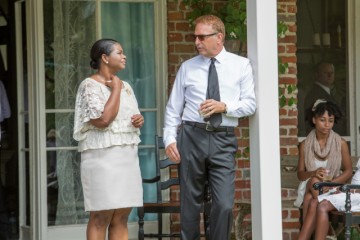 Black and White Mike Binder, USA. World Premiere.
Black and White is the story of a widowed grandfather who is left to raise his bi-racial granddaughter. When the little girl's paternal grandmother seeks custody, a bitter legal battle ensues that forces the uneasy family members to have an honest conversation about life, death, anger and America's racial divide. Starring Academy Award-winners Kevin Costner and Octavia Spencer, as well as Anthony Mackie, Jennifer Ehle, Gillian Jacobs, Bill Burr, Andre Holland and Jillian Estell.
This is Where I Leave You Shawn Levy, USA. World Premiere.
Shawn Levy's dramatic comedy follows four adult siblings who return home after their father's death to spend a week with their over- sharing mother and an assortment of spouses, exes and might-have-beens. Confronting their history and frayed relationships among those who know and love them best, they reconnect in hysterical and emotionally affecting ways. Starring Jason Bateman, Tina Fey, Jane Fonda, Adam Driver, Rose Byrne, Corey Stoll and Kathryn Hahn
Wild Jean-Marc Vallée, USA. International Premiere.
After years of reckless behaviour, a heroin addiction and the destruction of her marriage, Cheryl Strayed makes a rash decision. Haunted by memories of her mother Bobbi and with absolutely no experience, she sets out to hike more than a thousand miles on the Pacific Crest Trail all on her own. Wild powerfully reveals Cheryl's terrors and pleasures as she forges ahead on a journey that maddens, strengthens and ultimately heals her. Starring Reese Witherspoon, Laura Dern, Thomas Sadoski, Michiel Huisman, Gaby Hoffmann and Kevin Rankin.
Before We Go Chris Evans, USA. World Premiere.
Set in Manhattan, the story follows two strangers after their serendipitous meeting in Grand Central. Over the course of one night, they form an unlikely bond and the conflicts in their own lives become the basis for exploration into each other and themselves. Starring Chris Evans and Alice Eve.
Wet Bum Lindsay MacKay (directorial debut). Canada. World Premiere (Discovery Series)
Sam is a self conscious yet stubborn 14-year-old girl, who, like many teenagers, is searching for a place to belong. After landing herself in trouble, she is forced to work as a cleaner in the retirement home run by her mother. In between shifts, she tries to find solace in the only place she can, the pool, but it becomes the place where deepest insecurities collide with her raging hormones. Her peers seem to be developing quicker than she is, which makes Sam too uncomfortable to change out of her bathing suit in front of the others, and it's this fear that leaves her with a wet bum. This is not how Sam imagined her year. But, as the days pass, she finds unexpected and unlikely friendships with two of the retirement home's residents, who end up teacher her a few things about growing up..and growing old. Starring Julia Sarah Stone (TIFF Rising Star), Craig Arnold, Leah Pinsent and Kenneth Walsh.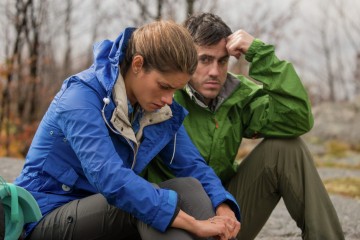 Backcountry Adam MacDonald (directorial debut). Canada. World Premiere. (Discovery Series)
In this sharp, smartly paced thriller, a hyper-busy executive Jenn, and her boyfriend, Alex, head into the woods for a weekend retreat from big-city pressures – but after an unsettling encounter with a stranger, they find themselves at the mercy of nature's tooth and claw.   Starring Missy Peregrym, Jeff Roop, and Eric Balfour.
Mr. Turner Mike Leigh, United Kingdom. Canadian Premiere.
This biopic explores the last quarter century of the great if eccentric British painter J.M.W. Turner (1775–1851). Profoundly affected by the death of his father, he forms a close relationship with a seaside landlady with whom he eventually lives incognito in Chelsea, until his death. Throughout his life, the popular — if anarchic — member of the Royal Academy of Arts travels, paints, stays with the country aristocracy, visits brothels, has himself strapped to the mast of a ship so that he can paint a snowstorm, and is both celebrated and reviled by the public and by royalty. Starring Timothy Spall, Dorothy Atkinson, Marion Bailey, Paul Jesson, Lesley Manville, Martin Savage, Joshua McGuire, Ruth Sheen, David Horovitch and Karl Johnson.
Nightcrawler Dan Gilroy, USA. World Premiere.
Lou Bloom, a driven young man, discovers the nocturnal world of L.A. crime journalism. Joining a group of freelance camera crews who film marketable mayhem, Lou makes his own place at the table, aided by Nina, a veteran of the blood-sport that is local TV news. Blurring the line between observer and perpetrator, Lou finds his calling in a murderous world reduced to transactions. Starring Jake Gyllenhaal, Rene Russo, Riz Ahmed and Bill Paxton.
The Theory of Everything James Marsh, United Kingdom/USA. World Premiere.
The extraordinary true story of one of the world's greatest living minds, Stephen Hawking, who falls deeply in love with fellow Cambridge student Jane Wilde. Hawking receives an earth-shattering diagnosis at age 21. Together, Stephen and Jane defy impossible odds, breaking new ground in medicine and science. Starring Eddie Redmayne, Felicity Jones, David Thewlis and Emily Watson.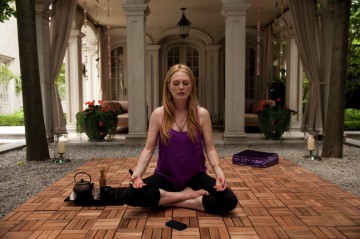 Map to the Stars David Cronenberg. Canada/Germany. North American Premiere.
David Cronenberg forges both a wicked social satire and a very human ghost story form today's celebrity-obsessed culture. Starring Julianne Moore, Mia Wasikowska, Olivia Williams, Sarah Gadon, John Cusack and Robert Pattison.
Top Five Chris Rock, USA. World Premiere.
Written, directed by, and starring Chris Rock, Top Five tells the story of New York City comedian-turned-film star Andre Allen, whose unexpected encounter with a journalist forces him to confront both the career that made him famous and the life he left behind. Starring Chris Rock, Rosario Dawson, J.B. Smoove, Gabrielle Union, Tracy Morgan, Cedric the Entertainer, Kevin Hart, Jerry Seinfeld, Adam Sandler, Whoopi Goldberg, Sherri Shepherd, Jay Pharoah, Anders Holm and Michael Che. And featuring music by Questlove.
Purchase Festival ticket packages online 24 hours a day at tiff.net/festival, by phone from 10 a.m. to 7 p.m. ET daily at 416.599.TIFF or 1.888.599.8433, or visit the Gupta Box Office at TIFF Bell Lightbox in person from 10 a.m. to 10 p.m. ET daily at TIFF Bell Lightbox, Reitman Square, 350 King Street West, until August 20 while quantities last. Single Tickets go on sale August 31, 2014.
Full Festival listing can be found at tiff.net
What are you hoping to see during the Festival?