Remember when you were a child playing with your toys? How happy were those days when we could spend the day with our imagination. I remember collecting toys and paraphernalia like Hello Kitty …okay maybe I still do!
If you're a fan of pop-culture and design you need to make time to visit the new exhibition at the Design Exchange in Toronto. THIS IS NOT A TOY is a contemporary art, design and collectible exhibit and the first of it's kind in the world. This large-scale display of artwork are now available for public viewing. Some of the pieces have been hidden in private collections.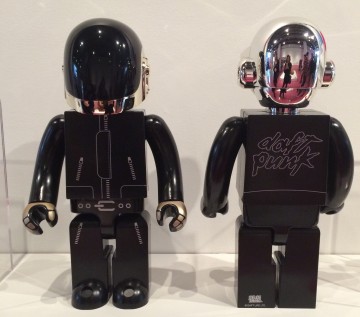 Pharrell Williams (yes, the guy with the coolest collection of hats and music genius) is an avid art collector and guest curator for this special exhibition. In fact, some of pieces on display are from his own collection. But Pharrell also was able to bring on board artists who have never displayed in a public design exhibition quite like this. Works from artists like Takashi Murakami, KAWS, Huck Gee, MediCom Toy, Misaki Kawai, Course, Frank Kozik, Yoshitomo Nara and others are on display in this well planned out show.
One of the main attractions is a piece called The Simple Things that was a collaboration between Takashi Murakami and Pharrell. This massive orb eating creature sits centre stage with seven everyday items all blinged out with 26,000 gems consisting of emeralds, rubies, sapphires and diamonds.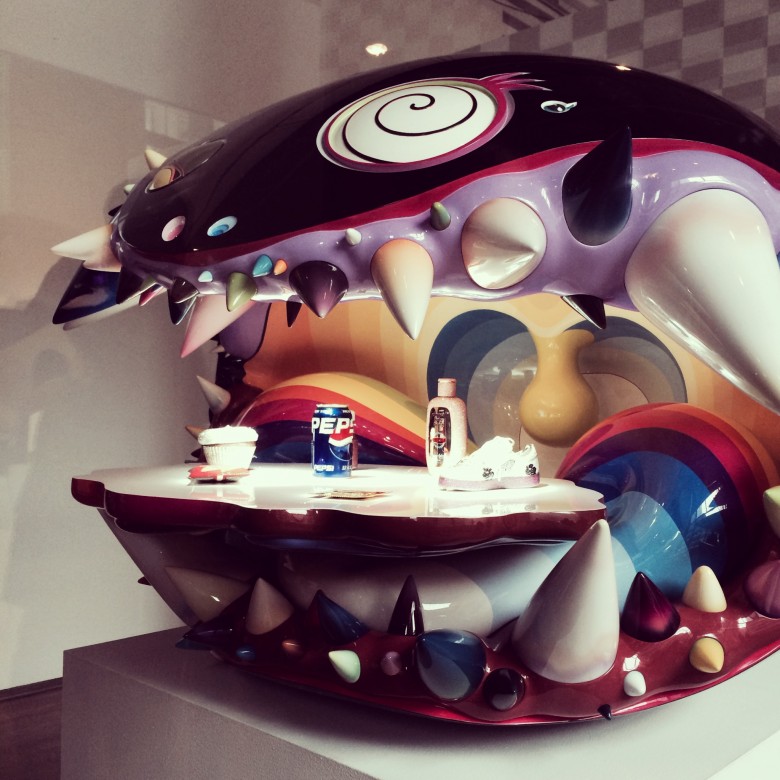 The exhibit is a blend of high and low…an intersection of fine art and pop culture. There are works from over a dozen of the most prolific toy designers and contemporary fine artists. The exhibit features items that are worth a few dollars and others that are in the thousands.
The exhibition also includes 10 of Canada's best art and design talents recruited by the DX to customize single edition 18″ Mega MUNNYs. Fashion designer Jeremy Laing actually hand applied scraps of linen to his. There is also an impressive full collection of 3″ production DUNNYs on view from a Canadian collector.
The exhibition takes its name from the disclaimer found on everyday packaging for objects that may be called toys, but aren't meant for play.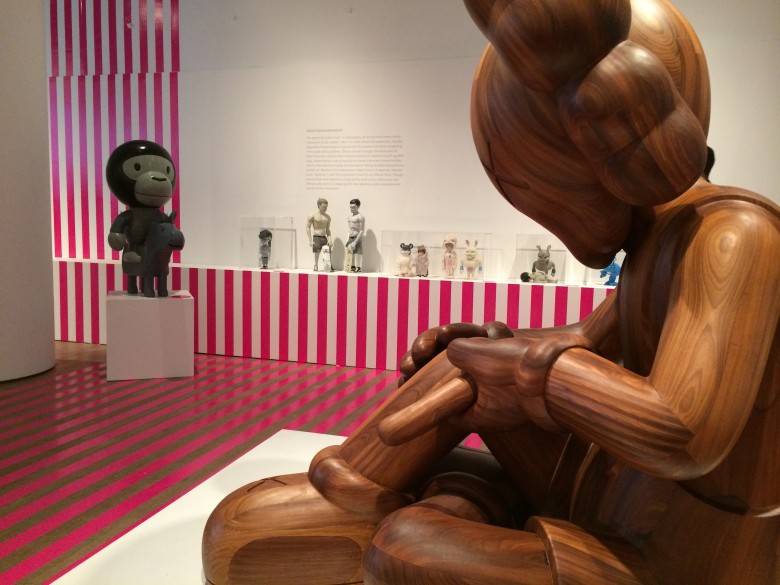 Walking into the space is like taking a step into a magical world full of happy thoughts. Amongst the sculptures and paintings are interactive displays including oversized DOMA plush creatures, a custom Rainbow Vortex, and an animated short film Cloudy by FriendsWithYou. Visitors can immerse themselves in few ways by listening to music, video, and vinyl through iPad Air, iPad mini with Retina display and iMac that are available throughout the exhibit as well.
Special events include FAMILY DAY SUNDAYS – held once a month during the exhibition for families with children to explore and engage with the exhibit. Children can follow the exhibition activity book, create bespoke Kidrobot MUNNYs, dress up in fashion facemasks and personal accessories inspired by the designer toys on display and have their face painted by artist Jennie Suddick. Guided family tours are also worth checking out with the little ones. February 9, March 2, and April 13.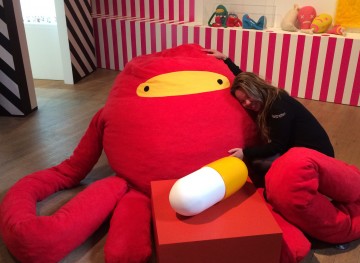 This is one of the most fun and accessible art exhibitions I've visited anywhere and definitely great to explore.
THIS IS NOT A TOY is open February 7 to May 19, 2014, at the Design Exchange in Toronto (234 Bay Street). For more information visit www.dx.org
General admission: $16
Family pass: $37
Kids 6 and under: Free