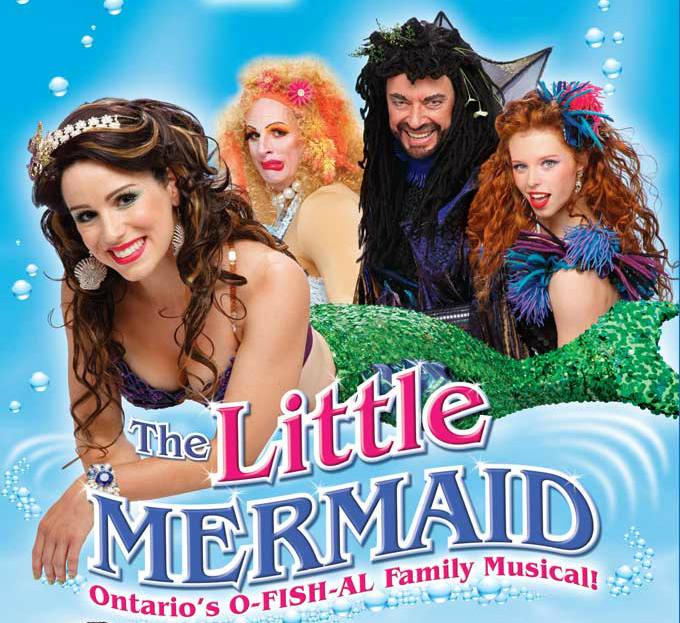 The holiday season is fully upon us which means we've got a new Ross Petty holiday show to see – and this one had us dripping with anticipation.
Taking the familiar Little Mermaid story and turning it on its head, Ross Petty's production of The Little Mermaid is an uproarious show that also encourages audience participation. Imagine a family play that features: the Canadian cousin of Sponge Bob Square Pants, Rob Ford jokes, hilarious puns and Miley Cyrus references and you are get the idea.
The play's heroine mermaid is named Angel (Chilina Kennedy) who lives in Toronto's harbour with three giggling mermaid sisters and a flamboyant aunt named Plumbum (played by Ross Petty regular Dan Chameroy). Much of the laughs in the play come from watching her fun sidekicks: Sponge Bill Triangle Pants (Eddie Glen) who happens to be the Canadian cousin of Sponge Bob Square Pants, Shelly (Lana Carillo) a button-down and bossy shrimp and Carl the Clownfish (Reid Janisse) who – you guessed it – just clowns around all the time.
All is well in their world, but Angel is concerned about the environment and pollution of Lake Ontario. Having just turned 18, she is about to go above water for the very first time. As in the old fairy tale, she falls in love with a human after saving him. This one is named Adam (Marc Devigne) and he's an environmental activist trying to save Toronto's harbour from being turned into a mix of Marineland and Casino development. Sound familiar?
Every story must have its villain and that honour goes to Ross Petty himself.  He plays Ogopogo, the evil fish monster and mastermind behind the casino.
After 18 years of putting on holiday family shows, Petty is a pro at being the evil presence you love to hate. And he knows it. When he first appears on stage Ogopogo proclaims "I'm Canada's answer to Miley Cyrus. You really don't want to watch, but you just can't look away". He openly invites the audience to "boo" him every time he makes an entrance. The kids loved having permission to do that, and their  boos got louder with each time he appeared.
Petty's flamboyant match is Dan Chameroy as Plumbum. He's a spectacular drag-queen mess who looks more like Dee Snyder from Twisted Sister than an elegant mermaid. Of course, all that makes him amazing to watch and he's spectacular. Plumbum has bid dreams, a big voice and big hair. The kids loved the character – who is such a hit, that this is the fourth Petty production in which Plumbum is featured.
There is plenty of other comic relief to be had as well. Puns fly galore: "Holy Carp!" one fish utters. What's great about the show is that like those old Bugs Bunny cartoons, the humour works on two levels. There are fun puns and jokes for kids, but they are sprinkled with adult humour that keeps the parents entertained as well.
Unlike many shows where you have to tell your kids to be quiet and polite during the performance, this one relishes in the audience participation. The hoots and whistles when the sexy Siren (portrayed by past So You Think You Can Dance finalist Jordan Clark) slithers onstage, are loud and unabashed. As are the cheers for the three little girls who were brought up on stage from the audience to help Angel's friends during a key scene in the play.
Yes people, it's O-fish-al! No one will be bored.
Ross Petty Productions presents THE LITTLE MERMAID is playing at The Elgin Theatre until January 4, 2014. For tickets, please visit www.rosspetty.com or order by phone at 1.855.599.9090