The stage is set in a living room space that resembles many I'm familiar with… the perfect flowers set in vases on side tables, the art and history coffee table books neatly stacked, the delicious clafouti that is offered…home made of course. The perfection that is a home with everything in it's place…or is it really perfect?
The story line opens with two couples who meet for the first time under the unfortunate circumstance of  their  11 year old boys scrapping in the school yard resulting in one boy losing two teeth. The conversation starts out very politely as you would expect in today's parenting standards. You know,  parents should be able to solve child rearing issues similar to boardroom meetings to determine a plan of action or what their "next steps" will be, right?
In the living room of Veronica and Michael, we find out she's the arts and history major and he, the average guy who sells frying pans and door knobs. She's the mom who sees herself as worldly and superior in her parenting skills. With careful words she hold firmly (yet politely) that her son was the victim and not in anyway responsible for the fight.   Michael is the dad who sways with the conversation and is present because he probably has no other choice as directed by his wife.
The New York Times called "First Class! A study in the tension between civilized surface and savage instinct!
The other couple is Alan and Annette. Alan is a workaholic lawyer on the verge of a PR nightmare who is tethered to his cellphone while his wife is in wealth management. They are the professionals with busy lives who agreed to meet with the other parents under the circumstances because it's the polite thing to do and seem to just want to get it all over with offering quick solutions like "we'll pay for implants."
The conversation starts pleasantly but becomes increasingly explosive and hilarious as  tensions mount. While humorous as it may seem, it does makes you think. As parents we try to do our best. We're bombarded with how we should raise our children. "There is no manual," as everyone would tell you, but there sure is plenty of advice on how to be a better parent in this world! But this play goes beyond parenting skills. It's about life and we're all trying to muddle through it.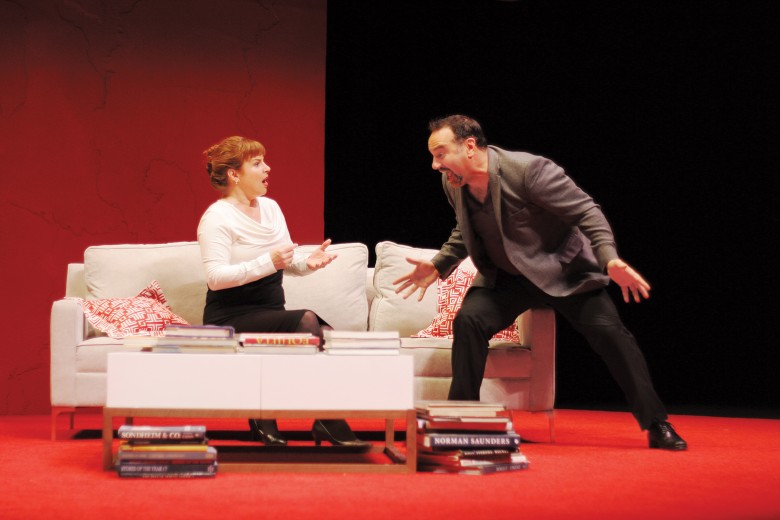 I snickered under my breath a few times. As a mom watching this play, I could relate to each character. I definitely see some of the characteristics of some parents around me or even reflecting on my own so called parenting skills. My friend  and I had a conversation about this play afterwards. " Who could you relate to the most?" he asked me. I told him I thought I was closer to Annette. Hmmm. I'm still thinking about this.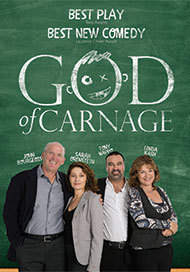 The subject matter definitely realistic for many of us. It's a fast paced (90 minutes with no intermission)  and it's also very funny. You just know that each character is going to shatter out of the perfect parent facade.
And you know that Mother Tiger instinct? That definitely comes out.
Definitely worth checking out!
The Tony Award-Winning and Broadway hit comedy, God of Carnage was written by Yasmina Reza and translated by Christopher Hampton. Directed by Joel Greenberg. Stars John Bourgeois, Linda Kash, Tony Nappo and Sarah Orenstein. Now playing at The Panasonic Theatre in Toronto until December 15, 2013. It's part of the Off-Mirvish Series.
For more information visit www.mirvish.com
[youtube id="lnfkviAulh0″]