The big blockbuster musical for this season is officially here. Cameron Mackintosh's new production of The Phantom of the Opera by Andrew Lloyd Webber is currently in Toronto with performances right through to January 23, 2016. With extravagant costumes and a spectacular set design, this version is gorgeous!
The story of the Phantom of the Opera is based on a novel by Gaston Leroux about a mysterious "phantom composer" who lives below the Grand Paris Opera House. Shamed by his deformed facial features he haunts the Opera House and falls in love with a soprano protege, Christine Daae. He takes it upon himself to tutor her and lures her in hopes of a life together as well as making her a star. A love twist occurs when Christine's childhood friend Raoul is also a love interest and she has to decide her fate and his. The original book was apparently based on a true story. The Phantom of the Opera has much success with stories, tv shows, movies, documentaries made including the phenomenal musical composed by Andrew Lloyd Webber.
Chris Mann plays the lead role as the Phantom and you may recognized him from the NBC's The Voice a few seasons back representing Team Christina Aguilara in the finale. He's a classically trained singer songwriter and has recently released his own album titled "Roads". Mann is also one of the youngest singers to play the starring role of the Phantom. We had a chance to chat with Chris as he was settling into the city.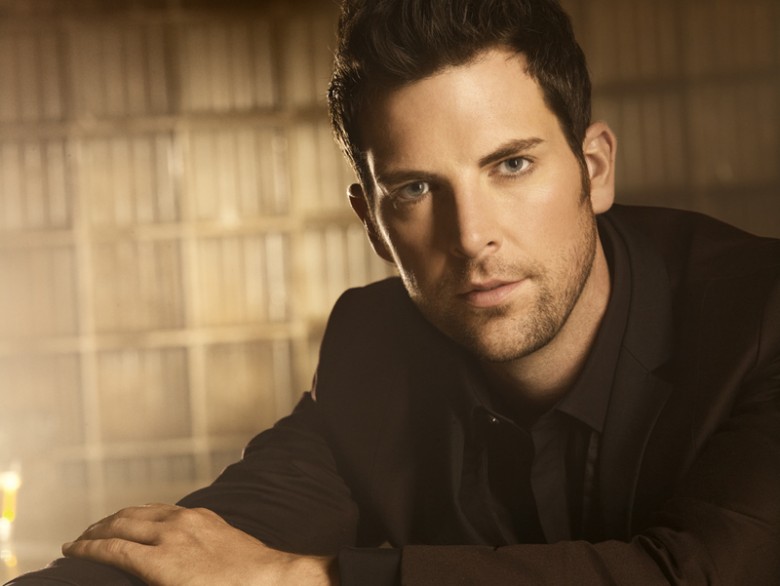 What's your favourite song to perform?
CM: At the end of the show is really my favourite where the love trio really comes unraveled and the Phantom let's his guard down. It becomes very raw and that is the most fun for me as a performer. Obviously singing "Music of the Night" is his big aria and everybody loves it so much is really an honour to sing that.
What is different about this production that we maybe haven't we seen before?
CM: Lots! The story and music is still what people know and love but the direction is new. It's a very dark production and very cinematic. Our director Lawrence Conner did the revamp of Les Mis on Broadway and he's direction of this production is very dark. Also, I am one of  the youngest Phantoms ever cast. I'm about 20 years younger than what a Phantom would normally be casted in this role because the love trio is similar in age so it's a more realistic situation for her, Christine, to have to choose between. Raoul and Phantom are closer in age as opposed to having a more father figure and a boy, she's choosing between two men. Those are just a few examples of the subtleties but there are many more differences.
What about the set?
CM: Yes, the redesigned set is very explosive and the whole thing is run by Bluetooth and it's a very high tech show. You'll see!
How did you get this part?
CM: I grew up doing music theatre and have been in the recording industry for 10 years. I just finished a symphony tour two years ago. I mentioned to my agent that I wanted to get back to music theatre. I actually auditioned for Raoul in Los Angeles and was casted as Phantom in New York and started three weeks later. It's been a whirlwind and I've just started my second year with this show.
So, who's been your all-time favourite Phantom?
CM: I love Ramin Karimloo who was Phantom in the 25th anniversary. I think he's amazing! I grew up listening to Michael Crawford as my family had that CD and I've become friends with a number of Phantoms—Norm Lewis who did it on Broadway this past year and Hugh Panero who did it for few years had given me advice before I started the show. We have a little Phantom Club (laughs).
Have they given you any advice on playing this iconic role?
CM: There's was definitely advice given even back when I was auditioning and now there's been so much time as an actor to grow into the role. Working with Cameron Mackintosh and our director have given us time to make this our own. For me, I try to look out into the house and I see two thousand people that are so excited to be there and that's what gets me excited to do this show.
I confess that I kinda sing a long.
CM: (Laughs) it's okay. People do that!
Me and my mom LOVE seeing The Phantom of the Opera. Now, I'm thinking about bringing my kids.
CM: Absolutely! There are lots of kids who come to see The Phantom which is so cool for us to see. There are a lot of middle school, high school and college kids who are aspiring performers who come as well.  A lot of kids may have seen the movie with their parents and haven't seen the stage performance so they are coming to the theatre maybe for the first time. Even little kids have come to our productions and actually dress up as The Phantom or Christine – it's pretty amazing how a whole new generation is getting into this show. If you follow me on Instagram you'll see some of the kids dressed up as mini-Phantoms.
Since the show is here right through Christmas holidays, what are your plans?
CM: My family and my wife's family are coming to Toronto so we'll be celebrating Christmas here so we're having a Canadian Christmas! We're excited to see the city – it's such a beautiful place!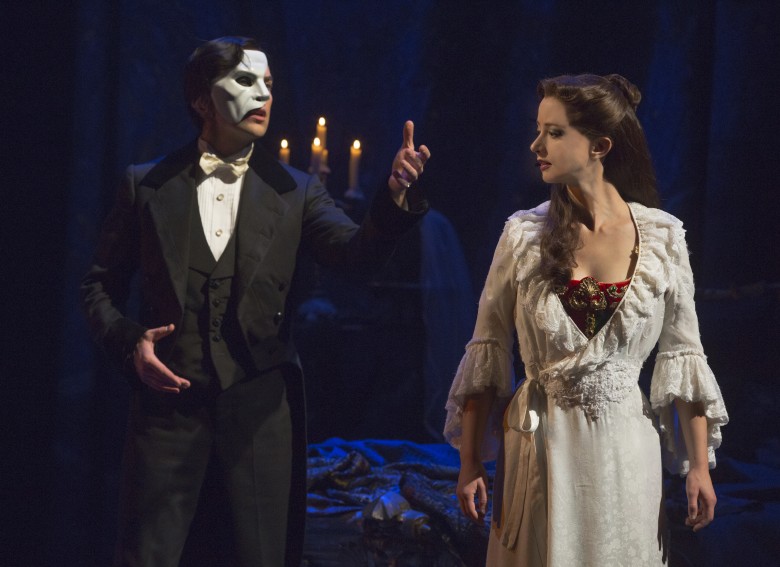 My thoughts on this new production and should you see it?
If you're a fan of The Phantom of the Opera, like I am, it's incredible to see the advances in this production. I recall seeing it several times when it was in Toronto 20 something years ago. I was young then and I went with my mom several times because it's her favourite. Remarkably, Toronto embraced this musical for 12 years making it the longest running show to date. There's a lot to live up to with a production with such a strong fan base. So, I was relieved to see, and hear, that they didn't tamper too much with the songs. Having said that, my only wish was the song "All I Ask Of You" was slowed down a touch more so we could savour it…because I could listen to that a thousand times over.
I can't imagine the pressure on Chris Mann in his role as the fans are so important to please. Phantom needs to be ominous yet worthy of falling in love with.  Seeing him, and the cast, in back-to-back shows made me really appreciate their dedication to delivering one of the most compelling, moving and entertaining show. The energy is incredible when you think about how the show is pretty much all singing!
I admit that I went to two shows already for this production (I may try to squeeze in one more). One show was a media performance in the evening and I followed up with taking my mom to the matinee the next day. She absolutely loved this production telling me it's more spectacular and wants to go again and again. But it's not just for superfans! I took a friend for the evening show and she hadn't seen the musical before and equally enjoyed it.
The Phantom of the Opera is now playing with Mirvish Productions  at the Princess of Wales Theatre, Toronto to January 23, 2016. Running time is 2 hours 45 minutes (with intermission).