We don't often get a chance to schedule in a date night but we know it's important to have time as a couple and not just as parents. But how often do you get caught up in the same old routine? Dinner and a movie? Yes, that's a nice break and there's always something worth watching on the big screen. But if you're looking for something a little more exciting you may want to check out EMPIRE by Spiegelworld now on stage in Toronto.
This live show combines the skills and thrills of acrobatics, gymnastics and other amazing human strengths that will leave you energized and awe-inspired. It's highly entertaining and gritty while still respecting the art. The show is held in a custom-built circus tent structure that seats 700 people with a very intimate centre ring stage. The sheer size of the stage itself is enough to keep you on the edge of your seat… and there isn't a bad seat in the house.
The cast of eccentric characters greet you as soon as you're seated. The first announcement of "First one in your seat will get a hand job" sets the tone of the entire show. Be prepared to play with balls (you've been warned) and see some pretty remarkable talent on stage from a world champion wheelmaster to a trio of provocative gorilla girls and so much more. EMPIRE is intensely fun and full of surprises.
The theme here is New York City—all the bright lights, the buzz and the street smarts play out in the 90 minute show that doesn't take a breather. It's  heart-pounding excitement that pushes more boundaries proving that humans can do some pretty amazing things. While most of the night the audience applauded loudly and cheered on the acts, it was Andreis Jacobs who was the one who could take us into complete silence. You could literally hear him breathe. His concentration on two of his balancing acts is worth the ticket price alone.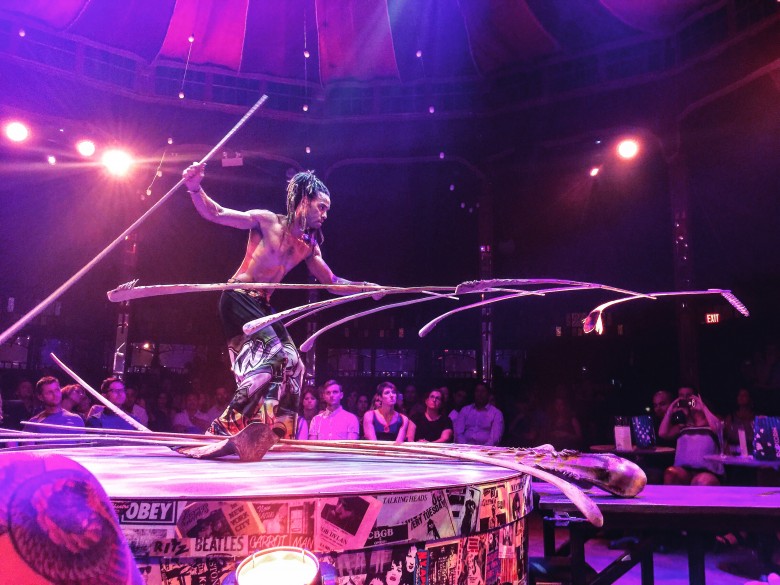 The show is keeps at a steady raunchy pace with MCs Oscar and Fanny as the dynamic couple of the night. Fanny has been referred to as the oldest living showgirl but she's still got a lot of chutzpah. Just don't look her in the eye if you're not craving any attention! And let's just say I will never look at bananas quite the same way…EVER AGAIN.
EMPIRE smashes the boundaries of circus, cabaret, variety and burlesque in a mash up that is for today's audience. The show premiered in New York City in 2012 where it was the first tented show ever in Times Square. Since then, it continues to play to sell-out shows across Australia and Quebec.
This is adult entertainment and you won't be able to look away. Date night just got a little more risque and a whole lot of fun! So, leave the kiddies at home and plan your next night out.
EMPIRE presented by Spiegelworld performances are held under the Spiegeltent at Toronto's Harbourfront (318 Queen's Quay West at Rees Street). Seats include ring side, cocktail tables, banquettes with table service from the bar. The show runs in Toronto until October 18, 2015  and then it will travel to Vancouver in February 2016.  Recommended age is 13 and up. For Ticket information visit speigelworld.ca