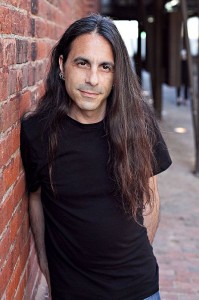 With Father's Day around the corner, let's talk about dads.
Dads are supportive and inspiring. They come in all shapes and sizes too. There are fun dads, nerdy dads, stylish dads, protective dads and handy-man dads.  We can go on and on and on…
But since this is Celebrity Dish, let's talk about "cool dads" who introduce you to celebrities. Dads who work with top musicians, have an amazing job and who are so adept at social media that  they inspire you to follow in their footsteps and do great things.
So if I asked you for your definition of a "cool dad" what would you say?
While you're thinking about it, here's what I would say:
Eric Alper.
If you work in the music business in Canada or are active in social media, chances are you already know who he is. And if you don't, you're about to find out.
Eric is the Director of Media Relations Licensing and Distribution at eOne Music Canada. This means he gets to handle public relations for some of the biggest  musical acts on the planet. Over the years, he's worked with many diverse acts – Ray Charles, Jerry Lee Lewis, The Prodigy and Snoop Dogg – just to name a few. You may also have seen him on CTV as their music correspondent or heard him on the radio at CBC's The Strombo Show, among others.
Eric is inspired by musicians who also take on social causes, rather than simply sitting back and enjoying their privileged lifestyle. He considers Bob Geldof and Bono his heroes "I still remember waking up early in 1985 to watch Live Aid."
What all this means for his 10 year-old daughter Hannah is that she gets to backstage access to some amazing people. She has met everyone from The Wiggles to Nickelback. Eric tells me that he's brought Hannah out to age-appropriate concerts at a very  young age, so she can share in his love of music.
"One day we were backstage and looked out at 30,000 people in the audience. And I told her she was very lucky. It's a view most people don't get and it's a privilege, not a right." says Eric.
Since he's a "cool dad", Eric has the social media thing all figured out. He's so prolific on Twitter (@ThatEricAlper) and on his own blog  (www.thatericalper.com)  that he's been named to Billboard Magazine, Paste Magazine and The National Post "best on social media" lists.
Not to be outdone, Hanna has been motivated to do her own blog too. After attending the Digital Family Summit last year, Hannah learned how to do a blog in just three hours. Inspired by her love of animals, she's been blogging for nearly a year at Call Me Hannah. Hannah's big passions are the environment and the issues of child labour. Recently, she was  invited to be the "on the ground eco-blogger" for the Juno Awards where she interviewed musicians about what they are doing to be eco-friendly.  Hannah also got a chance to meet her heroes – Craig and Marc Kielburger – from Free The Children when she attended "We Day".  Did I mention she's only 10?
Looks like this cool dad has also developed a pretty cool kid.
So Happy Father's Day to all you cool and inspirational dads out there!