In the 1780s ,the first fleet of British ships brought exiled criminals to Australia to set up a penal colony. Prisoners were separated from the general population in England and shipped off to form their own territory far away from their homeland. Military government was in place to oversee what often became slave communities in the remote parts of the world…"for our country's good." This is the background for the latest play  now on stage at the Royal Alexandra Theatre as part of the Mirvish 2014 season.
Our Country's Good, written by Timberlake Wertenbaker, is based on the the book The Playmaker by Thomas Keneally. The story picks up where the the exiled prisoners find themselves discouraged, living in poor circumstances. Prostitutes, murderers and thieves are all together with controlling military officers and even a hangman. While some dream to return to England, others can see they have no choice but to live their lives in new land.
The play is literally about a play performed by a cast of criminals. Our Country's Good is a look at what would happen if you give someone the right direction… perhaps something good will come of it. A reflection on today's society is no different. Having faith in humanity is a test in trust and faces many obstacles.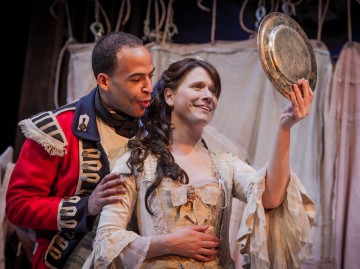 In Our Country's Good, a young military officer, Lieutenant Ralph Clark convinces his colleagues that he could educate convicts and give them the opportunity to transform their lives. He faces many challenges from illiterate prisoners, pessimistic colleagues, losing "actors" in punishable crimes, and even a love interest but manages to ultimately do the unthinkable as he produced George Farquhar's The Recruiting Officer with a motley crew of criminals. Interesting to note that this really was staged at the penal colony at Sydney Cove, New South Wales in 1789 with a cast comprised of criminals. The characters in Our Country's Good are loosely based on real people. The playbill is full of interesting facts and historical information about the people and about Australia that I'm still reading a couple days after seeing the show.
"I'm trying to write about how people are treated, what it means to be brutalised, what it means to live without hope, and how theatre can be a humanising force," said Wertenbaker a New York Times interview (1990).
I attended the show with an Australian friend of mine who was incredibly moved several times during the performance. I admit that it took me a good 10 minutes to get into the play but by the second half, I was all in. There are a few moments that were quite funny… actually poking a bit of fun at the theatre patrons or maybe to see if we were paying attention. Clever.
The play was a smash hit in London, where the historical drama won the Olivier Award for best play. It went onto Broadway and has since been produced around the world. The production is the play's official 25th anniversary production. It received rave reviews by the New York Times at the Broadway premiere.
Should you take the kids? Perhaps teenagers. Lots of great points for discussion and what if's will come out of this one. But subject matters are mature and coarse language is used.
Our Country's Good is now playing at the Royal Alexandra Theatre (260 King Street West, Toronto) until October 26, 2014. For more information visit mirvish.com
Running time: 2 hours 30 minutes (includes intermission)