The Scotiabank Nuit Blanche is an all-night art thingy in Toronto and it's an event that is held in various cities around the world (Saturday, October 5th in Toronto). For a lack of a better description, it's the one sleepless night each year that transforms downtown into an open art scene and it's all free. I've been attending since it's inception and have never missed it. In the past three years, I've taken my older son with me. It's kinda "our thing" to do in the fall and we look forward to mapping out our choices each year.
One year we even participated in one of the art installations for a few hours and it was an experience that both of us enjoyed being involved in. The kid was 12 years old at that time and he got to meet other kids of artists and to stay up as long as he possibly could handle. It's all part of the fun!
Check the weather, put on comfortable shoes and leave the car behind. Grab a coffee and open your minds. Most installations are completely up and running by 7 pm. So, if you have younger kids take them earlier and avoid the crowds. It will be crowded especially if it's a decent night out. Just make sure you don't plan anything else the next day! Here are our top choices for families: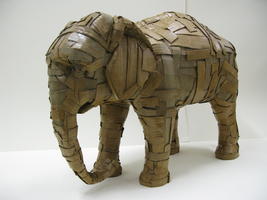 THERE IS AN ELEPHANT IN THE TRUCK
Artist: Laurence Vallieres (Montreal, Quebec) – location outdoors at Queen's Park Crescent East & Grosvenor Street.
Description: Sculpture created with cardboard of an elephant's head emerging from the back end of a white cube truck. Will it even be noticed? Does the animal imagery implies that the structure is too large for the truck. The artist using the imagery to symbolize political issues and social behaviours of even some of the most obvious issues.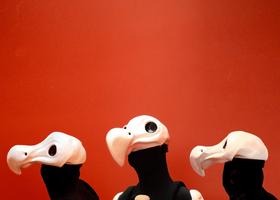 A QUACK CURE
Artist: Lisa Mirmer, as DodoLab (Guelph, Ontario) – location Queens Park Cres. East & Wellesley Street West.
Description: Inspired by traditional mummers parades, this performance art will bring to life a merry troup of otherwise-extinct creatures for a night of revelry aboard a float designed especially for these strange animals. This project is based on the same lighthearted reversal of consequences.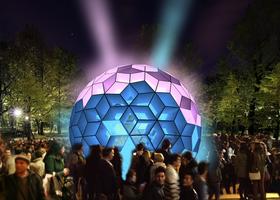 HYBRID GLOBE
Artists: Arthur Wrigglesworth (Toronto), Mohammad Mehdi Ghiyaei (Toronto), Mojtaba Samimi (Toronto). Curated by Patrick Macaulay. Location: Queens Park Crescent & St Joseph Street.
Description: This interactive installation aims to capture the ephemeral aspect of the parade within an interactive artifact; a polyhedral sphere with animated colours and images projected onto its surface. The audience actively participates in the creative process; the rhythm and density of changes are defined by social engagement.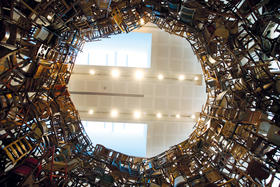 GARDEN TOWER IN TORONTO
Artist: Tadashi Kawamata (Hokkaido, Japan) Curated by Ami Barak. Location: Metropolitan United Church, 56 Queen Street East.
Description: Taking nothing for granted, the artist engages us in a process that involves close consideration of the kinds of environments we make for ourselves, thereby raising questions of all-too-human need and desire. This installation includes simultaneously unstable, universal and symbolic forms. The stacked chairs, benches and garden furniture create an amphitheatre-shapped architecture that is intended to accommodate meetings and discussions. These inanimate objects contain memories, as if each person who sat on these chairs left a piece of himself blended into the worn out fabric of canes, sometimes over generations, religions, and cultures.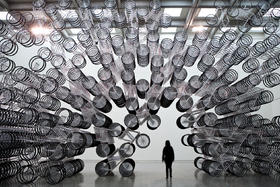 FOREVER BICYCLES
Artist: Ai Weiwei (Beijing, China). Location: Nathan Phillips Square, 100 Queen Street West.
Description: World-renowned Chinese artist and activist Ai Weiwei will exhibit a new edition of his Forever Bicycles sculpture with 3,144 interconnected bicycles to create an incredible three-dimentional structure. Yong Jiu, literally translated as "forever", is the foremost bicycle brand in China; Ai re-interprets such everyday found objects in an abstract and symbollic way. NOTE: film screenings of Ai Weiwei: Never Sorry documentary will be showing throughout the evening.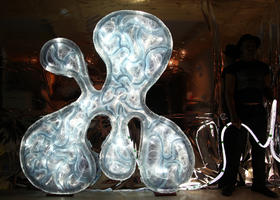 THE ILLUSION OF LINEAR TIME
Artist: Kagame Murray (Toronto). Location: The Four Seasons Hotel, 60 Yorkville Avenue, front entrance way.
Description: This sculpture is an organic futuristic presentation involving nearly 400 lbs of poured transparent plastic saturated with nearly 4,000 ft of fibre optic tails. The inspiration of this piece comes through the epiphany through dreams and insomnia. Approaching the top of ever hour the sculpture's lighting will become more and more frenetic. The large futuristic sculpture will metamorph colours in slow motion and high speeds throughout the night.
There are more than 110 contemporary art locations in this year's Nuit Blanche. It's best to map out what to see before you go. You can plan out your evening at the official website at scotiabanknuitblanche.ca
Information centres where you can pick up a map/event guide and speak with volunteers. Information centres will be located at David Pecaut Square, Yonge-Dundas Square, and Nathan Phillps Square.
We will definitely be checking out more than 6 that night! You can follow along via Twitter and Instagram that night @theculturepearl
See you there!
Here's a great video clip that will give you the vibe of what to expect!
[youtube id="vqFyoR-4ULw"]