We've been all feeling a lot more anxious these days given the state of the world. Many of us are seeking answers, guidance, and wondering if there's hope for the future of mankind. We're wondering about the future for our kids. What is really needed now, is more compassion towards each other and to ourselves. The musical production Come From Away is just that.
Based on personal stories of the tragic and devastating events of September 11, 2001, people living on the small east coast island of Gander, Newfoundland with a population of approximately 9,000, did something that was so natural to them—they received thousands (that nearly doubled their population overnight) of stranded air travellers when 38 planes were diverted to the area and remained there for a week when US airspace was shut down. The "plane people' were met with open hearts and homes without hesitation. Come From Away tells the story of giving, receiving and hope.
As giving is top of mind these days, I had a chance to speak with the writers of the show, Irene Sankoff and David Hein, who are also husband and wife, to find out how life has changed since starting this project. I was amazed to learn that they had documented over 16,000 stories from the travellers and the people of Gander and surrounding townships.
The musical comes from a different perspective and has been in the works for several years. How has working on this production changed you?
Sankoff: Ever since we were out in Newfoundland and saw and heard what Newfoundlanders did for the people who were stranded there, and frankly refugees, we've changed the way we operate. We're definitely more open minded and open hearted. We're always looking for ways to make people's day a little bit brighter. We think a little bit more before we speak because we've seen what acts of kindness can do. It can change someone's day, year, or even life. It really doesn't take much.
Hein: We also talk a lot about how there's never a bad time to tell a story about human kindness. Particularly right now it feels like a really good thing to do.
Now as parents to a three-year-old, what does human kindness mean to you?
H: We talk a lot about 'how do we teach our daughter kindness and how do we lead by example?' One of the powers of the story and what binds people together is a reminder that humans are inherently good. It's something that is worth remembering, celebrating and commemorating. This is a true Canadian story about people who went above and beyond. They did something extraordinary even though they kept saying to us 'anyone would have done that'.  It's extraordinary that they think that was ordinary.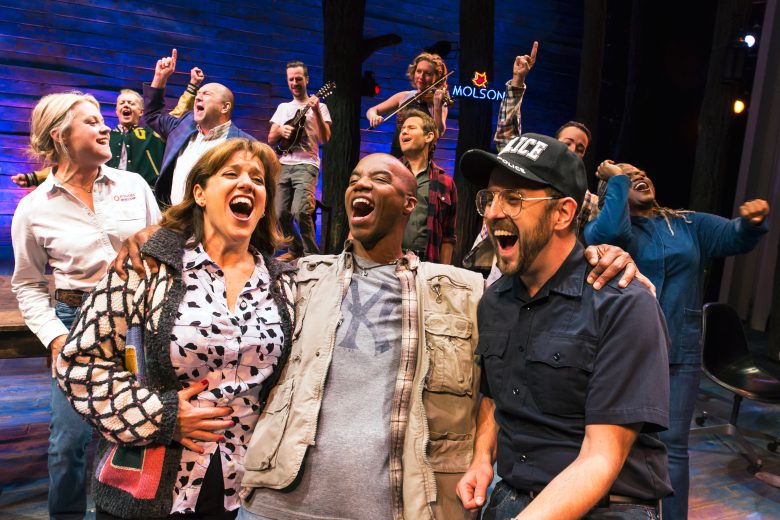 Can you share a few stories that have stuck with you?
H: There were a group of Wish kids there that were on their way to Disneyworld who were stuck there. They threw a gigantic party and brought out the RCMP Safety Bear and Commander Gander. Some people dressed up in princess and fairy costumes. They made a huge cake. One child was having a birthday and someone had said 'We can't celebrate only one kid's birthday, we have to celebrate all of them' so they made a cake for 300 kids that week.
S: There were so many great stories about people donating strollers but there was one local who was expecting a baby and she had her nursery ready. She found out that there was a family with a baby so she invited them to use the nursery and master bedroom. She had heard they were staying in a Legion Hall with their baby. And there was a story of a Commander of the US Armed Forces who was stuck there and wondered how he could help. Well, a local woman not knowing who he was asked him to help give out cupcakes at the birthday party for the kids and he did. These acts of kindness just kept repeating and the great perspective that we are all in the world together.
How did you decide on which stories to include in this production?
S: It was really hard. You know you can dramatize them and which kind of which stories would translate to the stage more easily than others. It's not a documentary. It's theatre, so we have amalgamated stories and characters, so that helped us decide on how many stories we can fit and tell a person's experience there.
H: We tried to tell 16,000 stories of all the people who were there in a 100 minute musical with 12 actors on stage. So even if we could get in one line, like the pharmacist selling a prescription, that meant a lot to us to get that story in there. There were some stories that we really responded to like Beverly Bass, the first female captain for a commercial airline, who was stranded there. Her story was extraordinary especially now in an era of  trying to break glass ceilings; she really led by example. The other one is the story of Bonnie Harris who worked at the local SPCA. No one thought about possible animals being on the plane so she went into the holding areas and took care of the animals including two rare chimpanzees.
I noticed a few kids as young as 10 years old in the audience and was interested in finding out how much they knew about the moment in history.
H: We often say it's not only a show about 9/11 but it's also about 9/12 and how everyone responded to the larger event. But the backdrop is 9/11 so parents may want to talk about that with their kids in some way.
---
The musical itself has moments of laughter and tears. I had attended with a friend of mine whose family lives in Newfoundland, and judging by her reaction, the production was a very accurate portrayal of the province as well as the overall feel of community.
And what happened after all the "Plane People" left Gander? An outpour of gratitude that continues to this day. On opening night in Toronto, a few of the people whose stories were played out on stage made a surprise appearance for the audience and cast members. The Mayor of Gander was presented with a $75K cheque to help various charities in the province as thanks. Everyone was friendly as we chatted after the show…and I found out what Screech was (a local rum). I think I need a trip to Newfoundland soon.
Come From Away is a SUCH a heart-warming feel-good story for the holiday season. It's now on stage at the Royal Alexandra Theatre in Toronto through January 8, 2017. Tickets are available on mirvish.com