Having waited thirty years to see a live performance of Cirque du Soleil, my expectations were almost as lofty as the trapeze wire hanging in the eaves of the Big Top.
The popular performing troupe, which was founded in Montreal in 1984 by street performers, Guy Laliberté and Gilles Ste-Croix, has defined itself with a contemporary style of circus performance in the intervening years. And with shows that have played in 271 cities on every continent except Antarctica, it's hardly surprising that its reputation precedes it.
In spite of all this, it was not until Volta, Cirque du Soleil's 41st production since its inception, and its 18th under the Big Top, that I had the pleasure of seeing it for myself.
I arrived expecting an evening of acrobatic feats and mind-bending contortions (and, it should be noted, I was NOT disappointed). What I didn't expect to find was a moving and thought-provoking narrative woven through the show. Waz, a host on the popular game show Quid Pro Quo, is a successful man but—as we quickly learn—not a very happy one. Caught up in the trappings of fame, things quickly start to unravel after he hosts the show's 1,000th episode. Only the Free Spirits, a collection of colorful dancers, can help him reconnect with his childhood dreams.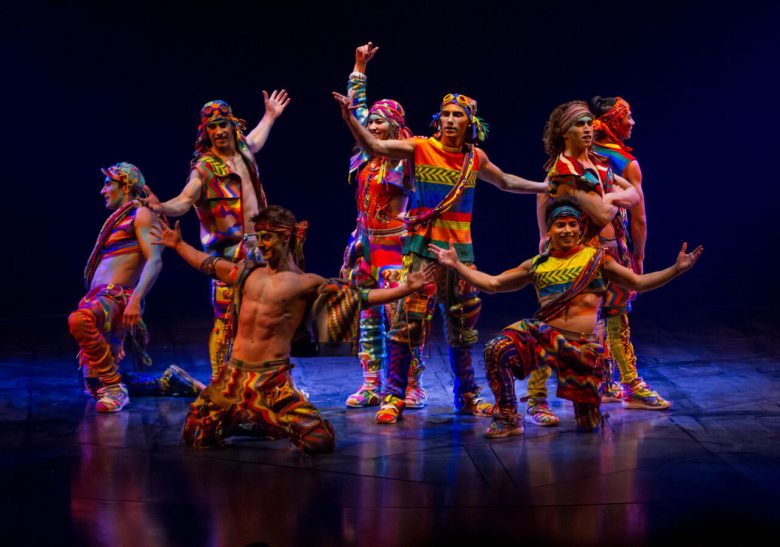 The show taps into some big themes with Volta—the cult of celebrity, our obsession with fame and the unhealthy amount of time we spend on our phones. At the start of the show, the emcee gave the audience an exasperatingly long list of things not to do during the performance, including no flash photography. But ironically, once the acrobatics were underway, there were very few phones to be seen. In fact, the only thing pointed at the stage were eyeballs and slack jaws, as our mouths collectively hung upon in awe.
And rightly so. Perhaps the most impressive part of the whole show was the "hair hang"—when a female performer, suspended by only her hair, spun in a series of striking poses, before being pulled to the very top of the tent by her bun. During the 2h15 minute performance (including a 25-minute interval), the tent was filled with plenty of "oohs," lots of "aahs" and a healthy amount of nervous lip-biting.
For those expecting just a series of exquisite gymnastics (*cough me cough*), there were plenty more surprises to come. The show featured BMX routines—up to five cyclists on a Perspex ramp at the same time—as well as a unicycling man simultaneously holding a female performer like it was no biggie (who said men can't multitask?)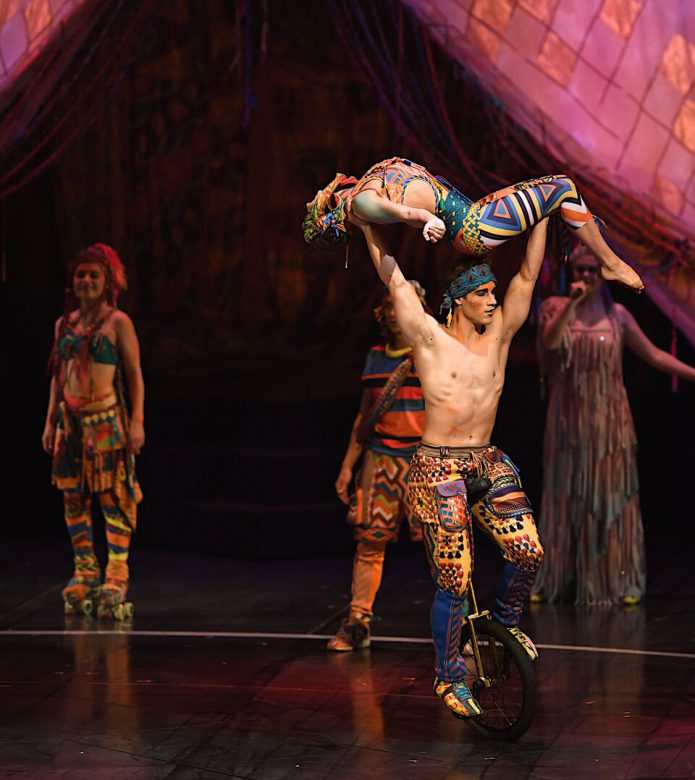 Kids are well catered for too. There were moments of farce and slapstick, in particular from Waz's sidekick, Shood Kood Wood, who performs perfunctory tasks—like laundry with an uncooperative washing machine—amidst the high-octane glamour of the show. And all this to the trance-filled, synth-pop melodies of M83 (who wrote the musical score for this show) which is sung live by a male-female duo just off centre from the acrobatics.
The magic of Cirque du Soleil has, for me, always been in part due to its air of mystery. With that in mind, telling you any more would risk spoiling the show. Instead, I encourage you to go see Volta for yourself. And, as the show's tagline goes, Find Your Free.
Volta is playing until November 26, 2017, Under the Big Top at the Port Lands, Toronto. Tickets start from $49 and can be purchased here.