This week the kids got a break from school to recharge. With an age gap of five years between my boys, we need to stay flexible and keep everyone entertained when it comes to what we do together as a family. Vacations—whether it's staying home or somewhere that requires us to get into a moving vehicle—need to accommodate all our needs.
While they both love to explore their surroundings together—nature is never boring and they could stay in the ocean from sunrise to sunset—they still have their own interests. The teen likes to learn about photography and different cultures and stays active from the moment he wakes up. The younger one loves sports but also has a great interest in the food scene—not only trying local dishes but also sourcing ingredients. Roaming around a local grocery store or open market always leads to curious conversation. For example, we had no idea how many versions of SPAM existed until we visited a grocery store in Kauai! It turned into a teachable moment when we looked up the history of SPAM and why it's so popular in Hawaii.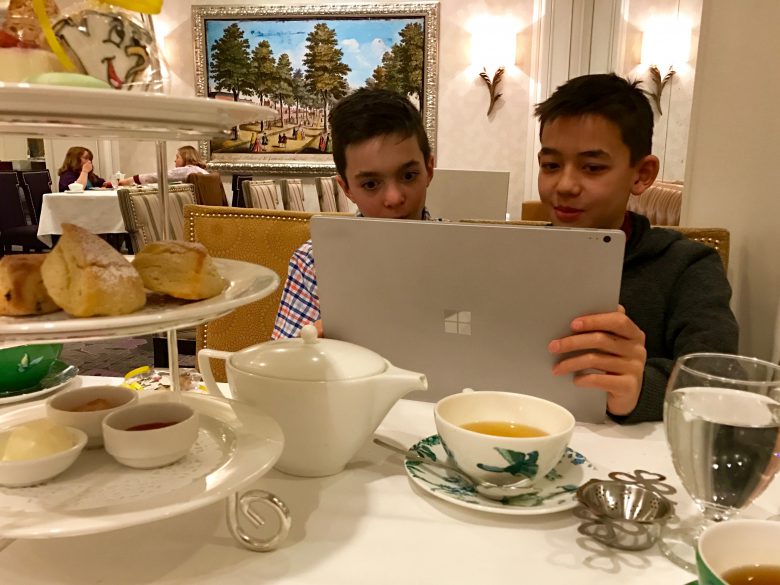 So, it's not uncommon for us to bring our devices on vacation or even on 'staycation'. We seem to carry at least four devices wherever we go. My older son brings his laptop, the little one brings his gaming device, hubby brings a tablet and eReader, and I'll also bring my laptop to keep us all organized. It's not always necessary, but I like the comfort of knowing that I have access to information when I need it.
Whatever we bring needs to be tailored to our family's needs. We recently took a Microsoft Surface Book for a test drive to discover what it can do and to see if it could keep up with us and our needs.
When it comes to investing in technology for the family, we look for the lifespan of a device and flexibility. What can it do for us and will we have it for a few years? It's an investment that we really don't want to be obsolete in two or three years. Yes, there are apps and programs that may not be relevant to our life right now, but later they may be of interest. For example, as school work merges with technology, some video editing capability could come in handy for projects and presentations. Let's face it, kids are less hesitant to try things these days. The Surface Book not only takes great photos (tech jargon: it has a 5MP front-facing camera and 8 MP autofocus rear-racing camera, and an optional NVIDIA GeForce GPU for unmatched graphics performance) but with a simple download of a video editing app from the microsoftstore.ca store, you can add enhanced graphics and videos. Aside from school work, creating a short video of our vacation would be a great DIY project. The Surface Book runs all the professional-grade software and with Intel Core processors it's quite a powerful device!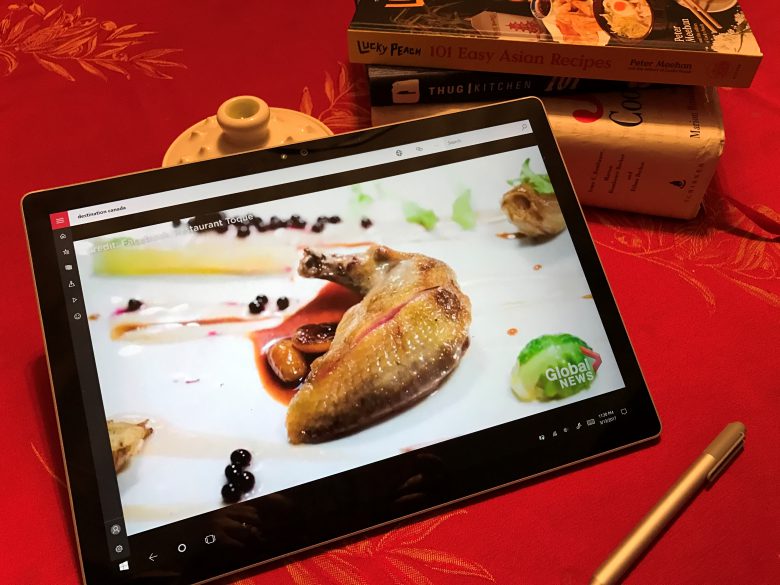 One of the most flexible elements of the Surface Book is the option to use it as a laptop or detach the screen from the base to use it as a tablet. We don't always need a physical keyboard while out exploring, which makes it a perfect mobile companion. I rushed out the door one day and tossed the tablet in my tote bag. I knew we would be out the entire day and couldn't remember if it was fully charged. I needn't have worried. It turns out that the battery can last up to 12 hours and (thank goodness) it did! We were all using it for different reasons. While we waited in lineups in a Wi-Fi zone, the kids searched for some interesting (and very silly) facts on the tablet.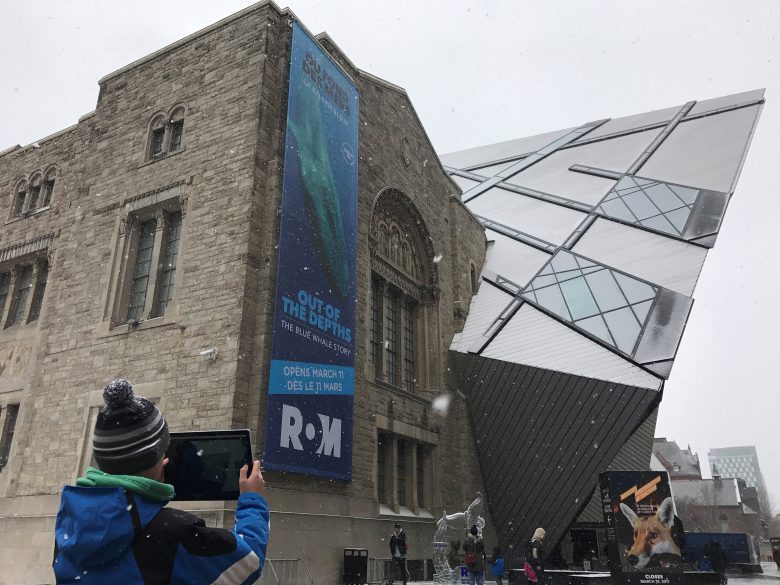 There were moments of inspiration too when they felt the urge to doodle. The Blue Whale exhibition just opened at the Royal Ontario Museum, so it was no surprise to find a whale drawing saved on the Surface Book. I doodled too and discovered how beautiful and precise the inking experience is. By using the Surface Pen and Windows Ink you can draw detailed pictures on the built-in Sketchpad.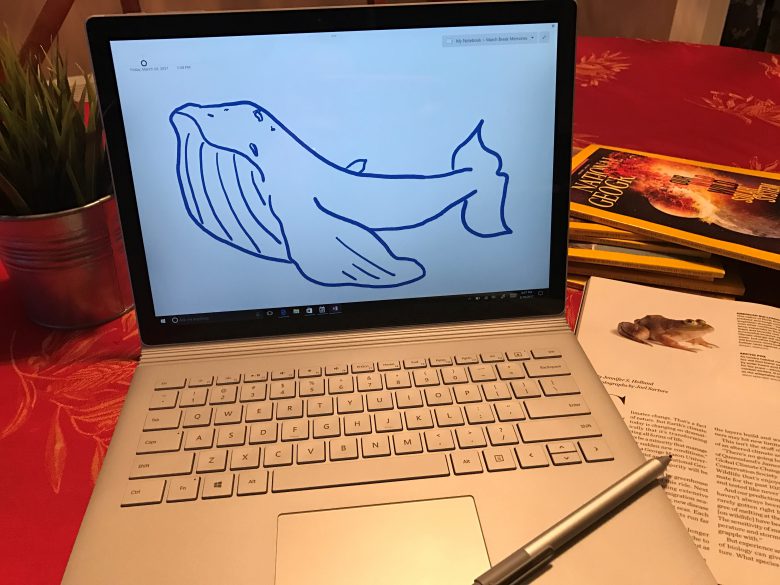 There are also colouring book apps! I was even able to 'screen sketch' over images. We doodled and saved all sorts of notes and projects as the Surface Book comes with a 30-day Microsoft Office trial (includes Outlook Word, Excel, PowerPoint, OneNote, Publisher, and Access). It also comes with 60 Skype World minutes a month and OneDrive cloud storage (1 terabyte) should we commit after the trial. That's a lot of storage!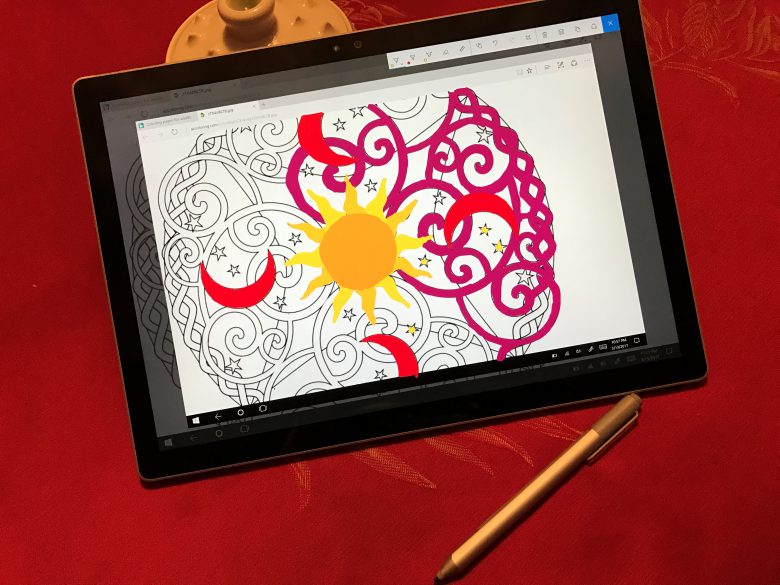 What I personally find very useful is Cortana, the built-in virtual assistant. With voice activated commands, Cortana lets me know what's going on this week and keeps on top of the family's schedule. I can have Cortana add all the appointments, tennis lessons, and coffee dates to the calendar. Cortana can also quickly search answers to my questions like "When is Bruno Mars coming to Toronto?" or "Find the recipe for coconut jam." It's really easy to use and super helpful.
And of course, the kids were pleased to find their favourite Xbox games available to download through microsoftstore.ca and play at the end of the day. We were impressed that the Surface Book had enough power to run the most popular apps including Minecraft. Thank goodness for that battery life!
Not only is the Microsoft Surface Book impressive with all it can do, customer support is very important to them. Microsoft offers free 24/7 customer support, including online text chat, free standard shipping and free returns on every item, every day.
Now until March 31st, save up to $200 on select Surface Book devices at microsoftstore.ca! In addition, you'll want to check out other amazing March Break Deals including an assortment of best-in-class products, including Windows PCs, Surface devices, Xbox One consoles and games, phones and more.
This post is brought to you by Microsoft Store but the images and opinions are our own.