Our family is busy, like yours, especially at this time of year!  We've kicked it into high gear. The kids are wrapping up their final projects before the holiday break and there's tons to do from scheduling, organizing and homework. Throw in my desperate need to get the holiday shopping done (and hopefully daddy is too) we're all wanting stuff to happen quickly and efficiently.
Seriously, what did we do without all this technology? Back in my day…well, we know how the line goes. Yes, we picked up the phone, we trekked in the cold to the malls with our coats and boots, and we spent a lot of time getting from A to B. Okay, we still do a bit of that but today, with the help of useful tools like tablets and the internet, we can make better use of our time and energy.
I've been recently testing out the new Dell Venue 8 Tablet with the Intel and completely impressed with the speed and performance of this handy device! OMG! It's fast and I like that. Yes, I'm finding that time is of the essence. Then I realized (aside from it's sleek design) the real essence of this device is the Intel. As that saying goes, "it's what's inside that matters."
But let's back it up a bit….you may be asking, "What is Intel? "
Intel revolutionized the personal computing age in just a short 4o year timeframe. It's pretty amazing to see how far we've come in technology.  Intel has inspired us all to create and do more in life. You can learn more about the company at their site at www.intel.ca
But what do I love about it?
Intel can keep up with my busy lifestyle. I'm a multi-tasker and always  have a few things on the go…and on my mind. The ability to jump from one thing to another seamlessly is important to me.
It's fast and it's easy to navigate from the moment you turn it on. You can jump quickly between apps, emails, searching and taking photos.  I particularly love the voice commands that have been very handy. I've been searching for new restaurants in New York to try for an upcoming trip and recipes for that big Christmas family dinner that I'll be hosting. I didn't need to type in anything in the search just by voice it was able to recognize and searches fast. And with it's feature PocketCloud you can have access to your files from a PC or smartphone as well while you're on the go!
The device is also compact. I've been carrying it around in my purse as it doesn't take up very much space plus the battery life has been impressive. I've been using it for 3 days and still haven't needed to recharge it.
While we decide on what devices to get we often forget that it's what inside that counts. It's clearly wonderful choice for families on the go and I'm even thinking it's a perfect gift for teens and grandparents.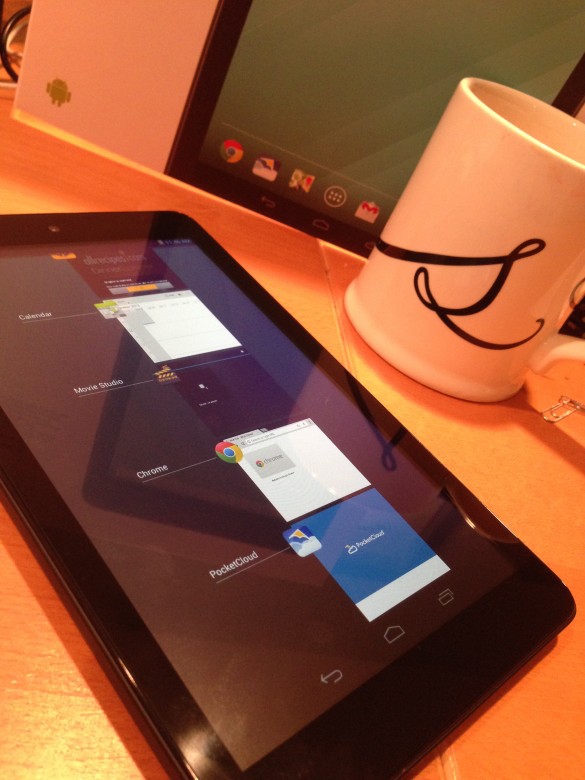 CONTEST GIVEAWAY and just in time for the holidays!
Our friends at Intel would like to offer one very lucky Urbanmoms reader a chance to own a brand new Dell Venue 8 tablet with Intel (retail value $179.99).  This great lightweight Android tablet includes the incredibly powerful dual-core Intel Atom processor, and has an HD screen. It also has front and back cameras perfect for video chats and photos. Perfect gift to help you out with the holiday gift giving season, don't you think? Or keep it for yourself 😉
TO ENTER: Simply tell us "Who, or what, has inspired you lately?" in the comment section below.
And make sure you follow Intel Canada on Twitter @intelcanada #intelhols this holiday season!
Contest Closes: December 15th, 2013 at noon EST. For contest rules link here at  Rules & Regulations
I love this video that reminds us to #lookinside
Okay…then I saw this video that totally inspired me…
This post is not sponsored, nor was I compensated. All opinions are my own…as always. I was provided with a Dell Venue 8 with Intel Tablet for review purposes only.