This contest is now closed. Thank you for entering!
Our family loves gadgets. From grandparents right down to my little nieces and nephews we all agree that the technology just keeps getting better and better. I'm often asked for recommendations for tablets from friends and family and instead of giving one particular brand I first determine what their needs are, who's going to be the primary user and budget.
Doing tech reviews allows me the opportunity to test what's out in the market these days so my family think that's pretty neat. But I'm like most of you, just the average mom who incorporates tech into my daily life. I don't need to know all the fancy jargon I just want to know what something can do for a busy family lifestyle. Know what I mean?
Recently I was introduced to the HP Slate 7 Tablet and my 9 year old begged to have it. He was all excited as he wanted a tablet of his own. So, this was a perfect opportunity to see if he could navigate it. You know when people say, "kids sure are smart on technology these days!" SO TRUE! Within mere minutes he had set himself up on the tablet and was ready to go. Yes, we keep a close eye on him. But taking ownership of this tablet showed us that he was capable of being responsible of something that seemed more "grown up."
Of course, immediately he was checking out what game apps were available at the Google Play Store and downloading like a lightening bolt.
"Cool, mom I'm downloading this…"
"Whoa, this one's neat…"
And then there was homework.  When the teacher said that they could use the internet to do some research this was perfect. The little guy now doesn't have to ask me for my laptop or use his brother's tablet anymore. He was able to do it all on his own.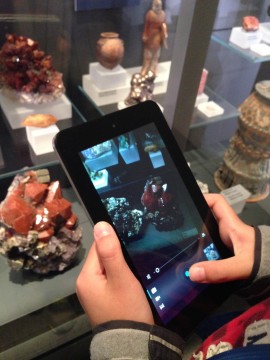 We went to the Royal Ontario Museum one day and he wanted to bring the Slate 7 with him. He loves the Rocks and Minerals that are on exhibit there and wanted to take photos. That little shutterbug went crazy taking photos everywhere with the tablet. I was worried that he was going to drop it but he said "mom, don't worry, I'm being careful."
Another day I noticed he was in his "fort" and quiet. I peeked over and he was editing photos on the tablet. Adding colour layers, changing the saturation and just playing around in a very creative way. He's totally hands on with this device and enjoying the experience that comes along with it.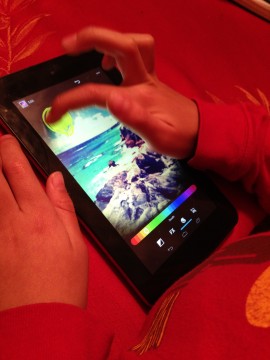 We also love that it comes with Beats Audio built in – an impressive sound from this handy device! AND it fits comfortable in my purse without the bulk!
The HP Slate 7 tablet (CDN $169.99) is a sleek, 7-inch diagonal touchscreen tablet that weighs just 13 ounces, making it an ideal affordable device for moms, dads (and kids!) always on-the-go. Stay on top of your busy schedule with onboard apps and capture photos and videos to share! PERFECT for the holidays, right?
Availability: The HP Slate 7 is available from HPShopping.ca and other major electronics retailers in the colour Silver.
For more information about what this device can do (and it does a lot!) link here:  HP Slate 7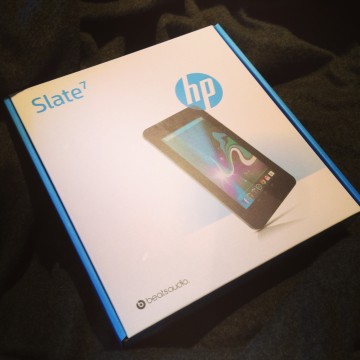 CONTEST TIME!
Our friends are HP have offered us a NEW HP Slate 7  to giveaway to one of our lucky Urbanmoms readers! To enter, simply tell us in the comment section below this…
What would you use the HP Slate 7 for ?
Contest closes on Thursday, December 5th at 12:00 noon EST.
Good luck!
This post is not sponsored nor was I compensated. I was provided an HP Slate 7 tablet for review purposes and one to give away! All experiences and opinions are my own.