We've arrived to the official launch date of Apple's most personal device yet. The much buzzed about Apple Watch is officially in stores for preview and online orders have begun. Why I'm seriously paying attention to this particular wearable piece of technology? Because not only is the device smart, it's also designed well.
This morning I had a chance to preview the Apple Watch to get a closer look and walk through the customer experience. If you're considering the Apple Watch, here's what you can expect.
First, it's ideal if you download the Apple Store App. You'll want to do this because there isn't just one style of watch—it's all about making this a personalized device that suits your style, taste, and lifestyle. Finally! This has been what's stopped me from committing to other devices out there. The app gives pricing depending on the style you choose, options and all the information you want and need to know—like battery life? It's up to 18 hours.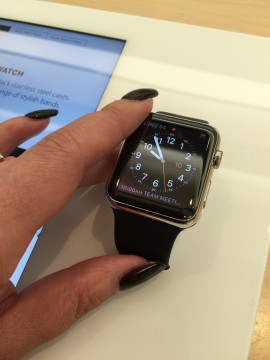 What I like about the Apple Watch is that it looks more like a timepiece rather than a tracking device. There are two face sizes (38 mm and 42 mm) to choose from as well as a dizzying assortment of strap/band options. You can also choose the finish. It's definitely a more refined look that incorporates technology and style.
With the Apple Watch there are actually three collections: Apple Watch (starts at $449) is available in 20 models, Apple Sport Watch (starts at $699) is available in 10 models, and Apple Watch Edition (starts at $13,000) available in 8 models.
If you're contemplating which one is best suited for you, then book yourself in at a store for a preview and to try a few. These are by appointment only and you'll notice that there are some displayed with guiding screens. But during an appointment, the staff will give you the service as though you're in a proper jewellers. The watches are securely store away in hidden draws and handled with care.  Here, the staff help answer any questions you may have about the new Watch and explore the features. Apple wants to ensure that everyone is comfortable with their  selection before committing to placing orders (which are done online and not in-store). The pre-orders will start shipping April 24 and once you've received the device you can book a Personal Setup appointment online or in-store to pair your watch to your iPhone.
Having a chance to try and play around a bit I must admit that I love how fluid  it works with quick access to easy controls. I like the new customizable "Taptic Engine" technology in the Apple Watch—it discreetly gives you a tap if you need a reminder or if you are receiving new messages. Like when it's time to hustle and grab the kids from school!
I've been chatting with my techy friends and they've got me seriously excited about this one. We've all agree that there's nothing like this out there that combines the design, accuracy and technology.
BTW, if you're remotely even thinking about Father's Day I strongly suggest you get on that pre-order NOW. You can only pre-order (www.apple.ca) ..makes sense because of the personalization desires.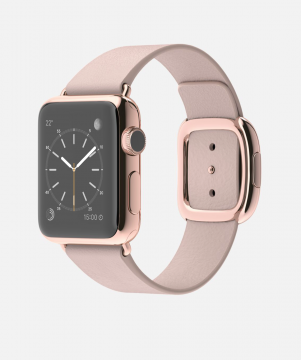 I was dying to know which option was the most expensive… I mean the Edition collection STARTS at $13,000! It's the  Custom Rose Gold with 18-karat gold alloys Apple Watch Edition is $22,000 CDN and I must admit, I am drooling over it a bit!
Now which one? Hmmmmmm.