I don't know about you but I remember my tween BEGGING me for a mobile phone last year. He was ready. He was about to head off to grade 7 and was walking to school with his buddies. We had many discussions about what type of smartphone was suited for his needs.
There are so many options out there but if you're looking for a phone for your kid you may not want to invest in something major if you know what I mean. After all, they may get dropped, lost, or stolen right?
So, you want to get a decent smartphone for your kid.
Where do you start? I went through the checklist with my kid and it was pretty simple.
ME: I WANT TO KNOW WHERE YOU ARE.   If you're going to be late or your going to a friend's house after school or if you get, ahem…detention. Let me know.
KID: I want to text my friends.
KID: I want to take pics.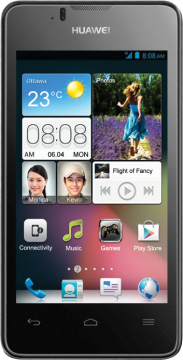 NOW here's some great news! The HUAWEI ASCEND Y300 smartphone is the latest entry into the market and it's a perfect starter phone for anyone. Here's what you want to know. The device leverages all the capabilities of 4G networks and runs on Android 4.1. It has a vibrant 4.0 inch screen and a 5.0 megapixel camera with video recording capabilities. It has voice command capabilities which allow the user to make calls and compose text messages hands-free.
The Huawei Ascend Y300 is a smartphone at a smart price. For less than $100, the Y300 is available at Bell Mobility retail partners Best Buy and Future Shop. Virgin Mobile retail locations also carry the smartphone, along with retail partners Loblaws, The Source and Walmart.
Visit www.huaweidevice.ca for more information.
CONTEST TIME!
Our friends at HUAWEI have provided us with THREE Ascend Y300 smartphones to giveaway. (suggested retail value of each device is $100 – does NOT include contract or plan)
To enter, simply tell us why you (or someone in your family) needs a new smartphone! Be sure to answer in the comment section below! Winner's will be selected at random! GOOD LUCK!
Contest closes on August 23rd, 2013
Three lucky entrant's will be selected at random to win one phone each!
Click here for Contest Rules and Regulations