Monday, December 1st is World AIDS Day. Organizations like (RED), Apple and numerous app developers have announced a major initiative to support the Global Fund to fight AIDS. From November 24 to December 7, 2014 the App store's Apps for (RED) campaign will feature exclusive, new content in 25 fan-favourite apps. Every time a customer purchases a participating (RED) app or In-App purchase, all proceeds will go to the Global Fund. This is the first program of its kind and it's HUGE!
To date, the disease has killed 39 million people. Another 35 million are currently living with HIV/AIDS. Thankfully, the number of babies born every day with HIV has more than halved in recent years—from 1500 in 2002 to 650 today. This decrease is attributed to the life-saving medication that helps prevent a mother passing HIV to her baby.
The medication costs as little as 40 cents per day… sounds like nothing doesn't it? There are almost 10 million people on lifesaving anti-retroviral medication. More people were added to the treatment in 2013, than those who were newly affected in the same year.This program desperately needs the continued support.
(RED) was founded in 2006 by Bono and Bobby Shriver to engage businesses and people in the fight against AIDS. The organization partners with the world's most iconic brands who, contribute up to 50% of profits from (RED) branded goods and services. To date, the initiative has generated more than $275 million to the Global Fund to fight AIDS which supports HIV/AIDS grants in Ghana, Kenya, Lesotho, Rwanda, South Africa, Swaziland, Tanzania and Zambia.
Of the $275 million raised, Apple has generated more than $75 million making it the largest corporate donor to the cause. 100 percent of the money raised goes to work on the ground and no overhead is taken.
You and your family can help and show your support by purchasing official PRODUCT(RED) products and initiatives. On December 1st, Apple will also donate a portion of every sale made at their retail and online stores in addition to their already designated (RED) products available year-round. You can also support the campaign against AIDS by uploading these very fun and even cooking apps!  For more information on this campaign visit www.apple.ca/red and to find out more about (RED) visit www.red.org
Here is the list of (RED) Apps and their descriptions…
Angry Birds: Players can perfect their bird-flinging with (RED)'s Mighty Feathers and challenge themselves to a bonus golden egg level.
Bubble Witch 2 Saga: Offers new (PRODUCT)RED levels across all 17 episodes of the game. Gold bar currency purchases will be donated to (RED).
CSR Racing: Delivers new in-game thrills with the highly anticipated Mercedes Benz-AMG GT.
Clash of Clans: Warriors can prepare for battle with special edition (PRODUCT)RED gems and display a (RED) badge of honor on the village's town hall.
Clear: Users can perfect their organizational skills with a new (PRODUCT)RED theme which appears automatically with all new downloads.
Cut the Rope 2: Unveils a wide selection of (PRODUCT)RED items including a new red hat, red touch print, red balloons and a red ginger cookie.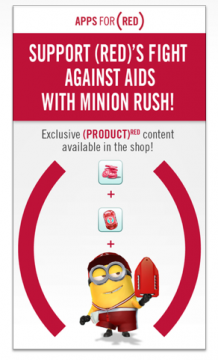 Despicable Me- Minion Rush: Reveals a new Lifeguard minion that helps players boost their banana collection skills by 200 percent.
DJay 2: Spin tables turn (RED) and offer DJs a special sound pack.
FarmVille 2: Country Escape players can "Roll out the RED Carpet" and purchase limited-time items such as the Cozy Cow, St. Bernard and more.
EA: FIFA 15: Ultimate Team players can compete in a (RED) Tournament and Team of the Week event. All winners will be awarded football superstar and (RED) Ambassador Rafa Marquez.
Disney's Frozen Free Fall: Unveils a magical new (RED) Challenge in the Kingdom of Arendelle and offers an exclusive combined offer of 1 power-up, 1 snowball and 3 lives.
GarageBand: Users can now purchase an exclusive collection of 300 guitar, bass, synth and drum loops to create even more amazing music.
Kim Kardashian Hollywood:  Aspiring celebrity players can treat themselves to (PRODUCT)RED items including (BEATS)RED Solo2 headphones. Kris Jenner, the first family member to join Kim's in-app world, will make her in-game debut on December 1.
Head's Up! Competition heats up with an exclusive new deck featuring red words.
The Human Body: Debuts the Immune System feature, educating users on how the body fights pathogens. The accompanying handbook features a new section on HIV/AIDS.
Kitchen Stories Cookbook: A special-edition holiday recipe pack will be available, featuring dishes from renowned chefs Mario Batali, Martha Stewart, Luke Holden and Michael Lomonaco.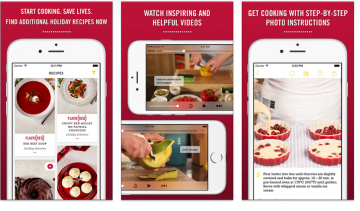 Monument Valley: Offers a whole new chapter of Ida's Journey, marking the final new feature of the game.
Over: Customers have access to a wide selection of (PRODUCT)RED fonts and inspiring artwork, specially created by six artists. Users can share photos with the (RED) brackets overlay to help spread awareness.
Paper by FiftyThree: Enthusiasts can enjoy a new (PRODUCT)RED Essentials Pack including Sketch, Outline, Write, Color and Mixer tools.
Puzzle & Dragons: Players have exclusive access to the new (PRODUCT)RED magic stone.
Rayman Fiesta Run: Introduces a new (RED) edition to their wacky Fiesta world, and players can purchase a pack of three new costumes for Rayman, Globox and Teensy characters.
Star Walk 2: Users can learn more about Mars with the comprehensive new RED Planet feature.
Sims FreePlay: Features a special community challenge that unlocks various rewards, and players can purchase limited-edition (PRODUCT)RED items such as a swimming pool, party plane and piñata.
Threes! The app turns (RED) with a limited-edition (PRODUCT)RED theme.
Toca Boca: Paint Toca Town (RED)! Kids can discover new (RED) diamonds, sample (RED) ice cream in the app and look for other surprises throughout the game.