Are you an absolute sponge when it comes to travel, culture and food? Does the thought of travelling fuel your body and soul? Do you sigh each time you hear someone speak of Italy? Then you'll want to go and see this film. The Trip to Italy is a fun escape if you're looking to re-energize and re-fuel.
Directed by Michael Winterbottom, The Trip to Italy is a follow-up to the mostly improvised 2010 film, The Trip, starring comedic actors Steve Coogan and Rob Brydon. The pair embark on a culinary tour around northern England. The chemistry was so successful that the team was reunited on this new adventure in Italy.
In The Trip to Italy, two friends go on an adventure while one is on assignment to review several restaurants. We follow their hilarious banter and conversations about life all played out in a picturesque setting. They  stay at stunning hotels like the Villa Cimbrone, Ravello in Campania and dine at some of Italy's finest restaurants including Trattoria Della Posta, Monforte D'Alba in Piedmonte; Ristorante La Cantina, San Fruttuoso, Liguria, and Il Riccio, Capri.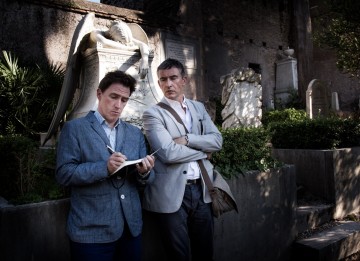 Their journey around Italy references many different films associated with the country. As Englishmen driving around Italy in a MINI, The Italian Job is an obvious one. References are also made to Audrey Hepburn and Gregory Peck's Roman Holiday. Interesting to note, the Hotel Villa Cimbrone in Ravello was a partial setting for the 1953 John Huston film Beat the Devil which starred Humphrey Bogart and Gina Lollabrigida — her first English language movie, despite the fact that she didn't speak English.
The Trip to Italy made it's world premiere to critical acclaim as a feature film at the 2014 Sundance Film Festival.
Yes, you will feel hungry by the end of the film but not only for food and travel — but also for life!
SYNOPSIS:
Two men, six meals in six different places on a road trip around Italy. Liguria, Tuscany, Rome, Amalfi and ending in Capri.
Rob and Steve are asked by The Observer to do another series of restaurant reviews. Rob, tired from the responsibilities of being father of a young child, is looking for some adventure. Steve has been living a life of abstinence and hard work in Los Angeles but, now on a hiatus from his job, has the time to come back to Europe and wants to see his children.
They talk about things like Life, Love, Work and Exile. They discuss Byron and Shelley, Romantic poets whose lives were defined by their time in Italy. We will see the journey they go on, the hotels they stay in, the restaurants they eat in, the kitchens and chefs that make the food and then the bill at the end.
It ends unresolved. Rob has an offer of work that would mean leaving for America and Steve trying to find a way back to a more domestic life with his family.
The Trip to Italy, opens in select theatres across Canada August 15, 2014.
Here's the official trailer…