There's a funny stage play that's happening this week in Toronto that many of us moms can probably relate to. Suddenly Mommy is a one woman show staring Anne Marie Scheffler (Comedy Network, Second City, Spank! Just for Laughs).
Written with support from Emmy Award winning SNL veteran Rosie Shuster and stage design by Andy Moro...and this show doesn't miss a beat!
Every woman who's had a baby recognizes the moment when your names changes from "Hey, Sexy" to suddenly "Mommy!"
I had the opportunity nab Scheffler for a quick interview before her show starts in Toronto to find out more!
When did you realize that you were REALLY A MOM?
I know I'm a mother! Because I drink! A lot! Of wine! Before noon! I know I'm a mother because I wear a nursing bra, maternity underwear and jeans with an elastic yolk. Not because I'm pregnant, but because these are my favourite clothes! And I know I'm a mother because I've never been so unshowered, so unwashed and so unkempt, but I go out in the world anyway, and people treat me like I'm important! Because I am! I'm someone's mom!
Remember before having a baby? We all have these ideals of being a certain type if mom? What became reality or not? And do you feel that there are certain expectations to live up to – for moms today in our society? 
I thought modern motherhood was going to be glamorous!  Like you could have your career, have your babies, and do it all in high heeled shoes! And why not? All the Hollywood moms are doing it! Sarah Jessica Parker just had twins delivered to her door! Like a pizza! And Julia Roberts says that motherhood is the best role she's ever had!  And Celine Dion is the highest paid mom in the world!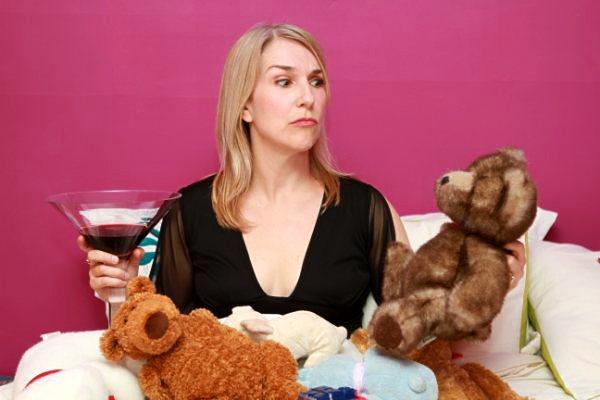 What's your advice to first time moms?
I signed up for perfect children and family portraits! I didn't sign up for making three meals a day that no one is going to eat!  "Mommy! I'm hungry!"  You ate yesterday! Three times a day? Plus snacks? It's a bottomless pit! I carried my boys around in my belly for nine months each! Eighteen months total! And I'm suppose to feed them too? These things should be made clearer to a person like me!
Here's an excerpt from Act three, Scene 7. Things you should know before you become a mom….
"Terry and I had so much fun! We stayed out all night long! We didn't get home until nine forty-five pm! I know! And I felt better. And I was thinking there are just so many things you don't know about before you become a parent. So I made a list. "Things you should know before you become a mother." Your four year old will rat you out when you side swipe a truck with your side view mirror and try to keep driving but are stopped at the traffic light. "Mommy? Did you hit that truck?" Shhh, Honey. Don't say anything. And  "Mommy hit truck! Mommy hit truck! Mommy you bad baby!"
Your four year old will answer the phone when you are on the toilet and tell the caller that you are on the toilet.
Your four year old will be more proficient at your new computer than you are. "Nathan! No! Don't touch mommy's new computer! Whoa! Look at that! Dave! I have a camera on my laptop! Nathan! And Nathan just made me a website! Thirty thousand followers? Nathan! Wow!"
Your child will listen to everyone, but you.
You will get expert advice from your mother, your mother-in-law, the mother down the street, but most importantly from people who don't have children.
You will spend all your money on taking your kids to The Zoo, The Circus, Legoland Discovery at Vaughn Mills, and every county fair in Southern Ontario, but the moment that a Disneyworld commercial comes on TV, they will cry and say that you never take them anywhere! And then you will cry too and think that you don't!
You will be the one to nurse them through the stomach flu, the one who they call for when they are having a nightmare,the one who will change their pants when they have an accident, but still, they treat you like crap! But you are supposed to feel good about it, because they feel most secure with you because you are their mother!
If you think my children have taken over my life, you'd be right!"
What do you hope women will get out of your show?
Their power back! Moms are different these days. The show is so good because I dare to speak what others are only thinking.  The truth about motherhood is that it isn't always a joy. And it isn't your only form of self-identification. The strength of the show, which had audiences laughing and crying at the same time, explores the overwhelming feelings a mom gets because no one tells you how all-encompassing parenting really is. And then when you ask the family to let you take yourself back in order not to get lost, there is a tradition to keep the mother in her traditional place. And say "but you're the mother" and the woman is supposed to instinctively agree to put herself second. Some moms are older these days. And some, like me, aren't willing to suppress their real selves.
As I ask in the play "Are you allowed to have the same goals you had before you had children or does that just make you selfish?"
So, if you are thinking that every mother is a whole and complete person who had her children exactly at the right time with the right amount of resources and it's all she's ever wanted to be, and her only other goal is "grandmother", think again. Maybe I will get two 2 year old and your 4 year old who is soooo cute and just wants to play, and your husband who says he's supportive but would rather you didn't leave,  to go back to yoga and reclaim yourself? Now that's strength.
CAN YOU RELATE? 
Suddenly Mommy! is on stage at the Theatre Passe Muraille's Mainspace, 16 Ryerson Avenue (Toronto) from Tuesday, December 3rd to Sunday, December 8th.
Tickets are $15 in advance and $20 at the door. For advance tickets call 416-504-7529 or online at www.artsboxoffice.ca
Visit www.suddenlymommy.com for more details.
Here's a sneak peek!