Street art has gained it's own rightful place in the world of contemporary art. We're familiar with artists like Banksy who showcases his work around the world in public places. It's urban art that is often fun, sometimes thought-provoking and always meant for everyone to enjoy.
Recently I was passing through Yonge Dundas Square in Toronto and stopped to check out the live art battle between several street artists. I also had a chance to hang out with a few kick-ass Turtles!
Project #InnerNinjaTurtle was on! Four artists created artwork in the challenge to come up with the most epic design! Now the public gets their say on which design should win!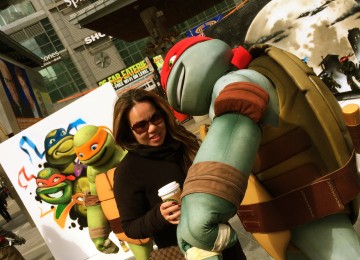 From now until May 2nd, YOU can vote for your favourite design here at www.innerninjaturtle.com  
Jose-Gabriel Sandoval (aka Wahziir) is a well-known street artist in Toronto. He started at the age of 15 and has become one of the most highly respected artist of the genre. He has curated many murals in the city and  has taught classes and workshops on youth and culture.The artists involved…
Angel Carrillo (aka Cruzi) is well-recognized in the urban arts scene. His work can be found everywhere from small intricate designs on tattoos to multi-story wall murals. Cruzi is active in his community as an art coordinator and educator.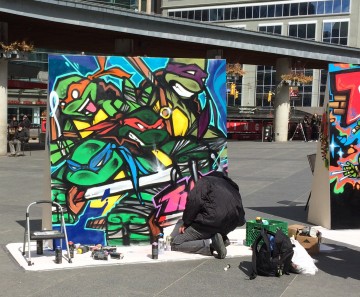 Spencer Harrington (aka Random) is a visual artist originally from New Zealand who's work can be found in collections around the world.
Adrian Hayles is a graduate of Graphic Design with over 10 years of work behind him. His style blurs the lines between street art and ultra realism. His work in instantly identifiable.
The winning design will be featured on a limited edition t-shirt available exclusively this fall at Walmart Canada stores.