The newest 007 movie will hit our theatres this weekend and the buzz around Spectre is swelling. This film picks up three years after Skyfall where we had a glimpse into James Bond's childhood and now in this 24th Bond film we find some interesting twists, of course!
A cryptic message from the past sends James Bond (Daniel Craig) on a rogue mission to Mexico City and eventually Rome, where he meets Lucia Sciarra (Monica Bellucci), the beautiful and forbidden widow of an infamous criminal. Bond infiltrates a secret meeting and uncovers the existence of the sinister organization known as SPECTRE.
Meanwhile back in London, Max Denbigh (Andrew Scott), the new head of the Centre for National Security, questions Bond's actions and challenges the relevance of MI6, led by M (Ralph Fiennes). Bond covertly enlists Moneypenny (Naomie Harris) and Q (Ben Whishaw) to help him seek out Madeleine Swann (Léa Seydoux), the daughter of his old nemesis Mr White (Jesper Christensen), who may hold the clue to untangling the web of SPECTRE. As the daughter of an assassin, she understands Bond in a way most others cannot.
As Bond ventures towards the heart of SPECTRE, he learns of a chilling connection between himself and the enemy he seeks, played by Christoph Waltz.
So, without giving away any spoilers here's what I thought was interesting to know…
The opening scene in Mexico City has the wow factor with so much to see and we were happy to take it all in. As it takes place on the country's Day of the Dead costumes helped create the excitement right from the get-go. By the way, SPECTRE made it's official Americas premiere on November 2 in Mexico City (all other major cities in North America including Toronto did press screenings at the same time).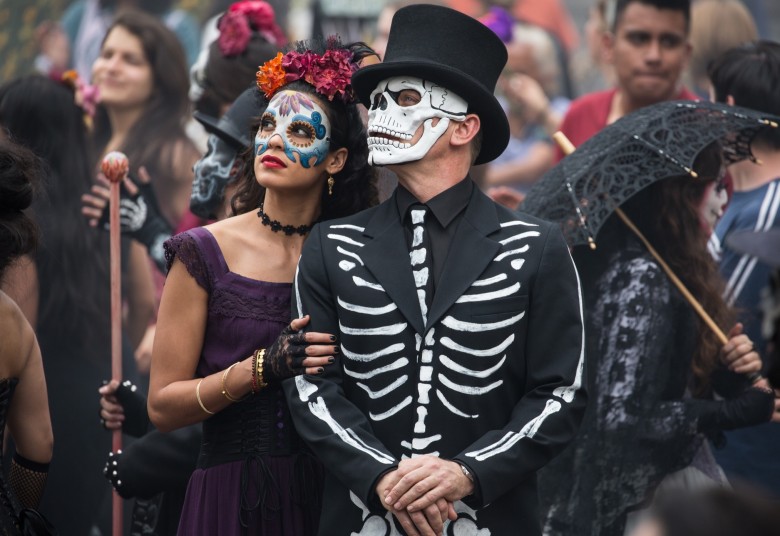 This is a classic James Bond movie. It's got the bad-ass James Bond dressed impeccably from the sharp suits to casual ski wear (hello, Tom Ford) taking on the bad guys… and the bad guys are baaaad! As per usual, Bond comes out of the fight scene unscathed, but it's hard to care too much because…..well, it's Daniel Craig. Someone pour me a martini? Shaken not stirred. Apparently SPECTRE will be his last time playing the role of James Bond.
Gadgets are definitely expected and delivered. The cars are worth watching this film if for that reason only. I'd gladly shell out to see that custom made Aston Martin DB10 over again. The car chase scene through the streets of Rome with the villain's Jaguar C-X75 gave me heart palpitations. And here's a fun fact for you, there were ten DB10's made and seven of them were destroyed in the making of this film. Even if you don't know too much about cars, this one is undeniably gorgeous.
Speaking of gorgeous, Monica Bellucci is one of Bond girls in this film and happens to be the oldest woman ever cast in this franchise history. Take note rest of Hollywood, women are still beautiful and sexy even at 50!
SPECTRE has everything that you would expect in a Bond movie with the planes, trains and fast automobiles. It has the chase, the villains, the beautiful women, and the music. I did notice it also had a little more quick-witted humour along side the spectacular visuals. We've also come to expect a lot of product placements now with this franchise – that itself has a lot of film lovers going just to see what Bond is wearing or using. This time, the products  (and they paid multiple millions to be in this film) are pretty blatant as though the filmmakers knew that the fans have come to accept them and actually look for them.
Should you see it? Yes, it's delivers on entertainment value like a kid in a candy store. You know what to expect with a few twists along the way especially for die-hard Bond fans. You really should see this on the big screen for full effect. Makes for a great date night.
And… yes, Daniel Craig is definitely a good reason to go see it as well.
SPECTRE opens on November 6, 2015 nation-wide.
Here's the official final trailer…