Ross Petty and his production team are getting ready for the 19th annual holiday family musical. We can't wait to see what antics are in store in the new CINDERELLA, The Gags To Riches Family Musical. If you haven't experienced a Ross Petty Musical, I strongly urge you to put that on top of your things to do during the holiday season with the kids—or without. Each year, I meet people who tell me that this particular show is a family tradition.
What's fun is the "pantomime" (aka Panto) style of acting. Based on British tradition of taking a familiar children's fairy tale and injecting contemporary humour, it's all about having fun and being loud!
Playing the lead role of Cinderella is Danielle Wade. Her name (and voice) may sound familiar to you as she was the star of CBC-TVs Over the Rainbow and then starred as Dorothy in the Andrew Lloyd Webber and Mirvish production of The Wizard of Oz. I had a chance to speak with Danielle during rehearsals and ask her a few questions about her journey.
How did this role find you?
DW: Ross found me! He contacted my agent and asked if I might be interested. I said "yes, absolutely!" The Panto always looks like so much fun and I've heard nothing but good things.
Ross Petty Productions are ALWAYS fun —and not just for kids! Did you see any of his previous shows? Any favourite characters?
DW: I had only seen Snow White before. It was two years ago and Melissa O'Neil was playing the title role. I went with my friends and we had a blast! Laughed the whole way through. Melissa was great, I loved the fact she played the character with so much spunk. She wasn't your everyday princess. Eddie was so charming and Ross was evil as ever.
This Cinderella story is a bit different, right? Can you give us a hint of something that has made you laugh?
DW: I can't give away too much! The show is so much fun. We've got pumpkins, gnomes, buttons and magic. It's going to be a blast.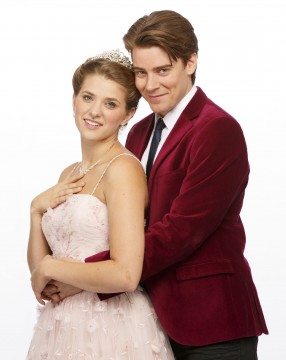 What do you think of Plumbum?
DW: Plumbum is the most amazing character. Dan has really done something wonderful in creating her. The show would not be the Panto without him.
Ross Petty is pretty funny, his style of pantomime theatre is what the production is known for. Can you tell our readers about it?
DW: I just hope the audience has as much fun as we do. We have such a good time goofing around. It's a chance to get out with your family and spend an evening laughing, booing and having a fun all together.
When you're just hanging out and not in rehearsals, what are your favourite things to do?
DW: I've been wandering around a bit. Exploring. But, Gilmore Girls is on Netflix now so my social life does not exist.
If we were to go to a karaoke club, what songs would you be singing?
DW: Anything Bon Jovi. Always making Mom proud.
What are you listening to these days?
DW: I've been listening to the songs from the show a lot but I just bought Alex and Sierra's new album and I love it. Some really fun, chill music.
CINDERELLA, The Gags to Riches Family Musical also stars Jeff Lillico, one of Canada's most versatile actors (Soulpepper, Stratford and Shaw) is making his debut with Ross Petty Productions as her handsome love interest, Max Charming.
Well-known children's TV host, Patty Sullivan, returns to the stage for her second time, showing off her dark side as one of Cinderella's evil step-sisters. Cleopatra Wiliams, who played Mary Delgado in Jersey Boys and appeared in We Will Rock You, will be joining as the ohter punk step-sister.
Dan Chameroy's iconic Plumbum will return for her 5th show as the most whacked out Fairy Godmother and pumpkin-haired favourite Eddie Glen returns for his 11th production with the company. Ross Petty himself will appear as Cinderella's nasty step-mother, and you bet that he will take jabs at current affairs with highly anticipated ad-libbed talent and wicked sense of humour.
You won't want to miss this! Trust me…even though it's called Cinderella, the boys will LOVE this too! It's not what you think…it ain't Disney!
CINDERELLA, The Gags To Riches Family Musical is on stage at the Elgin Theatre (Toronto) from November 21, 2014 to January 4, 2015. Visit www.rosspetty.com for all the details.