The 110th annual Santa Claus Parade will take over the streets of Toronto this Sunday, November 16th! And we were invited to visit Santa's Secret Workshop for a sneak peek recently. Over 30 amazing colourful floats and 21 brilliant marching bands will usher in the holiday season. As the elves put the final touches to the parade, I had a chance to grab Santa's attention to ask him about the parade and what we can expect.
Santa, what are you most looking forward to at this year's parade?
I can't wait to see all the colourful floats in action and to see the smiles on all the faces. That is always the best for me! But seeing how the floats are coming along is very exciting! With new community partner, Maple Leaf Sports & Entertainment (MLSE), there are some new floats and sponsors! Wait till you see the new Toronto Raptors Float at the parade!!
I love that one! And there will be pre-parade festivities too?
Yes, people can join in the Holly Jolly Fun Run that kicks off the parade. It's a 5K run that will lead the parade. And MLSE is helping organize that with Sport Chek. There will be stuff happening all weekend leading up to the Parade. Keep an eye out for that!
What about those Clowns?
OH! Yes, there are over 125 Celebrity Clowns that have paid their way to be a clown for the day. They are a fun bunch of folks! Make sure you give them a high-five when you see them!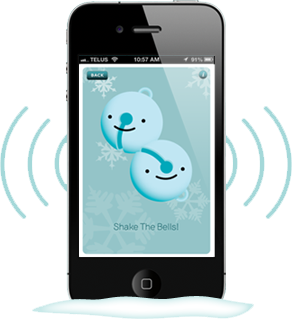 How are you with technology?
Well, I leave that to the elves. I'm old school. But there are two cool apps that you'll want to download, or is it upload? Ho Ho Ho! You'll want the Jingle Bells app so you can shake your phones along with me at the parade and make that magical sound! Then, if you want to see where I am along the parade route, download the Tracking Santa app and you can see where I am real-time.
Oh, and that way we can decide if we have enough time to go and grab a hot chocolate, or something?
Yes, and guess what? I'll have my handy "Santa Cam" on my float as well. This will allow me to see every smiling face along the parade route and you can too! It will be taking pictures ever 2 seconds on both sides of the street and I'll have literally thousands of images by the end of the parade! You can find yourself after the parade day on the website and print out your own keepsake. The elves will be busy!
Do you have a mobile device?
Well, no. Santa really relies on the elves to take care of all that techy stuff. It's pretty neat but I'm pretty busy throughout the year and I'm not good with emails. I definitely prefer good old-fashioned letters in the mailbox. Santa LOVES getting mail at the North Pole. And Mrs. Claus is great at keeping on top of things. You know what they say, behind every good man, is a great woman!
Yes, or in front, right Santa? 
Yes, Sonya, that is so true!
The Santa Claus Parade is on Sunday, November 16th starting at 12:30 pm. For information on the parade route, tips, when to view online and TV broadcast times and how to register for the Holly Jolly Fun Run, visit thesantaclausparade.ca