Get ready to rock out at The Science of Rock 'N' Roll, the latest feature exhibit now at the Ontario Science Centre. This is where the art and science of music converge! Experience how advances in science and technology have revolutionized music, from the way we make, listen, experience and share music.
The Science of Rock 'N' Roll  includes hands-on interactive zones and objects from music history. I had a chance to walk through the exhibit and it's definitely fun to go back and see how music has changed. As a matter of fact, I've already been back with the whole family!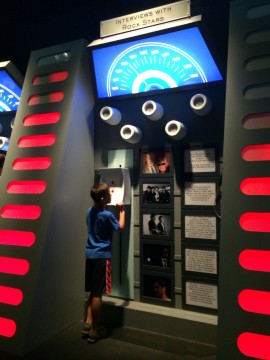 You'll love walking through the Decades of Rock, showcasing the history and evolution of rock from the 1950s to the present day with all sorts of memorabilia and early instruments that will surely raise questions like, "What is that?" from your kids.
Interactive displays that demonstrate how tone, pitch, key, rhythm, tempo, harmony and more come in to play when composing music let visitors explore their inner rock star while jamming out on electric guitars and drums.  Enter into one of the several recording booths and let your inner Mariah come out! I sure did!
Visitors will also learn how their brains are affected by rock music and discover the differences between mono vs other stereo and create their own riff on a "reactable", an interactive music-making table.
And The Science of Rock 'N' Roll isn't just about the musicians! Careers in Rock highlights the numerous careers in the music industry behind the scenes both on and off stage.
At the end of the exhibit you can enjoy the Concert Experience in a virtual live concert setting. Minus the vapours.
For an additional $2, grab an "All Access Backstage Pass" to capture video recordings that you make to share with friends and family.
Access to The Science of Rock 'N' Roll is included with general admission to the Science Centre. The feature exhibit runs until October 26, 2014. For more information, visit www.ontariosciencecentre.ca
HEY ADULTS! DATE NIGHT ALERT! 
ScienceROCKS! transforms the Ontario Science Centre into a musical playground for grown-ups, where the 19+ crowd can take in live performances, engage in thought-provoking presentations, explore the new exhibition The Science of Rock 'N' Roll  and catch the film Rolling Stones at the Max on the big screen. From 7 p.m. to midnight on July 24, August 21, and September 18, the Science Centre invites adult visitors to experience science in the key of rock.
Advance tickets are now available for $15 at www.ontariosciencecentre.ca and for $18 at the door. Tickets include: admission to event and IMAX film, live performances, activities and parking.  All ScienceROCKS! events are licensed, with food and drink available for purchase onsite.