TIFF Kids International Film Festival has got to be one of my most favourites events in Toronto. It's an opportunity to see many films from around the world made for the younger viewing audience and their families. This year's festival is showing a total 112 films from 31 countries. There are a few titles that would never otherwise be shown in Canada and the talent out there is amazing especially for kids to see. Yes, there are other countries that make awesome films as well as ours!
Like the grown up version of  TIFF, many of the films are North American or even World Premieres. Kids also have the opportunity to ask their questions to film producers, directors and sometimes actors at some of the screenings.  Young film lovers can take their experiences further in specially designed workshops created by industry professionals and play in digiPlaySpace, a hands-on playground with the latest technology from around the world. I'm thrilled that my son's school is heading there for a field trip.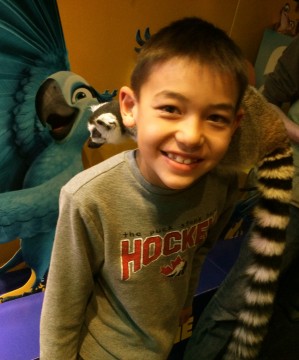 Last night TIFF Kids hosted the official Opening Night Party, sponsored by GapKids, with the Canadian Premiere of the highly anticipated film, RIO 2. The TIFF Bell Lightbox, home to the festival, transformed into party central complete with live Samba music, party food, rare animals to see and pet and activities. Of course, TIFF rolled out the red carpet and the media were all buzzing in the building as Rio 2's director Carlos Saldanha was in da house!!!!
In true TIFF style, director Saldanha introduced the film to the sold out screening and stayed afterwards for an open Q&A session. This is one of my favourite parts of TIFF where regular movie goers can ask anything! Kids always come up with the simplest and most interesting questions like,  "how many feathers are on a bird?" to which adults giggled under their breathes (but were actually curious). Saldanha told the audience to guess. No one could imagine that there are an average of 5 million feathers on one bird! Another question was "how do you know so much about animals and birds?" to which the director explained how he spent his childhood in Brazil and was fortunate to see the beautiful creatures. And "what was it like working with Bruno Mars?" Saldanha explained how  the script wasn't written with Mars in mind at first but once they met, he knew the singer was perfect for the character. But nailing Mars in the studio was more of a challenge since the entertainer was constantly touring. Saldanha did mention how he and his family were able to catch Bruno Mars at one of his concerts and was granted backstage access. "My kids thought that was really cool," said Saldanha.
RIO 2 officially opens in theatres nation-wide on April 11th. This stunning 3D sequel to the smash hit RIO,  takes lovebirds Blu (Jesse Eisenberg) and Jewel (Anne Hathaway) and their three kids from the big city to the wilds of the Amazon. Can the cityslicker Macaws adjust? All your favourite Rio characters are back, voiced by an all-star cast — joined this time out by Andy Garcia, Bruno Mars, Kristin Chenoweth, and Rita Moreno — and backed by a an incredible soundtrack featuring new Brazilian artists and original music by Janelle Monáe and Wondaland.
What else is going on at TIFF Kids this year? Visit the website at www.tiff.net and also check out a few of my picks from this year's selection here: What to See at TIFF Kids 
TIFF Kids Film Festival runs from April 8 to 21, 2014. All screenings are held at the TIFF Bell Lightbox located at 350 King Street West, Toronto.