When fighting demons who can you trust? In the land of the "mundane" it's hard to determine good versus evil.
Based on the first book from the best selling young adult series The Mortal Instruments: City of Bones by Cassandra Clare, is the latest film to fill the hunger gap of teen fantasy thrillers. Clary Fray (Lily Collins) appears to be your average teenager living in modern day New York City. Within minutes of the film's opening,  Clary's mother disappears leaving no traces or understanding as to why this had happened or was about to happen. But Clary is confident and determined to hold her own. She can keep up with any demon and face them head on.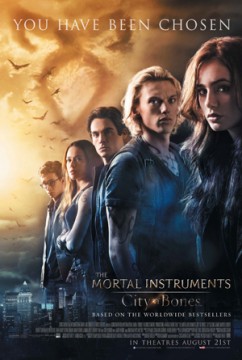 Clary soon realizes that she has developing supernatural powers as she encounters Shadowhunters (a secret underground society of young half-angels with a mission to protect us "mundane" humans from all sorts of monsters and demons), werewolves, vampires and other evil seekers. As Clary maneuvers through the obstacles of her memory lapse, courtesy of a spell purposely placed on her as a child by her mother to protect her from bad dreams, bad thoughts and life circumstances, she meets Jace (Jamie Campbell Bower) a mysterious yet angelic Shadowhunter who acts as her guide to this new and confusing world . Oh, and he's also her budding love interest. At the same time, her long time friend Simon (Robert Sheehan) a real "mundane", whom she's always considered more like a brother, reveals his crush on her. The two young men join Clary in the quest to find her mom. As romantic tension swells Clary and Jace find themselves in an awkward situation and  leaves them wondering what is the truth and if they are closer than they should be.
By the way, there is definitely some "chemistry" happening on screen between Collins and Campbell Bower who I later found out were apparently a couple off screen. You'll also be interested in knowing that the film was partially filmed in Toronto.
The Mortal Instruments has all the gears moving in the right direction for teens and moviegoers who enjoyed the Hunger Games and Twilight films.  The story line is richly detailed and moves quickly in this first film of the series with a strong leading cast of characters.  You may recognize former model, Campbell Bower from a few other films with smaller roles including the  Twilight series as well as Harry Potter. But now that he's taking on a lead character, you can pretty much expect him to be the getting a little more fan attention.
The film is somewhat predictable but entertaining nonetheless. It's like a roller coaster — you already know what's going to happen but you love experiencing the twists and turns along the way. There are a few little cheesy moments but they are quickly overshadowed by the heart-grabbing thrills that will keep you wanting more. It's an entertaining end of summer movie so just enjoy the ride!
The Mortal Instruments: City of Bones is currently playing in theatres.
Here is the official trailer…
[youtube id="hc4CiTvQ-YE"]